A bedside table is not only a practical piece of furniture but also an opportunity for creativity and personalization. In this blog post, we'll delve into the process of refinishing a small bedside table, utilizing the timeless beauty of Homestead House Homestead Grey, protecting it with Clear Furniture Wax, and adding a touch of wanderlust by lining the drawer with a captivating world map. Get ready to transform your bedside storage into a stylish and functional piece with a creative makeover using Homestead Grey!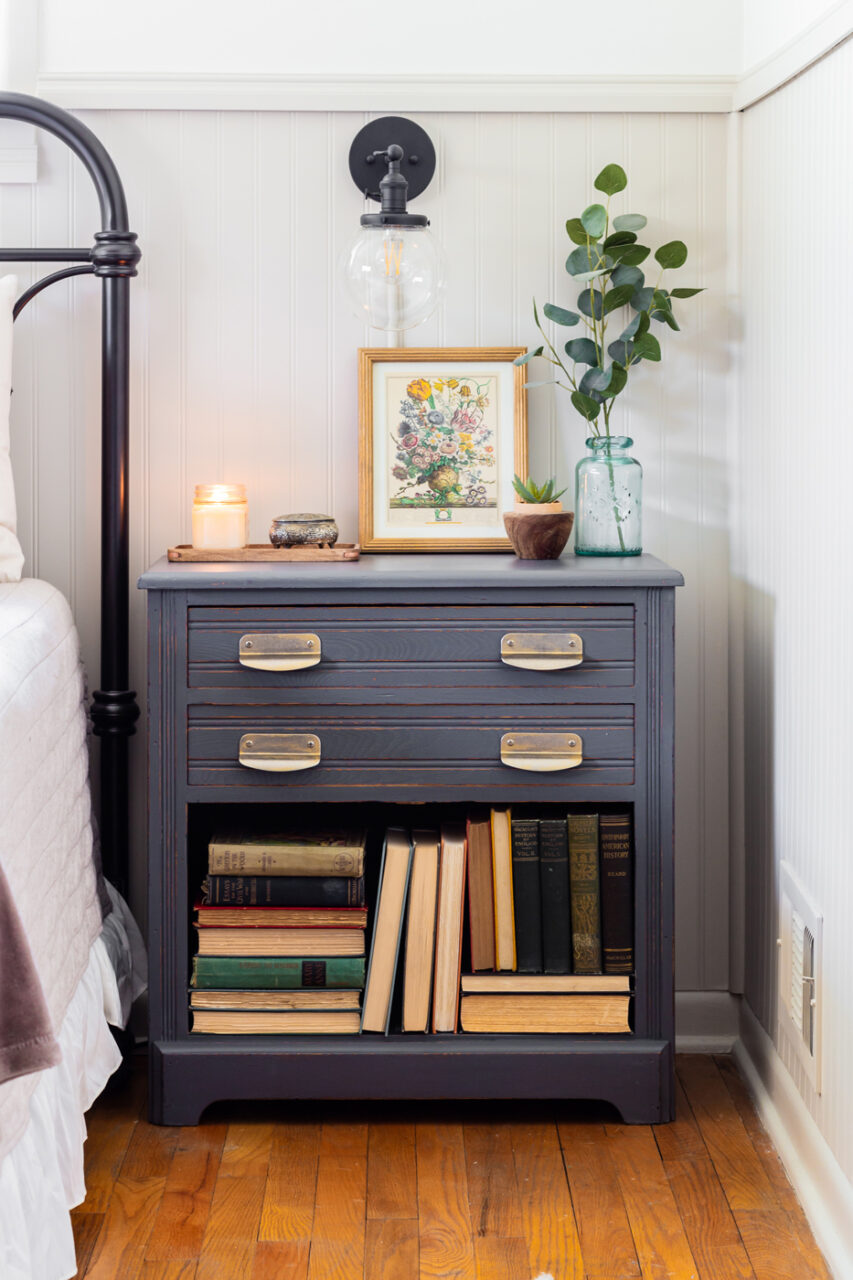 The Elegance of a Creative Makeover using Homestead Grey
Homestead House Homestead Grey is the perfect choice for giving your bedside table a sophisticated makeover. Start by preparing the surface, giving it a clean with TSP Alternative and wiping it free from any dust or debris. Mixing Milk Paint is super easy, just mix a 1:1 ratio of milk paint powder and water, stir for approximately 30 seconds until all pigments are dissolved. Then, apply the Homestead Grey paint with a brush or roller, allowing each coat to dry completely in between coats (about 20 minutes). The subtle yet elegant grey tone will provide a neutral backdrop for your creative additions and effortlessly blend with any room decor, making your bedside table a versatile and eye-catching element.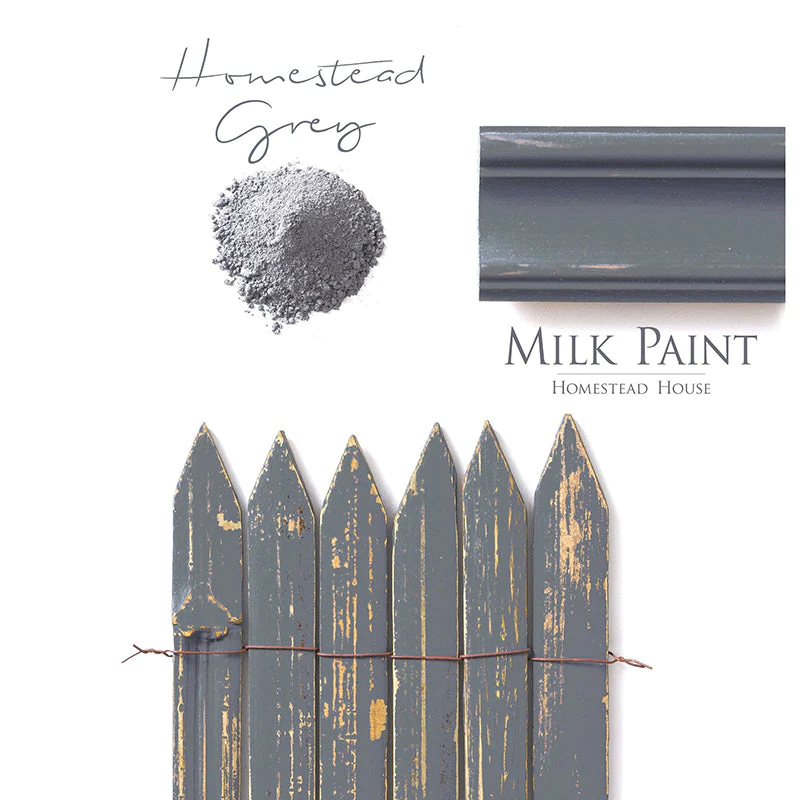 Clear Furniture Wax for Protection
To preserve the beauty of the Homestead Grey finish and add durability to the bedside table, we used Furniture Wax. After the paint has dried, apply a thin layer of wax with a clean cloth, following the grain of the wood. The wax will protect the painted surface from everyday wear and tear and also create a smooth and polished appearance. Allow the wax to dry for 3-5 minutes. Then gently buff the surface to achieve a soft sheen, enhancing the refined look of your bedside table.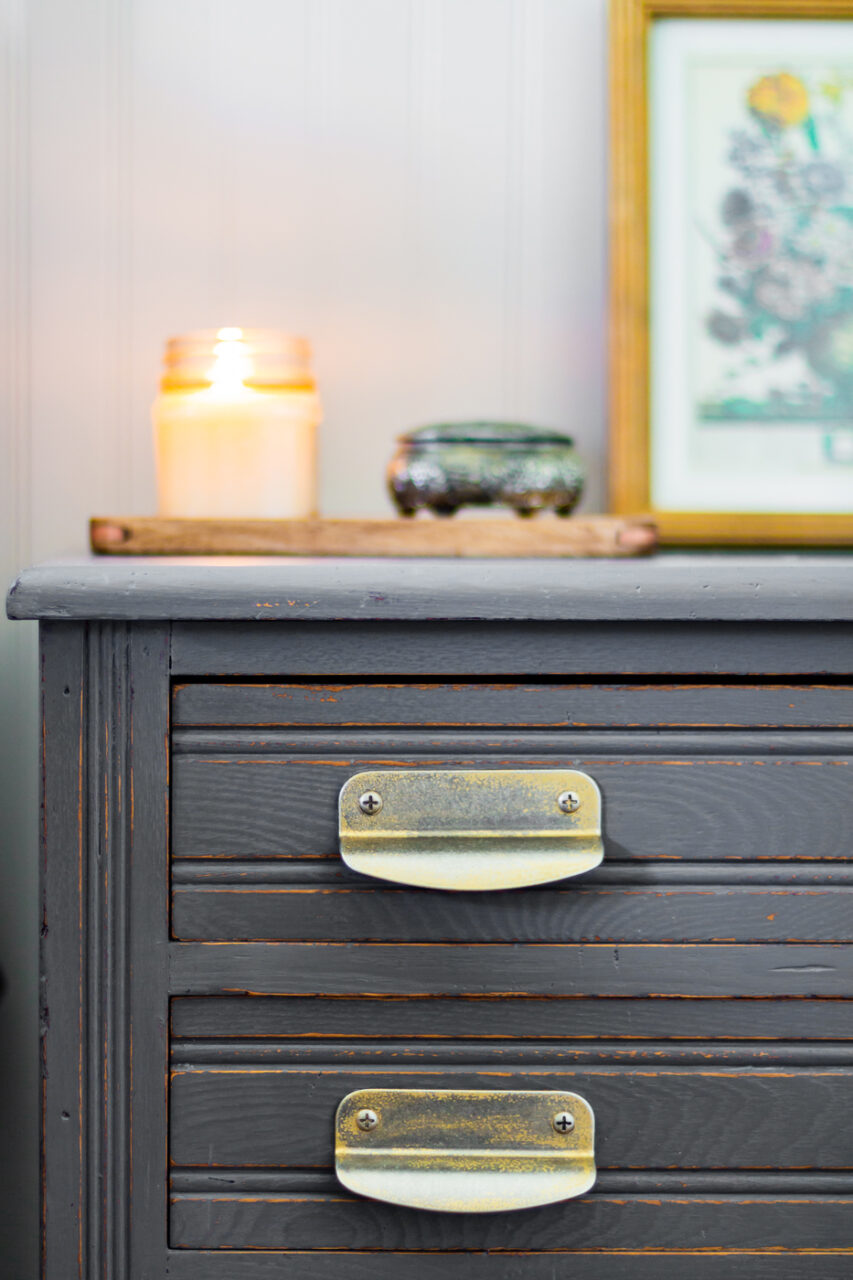 Inspiration from a World Map Drawer Liner
Now it's time to add a touch of wanderlust by lining the drawer with a world map. Find a world map wallpaper or print and carefully measure and cut it to fit the interior of the drawer. Applying liners and decoupage is easy with Fusion's Decoupage and Transfer Gel!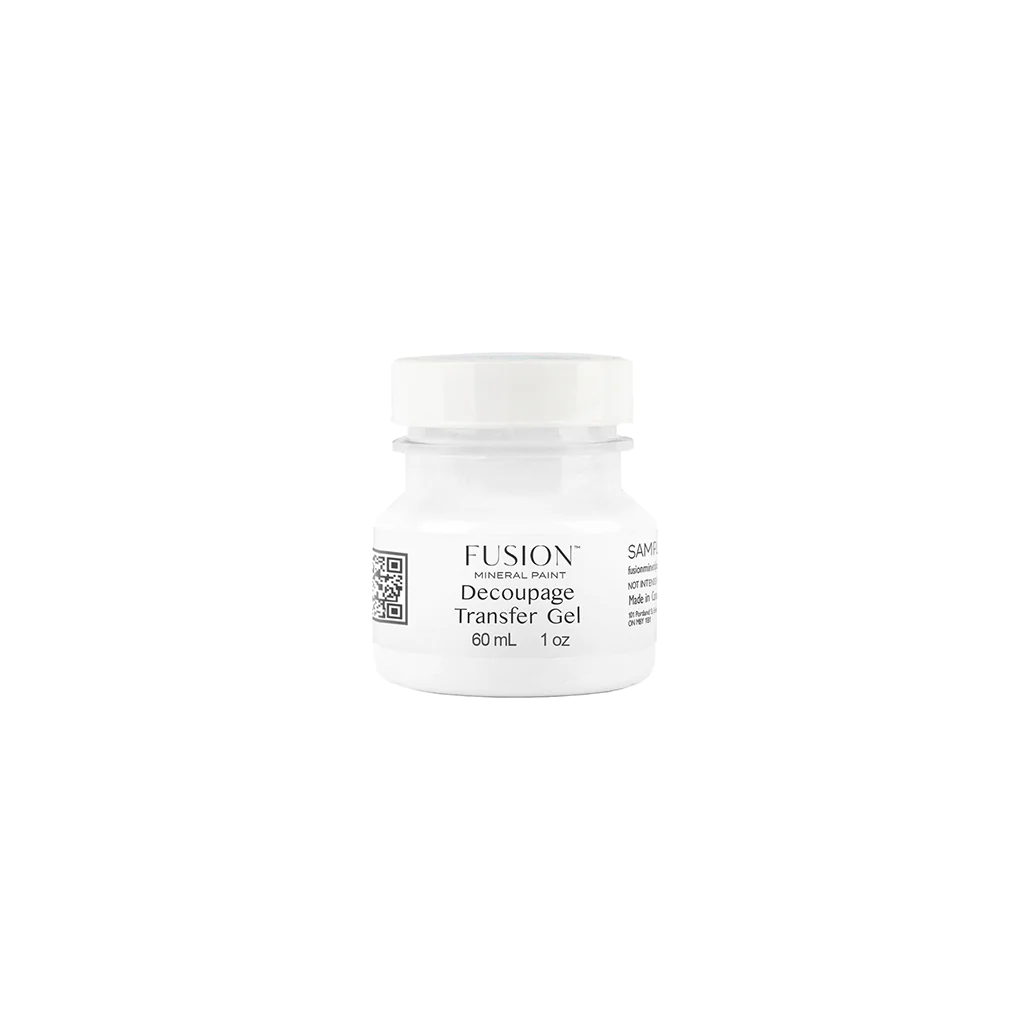 Simply, apply some gel to the inside surface of the drawer and the back of the map. Then, stick the map in place and smooth out any wrinkles or bubbles. Once dry you can add another layer of Decoupage & Transfer Gel for extra protection. This creative addition will infuse your bedside table with a sense of adventure.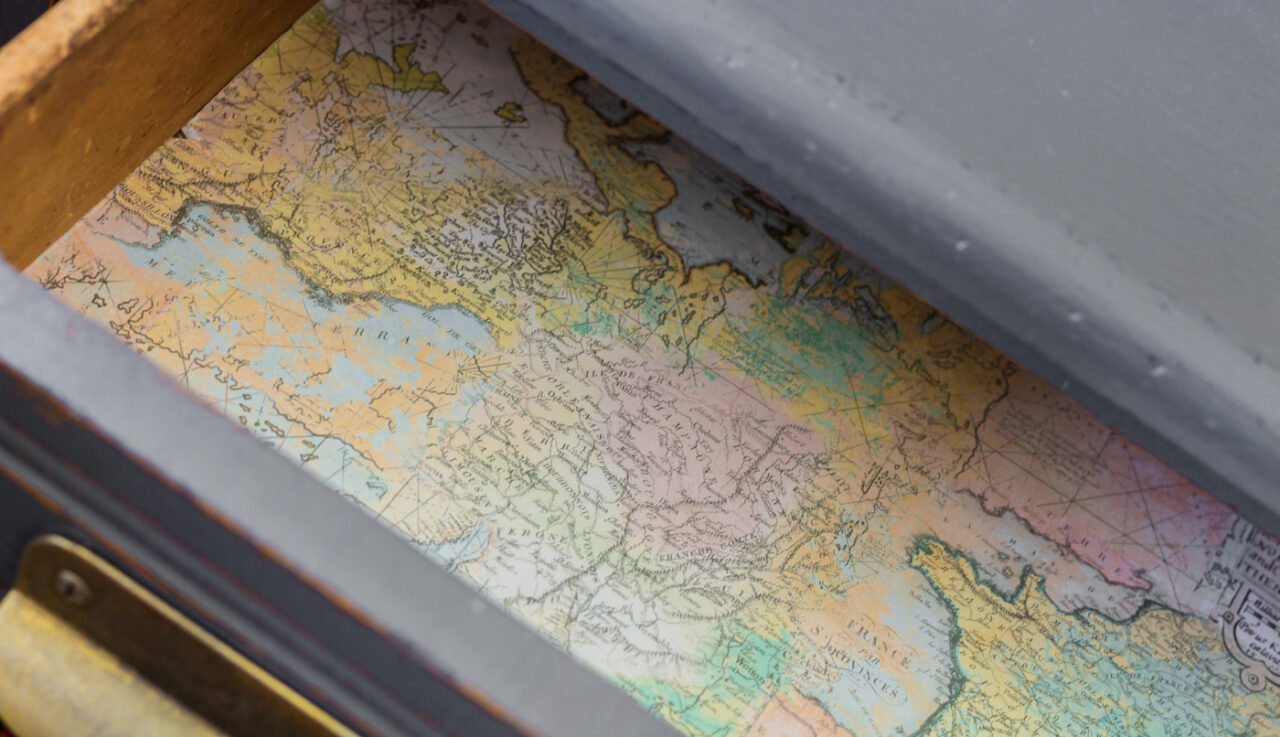 Creative Makeover using Homestead Grey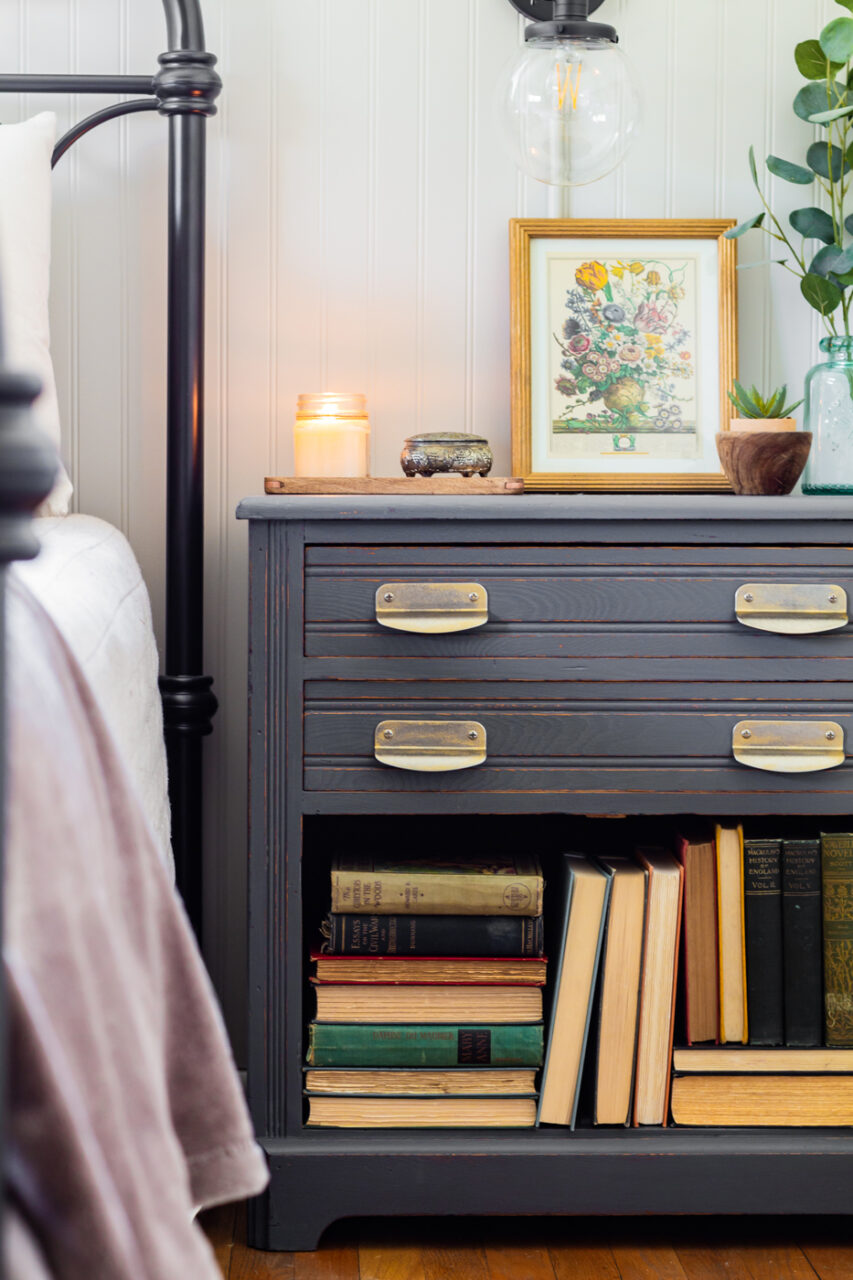 With the Homestead House Homestead Grey, Clear Furniture Wax, and a world map drawer liner, your small bedside table will undergo a remarkable transformation. The elegant grey tone, the functional book storage and the whimsical touch of the world map, creates a standout piece. Enjoy the process of refinishing and embrace the personalization that reflects your unique style.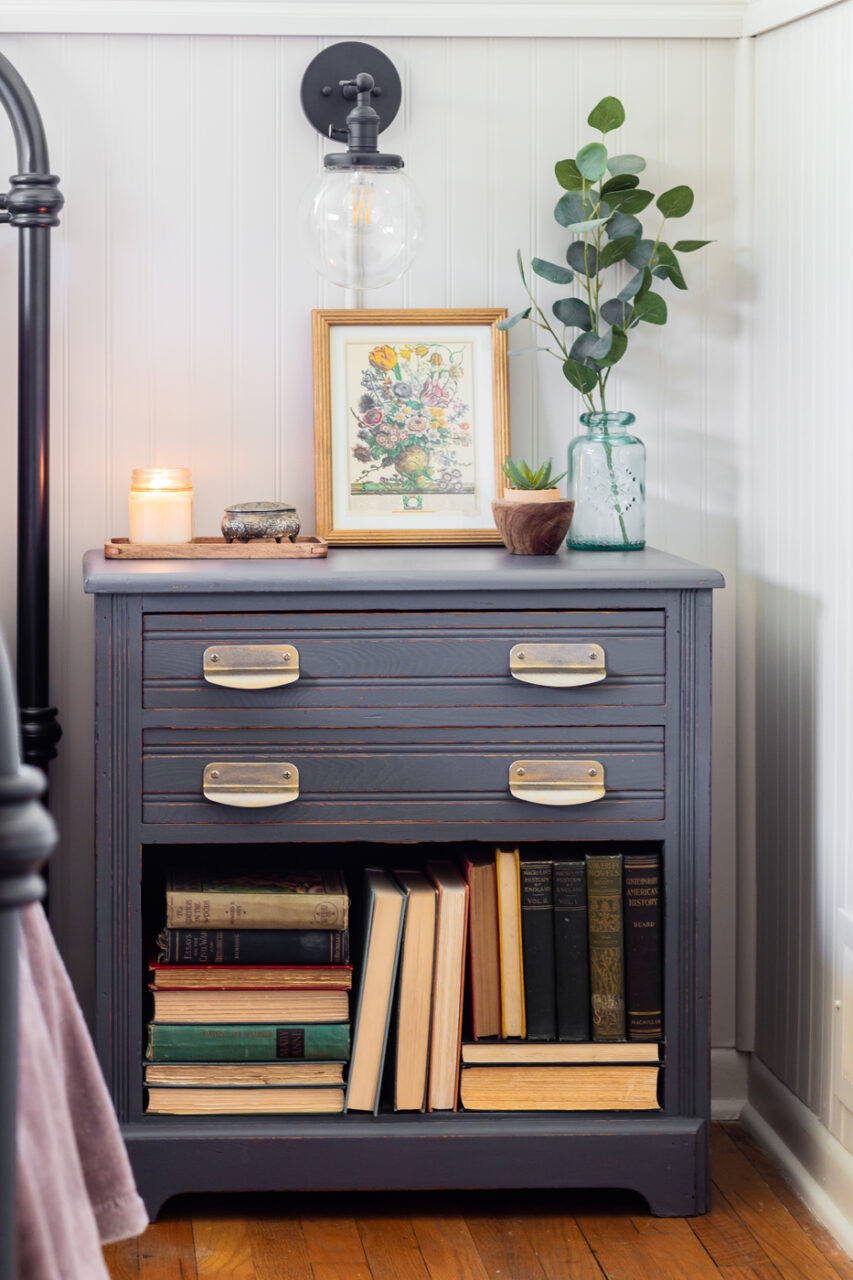 So, roll up your sleeves and let your imagination run wild. Embark on this creative adventure for a bedside table that truly reflects your style.