This solid pine Ikea dresser was a curbside find that was in desperate need of a makeover. The straight lines of this piece make it a perfect candidate for strong, vibrant colour and we knew instantly that Dala Red, a new milk paint colour, was the winner. Here is where the transformation began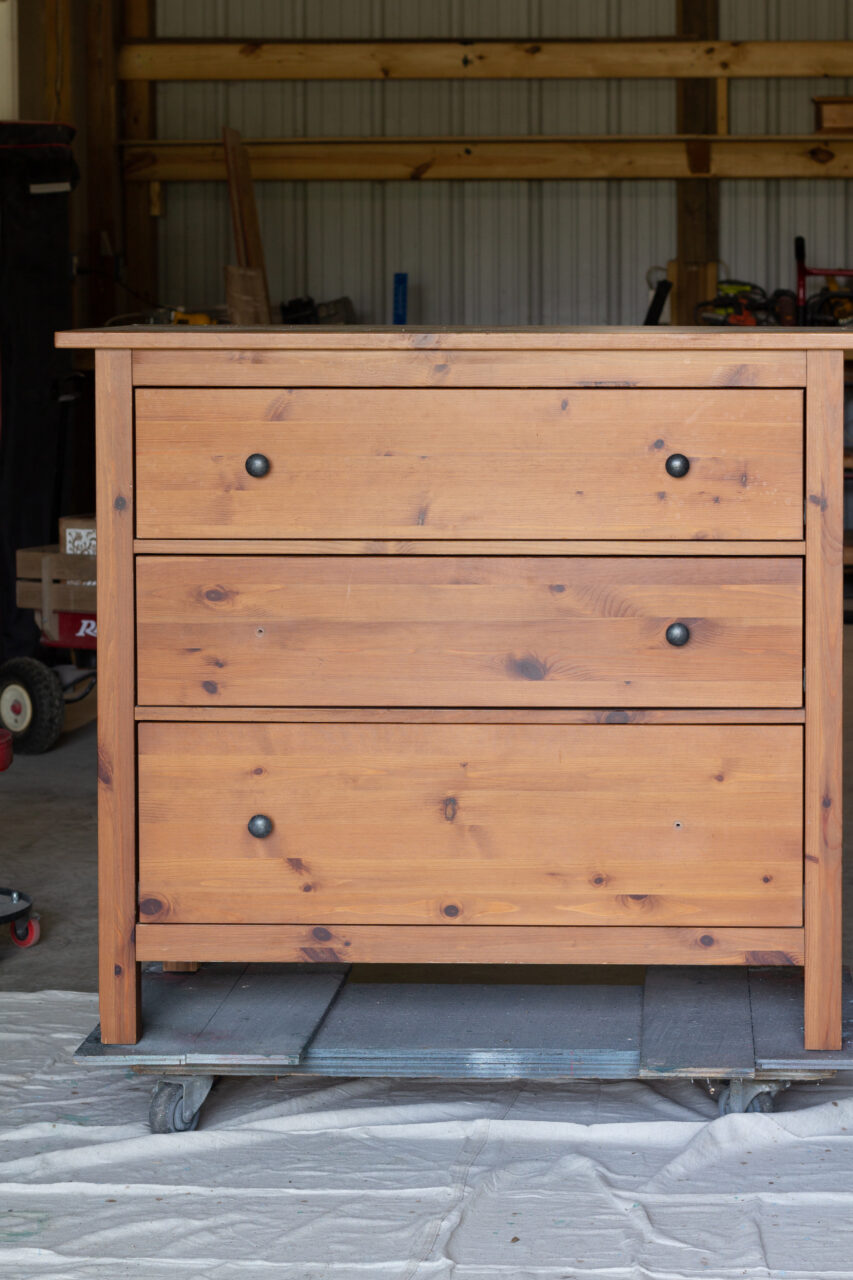 Below is a list of supplies you'll need to complete a similar project. 
TSP Alternative + Wiping Cloths
Homestead House Milk Paint "Dala Red" 
Mixing Cup + Stir Stick
Electric Sander with 120-180 scuff pads/paper
Fusion Mineral Paint Synthetic Chip Brush
Prep
We always begin our furniture makeovers with a good cleaning. Fusion TSP in a diluted solution with water makes for a perfect cleaning solution in a water bottle. Simply spray your piece down and wipe away any dust or residue. For heavier cleaning, we suggest a sponge or bristle brush. Let your piece dry before moving on to the next step.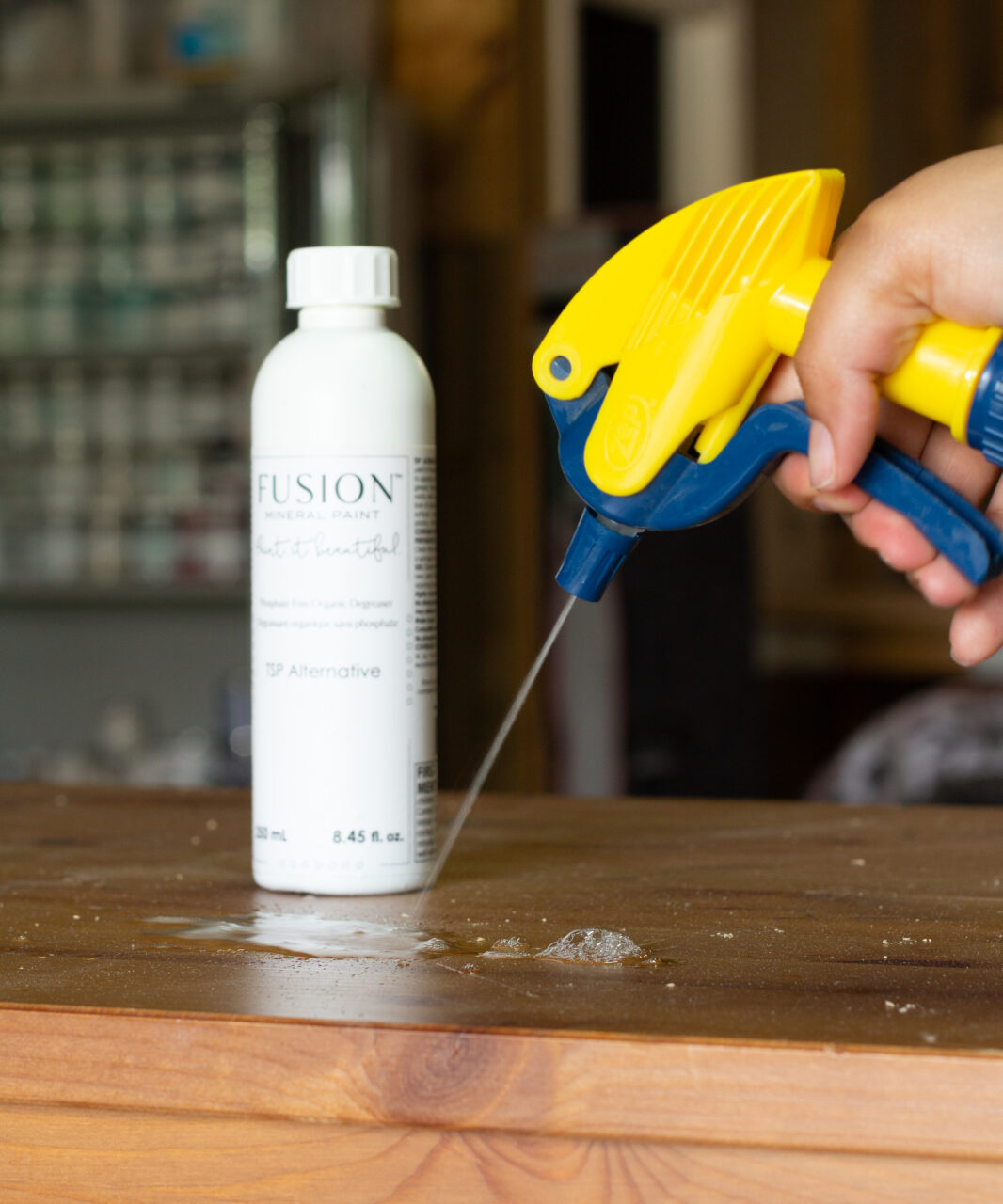 After our surface was clean and dried, we used our electric sander and 120 grit sanding paper to completely remove the finish on the top. Then we used 200 grit to provide a smooth surface for finishing.  We wanted a bare surface for a stained top look so removing the finish was our first choice. For the body, you only want to scuff sand with a medium grit paper to provide a tooth for paint adherence. We wanted to avoid chipping for this look, so we made sure to give it a thorough scuff sanding. Wipe up your dust with a damp cloth and get ready for paint.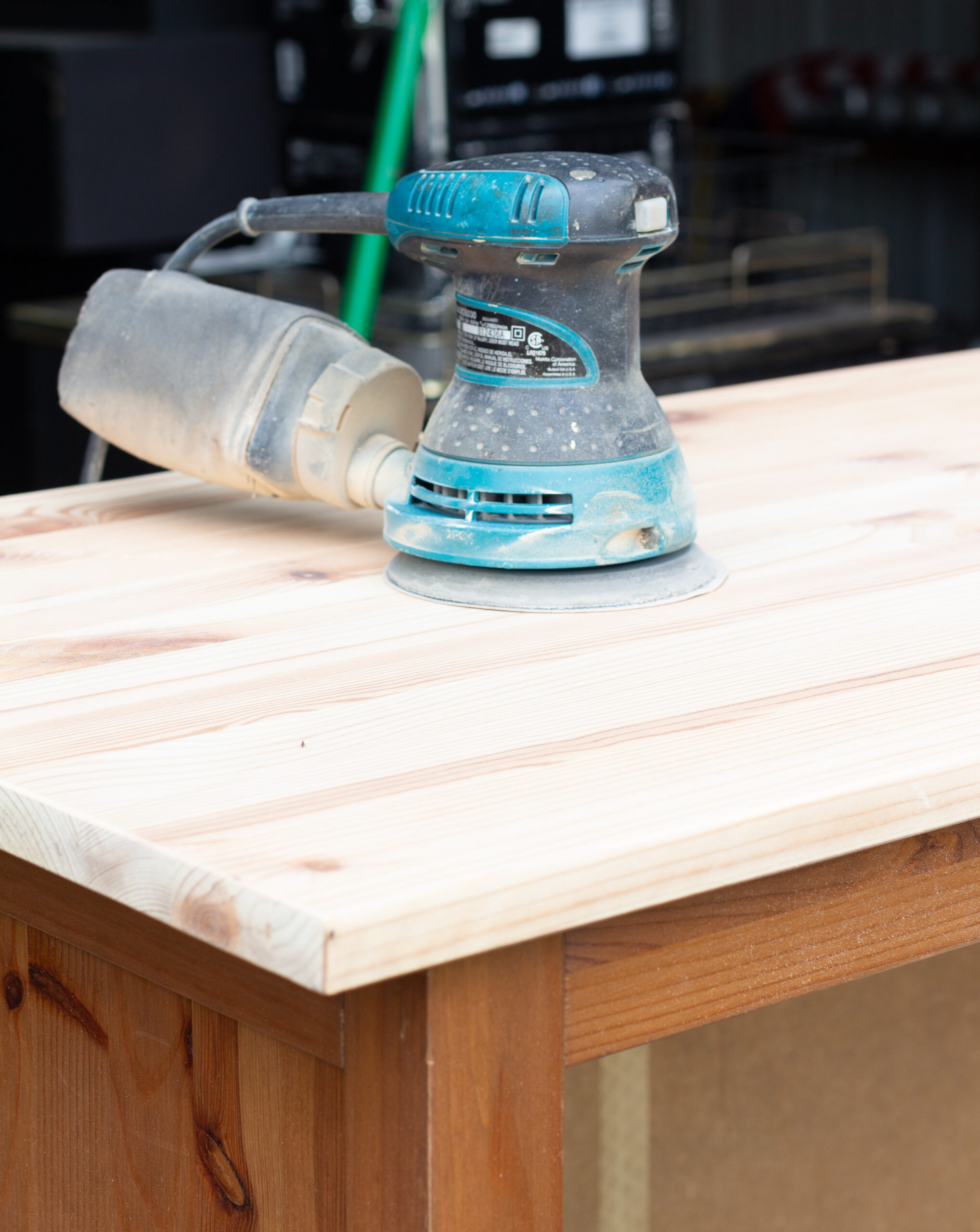 Milk Paint & Wax
Mixing up milk paint is the best part of the process. Mix a 1:1 ratio of room temperature water and milk paint and simply stir. You want to make sure to get the water mixed in so that it will break down the pigments into the water. Stir for a minute or so and you are good to go. Milk Paint can stay covered and is good to use for about a week or so. Just stir well to make sure it's mixed well before and during use.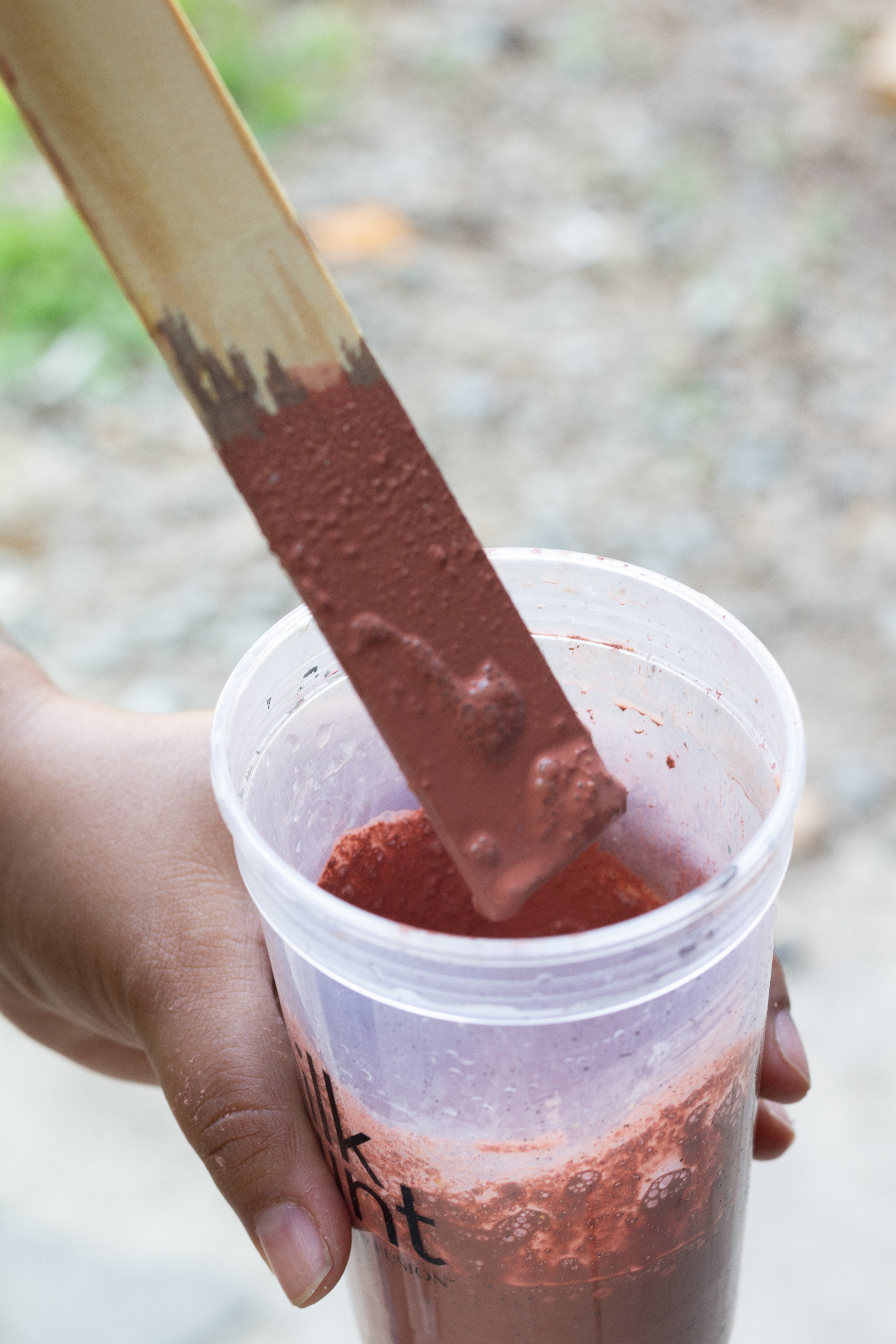 After the second stir of our paint, all we had to do was grab our paintbrush. We used a synthetic chip brush to apply our milk paint in thin coats. As you can see, the first coat is quite transparent almost looking like a stain.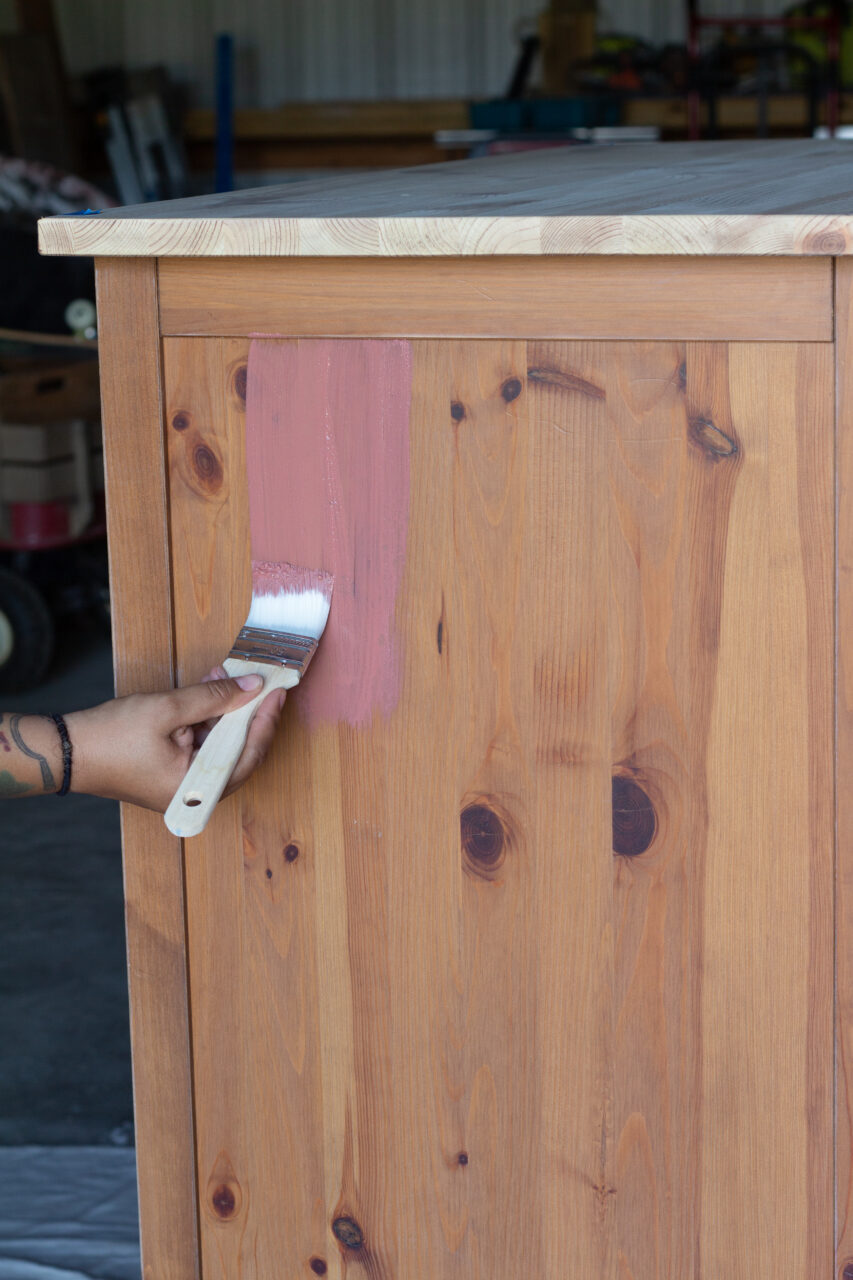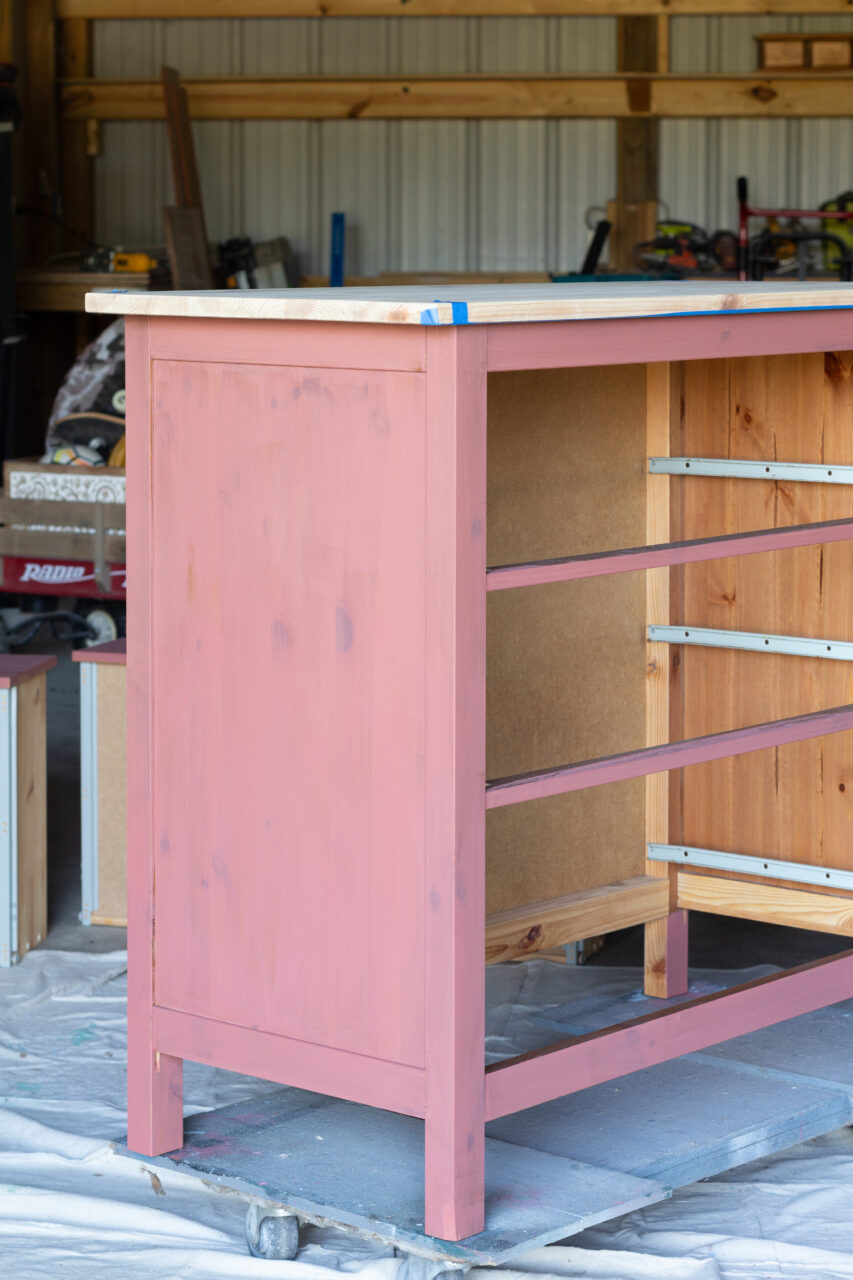 One amazing characteristic of milk paint is the versatility in its coverage. You can leave the first coat as a stain or a dye, or you can add subsequent coats and build your coverage. Since we wanted a solid look, we chose to add three complete coats for full coverage. 
After the milk paint cured for 30 minutes, we lightly sanded with a fine finishing pad and sealed it with one of our favourite Homestead House waxes. Antiquing wax adds such a lovely depth to the colour while providing protection at the same time. You can even use the wax to stain and seal your top.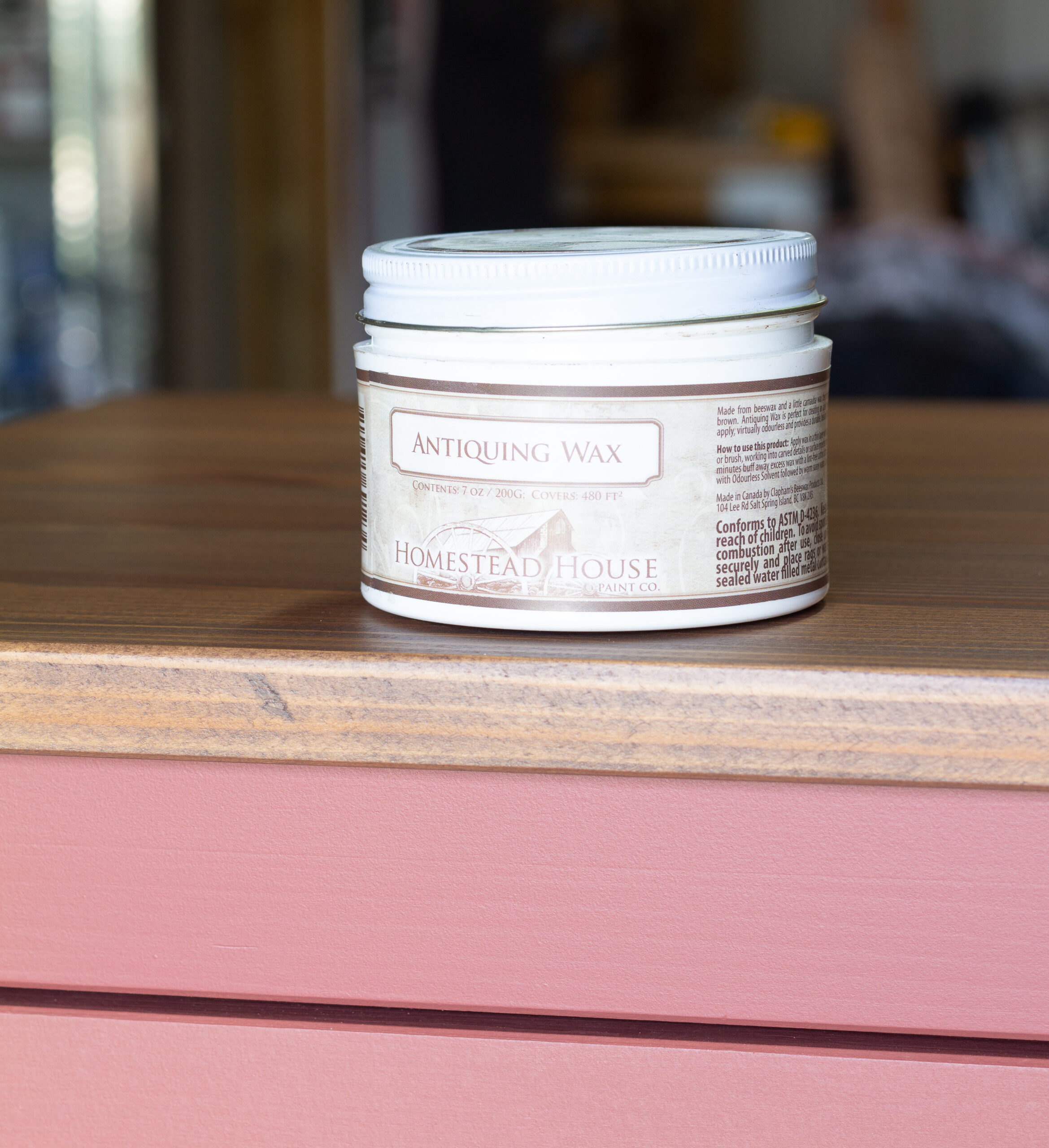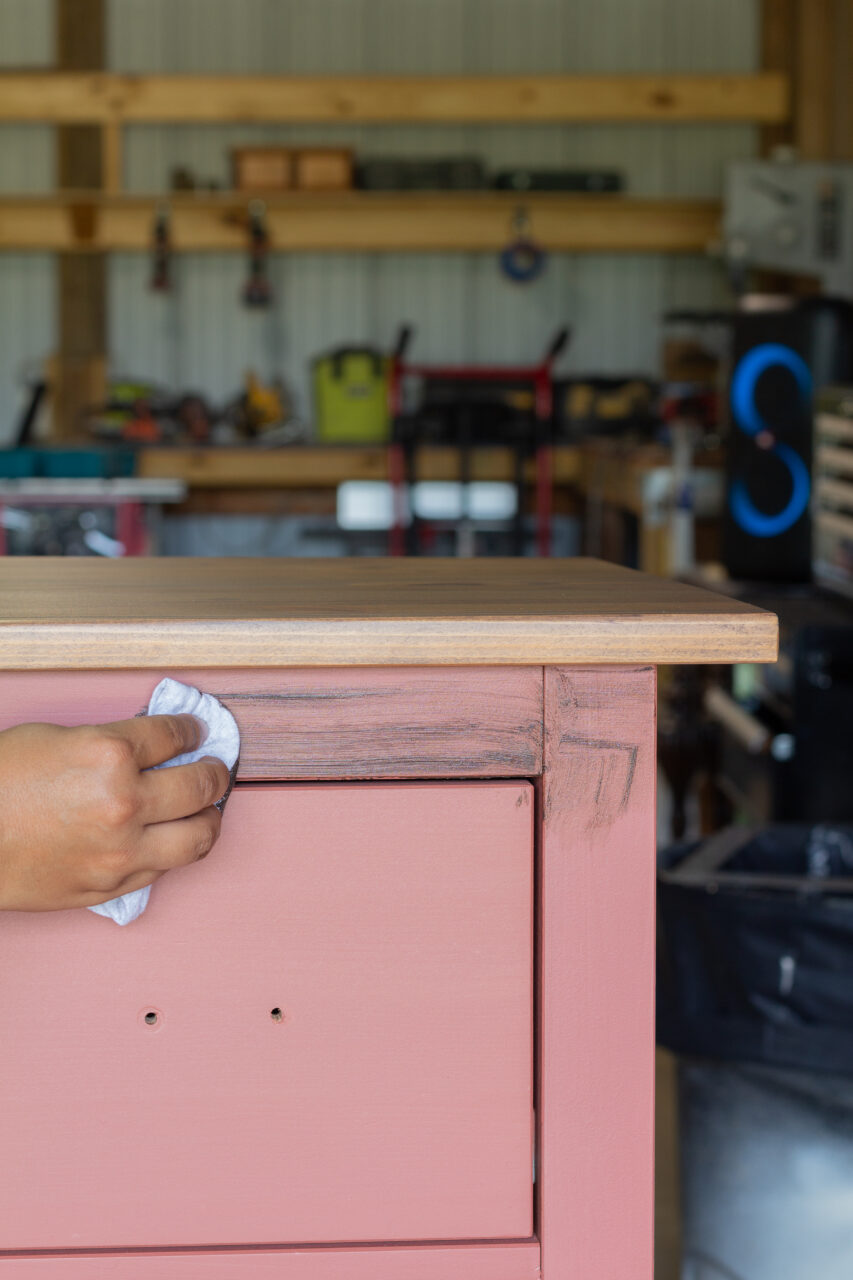 A Traditional Swedish Color
The final colour is nothing short of stunning! It's a rich and vibrant red with coral and rusty undertones. Dala red, a new milk paint colour, gives you a feminine twist on the traditional Swedish reds.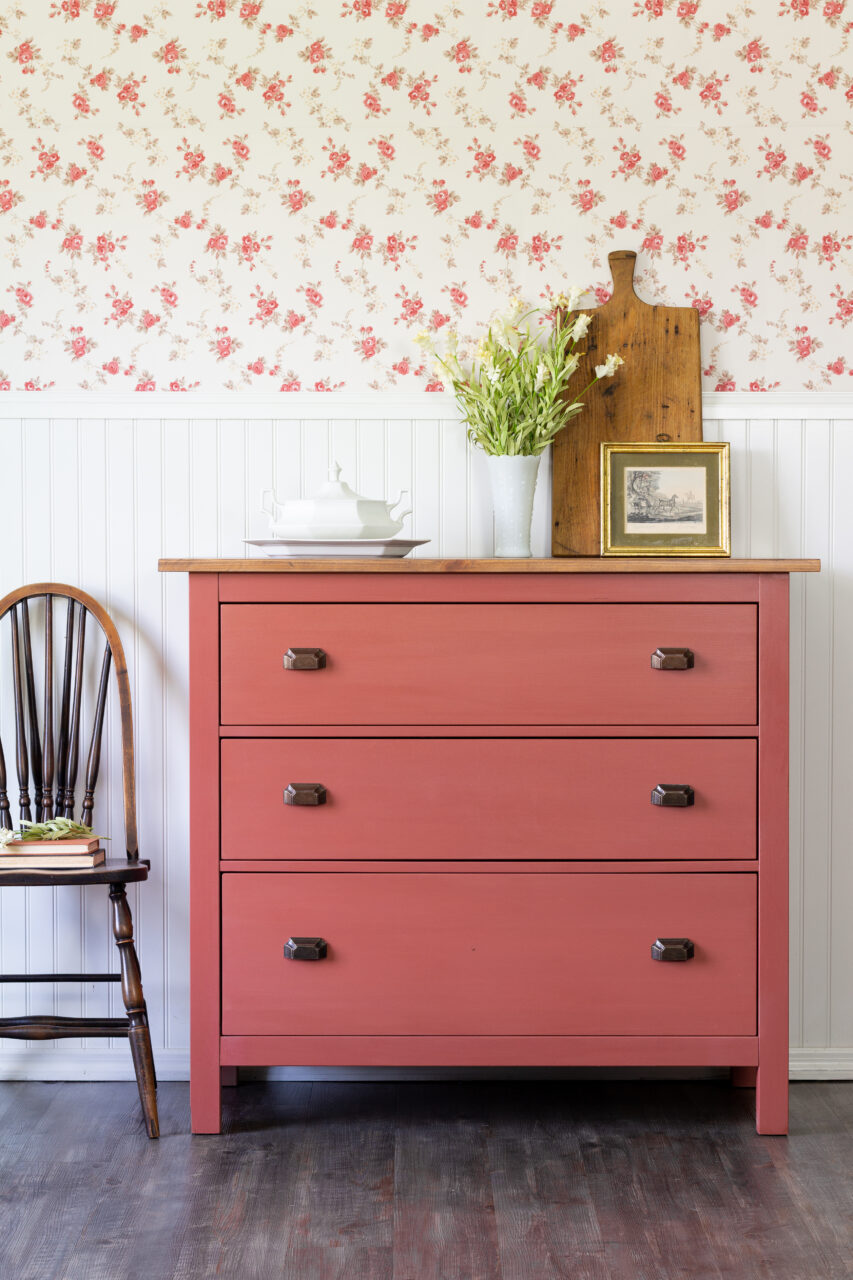 While the traditional reds in Swedish design are usually browner in tone, this colour was inspired by the lush, softer reds often used on inside  Swedish interiors. This iconic red originates in the copper mines of Dalarna and can be traced back to the 16th century!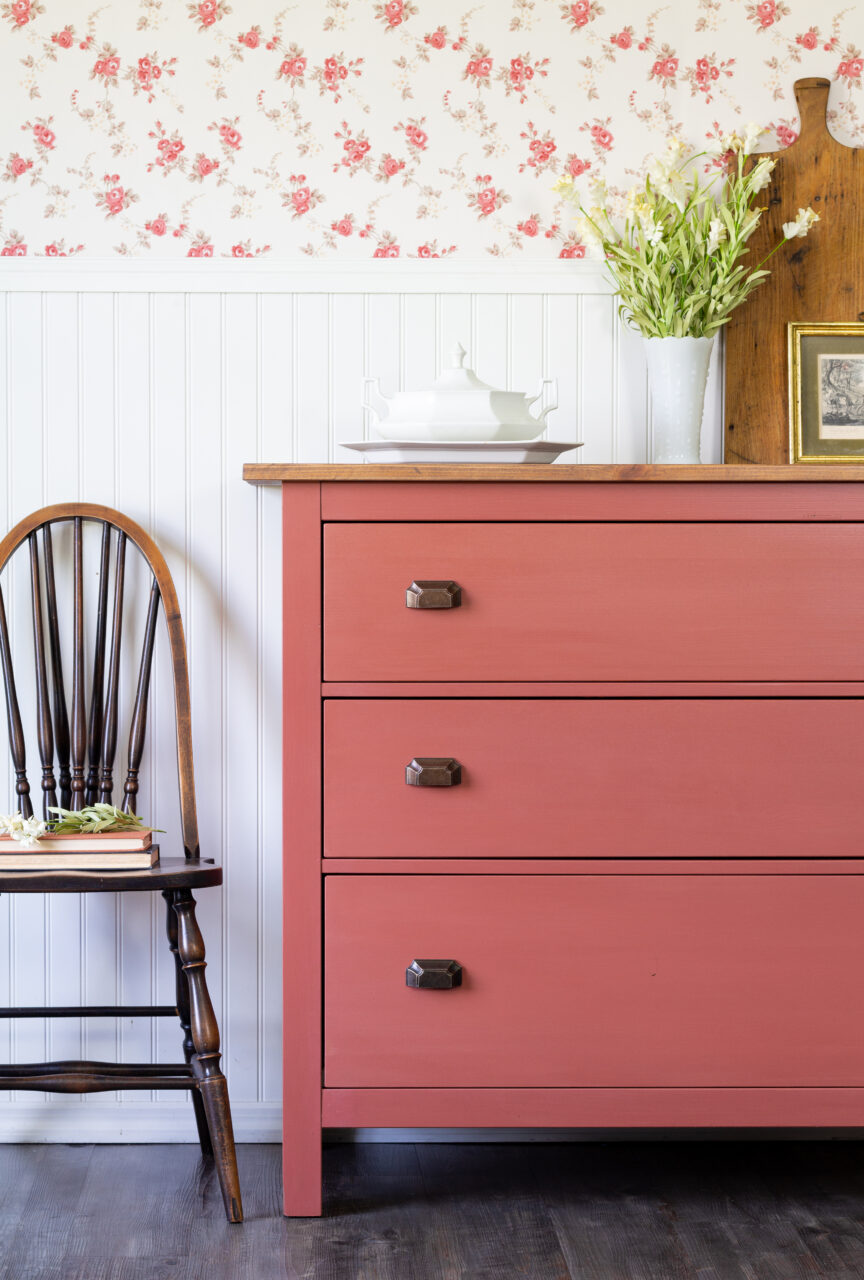 An even better surprise about this colour is how the evening sun makes the colour more vibrant and intense than it is already.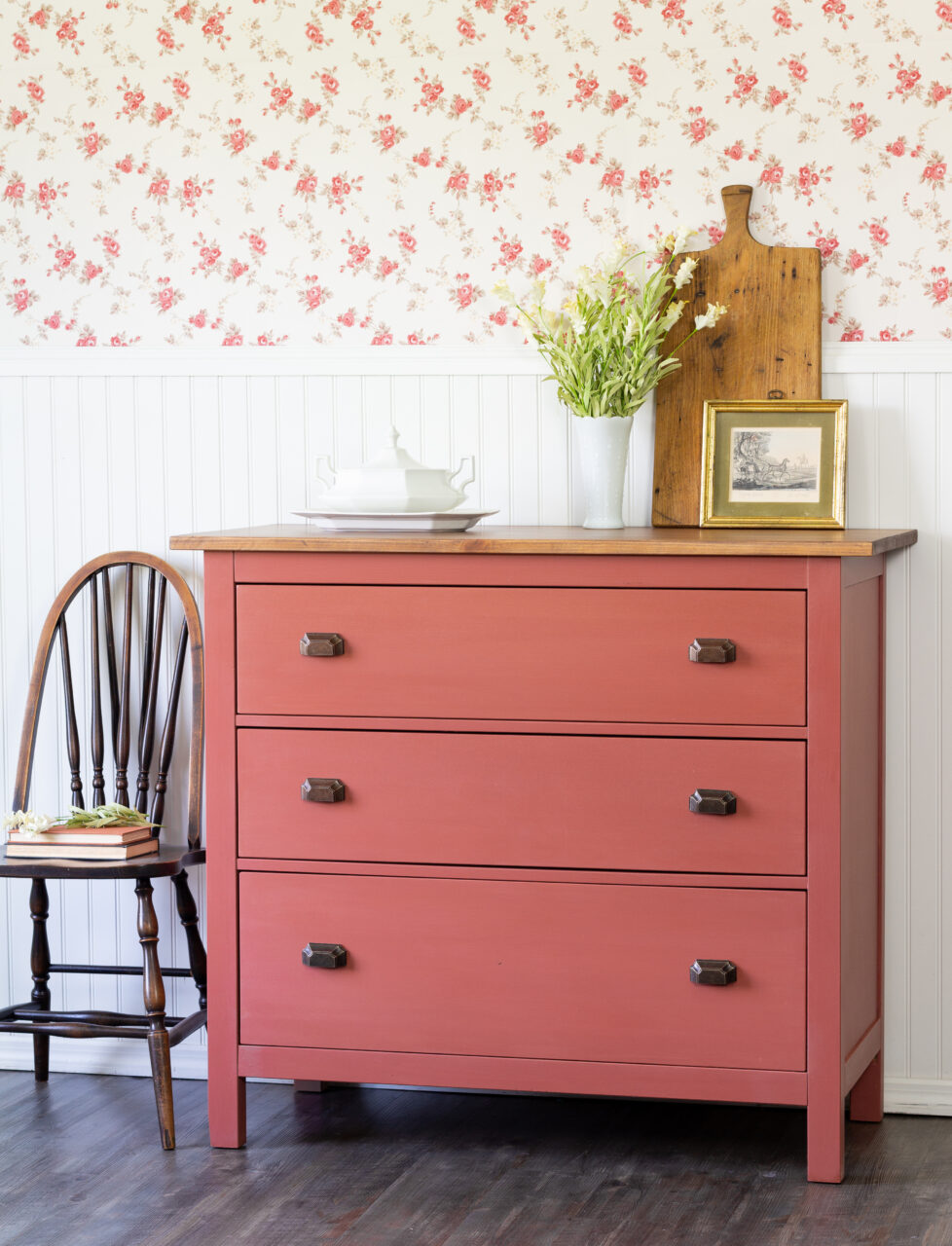 The antiquing wax adds a beautiful, soft sheen to the finish and only serves to enhance the colour. Paired with bronze handles, this piece definitely feels rich and warm.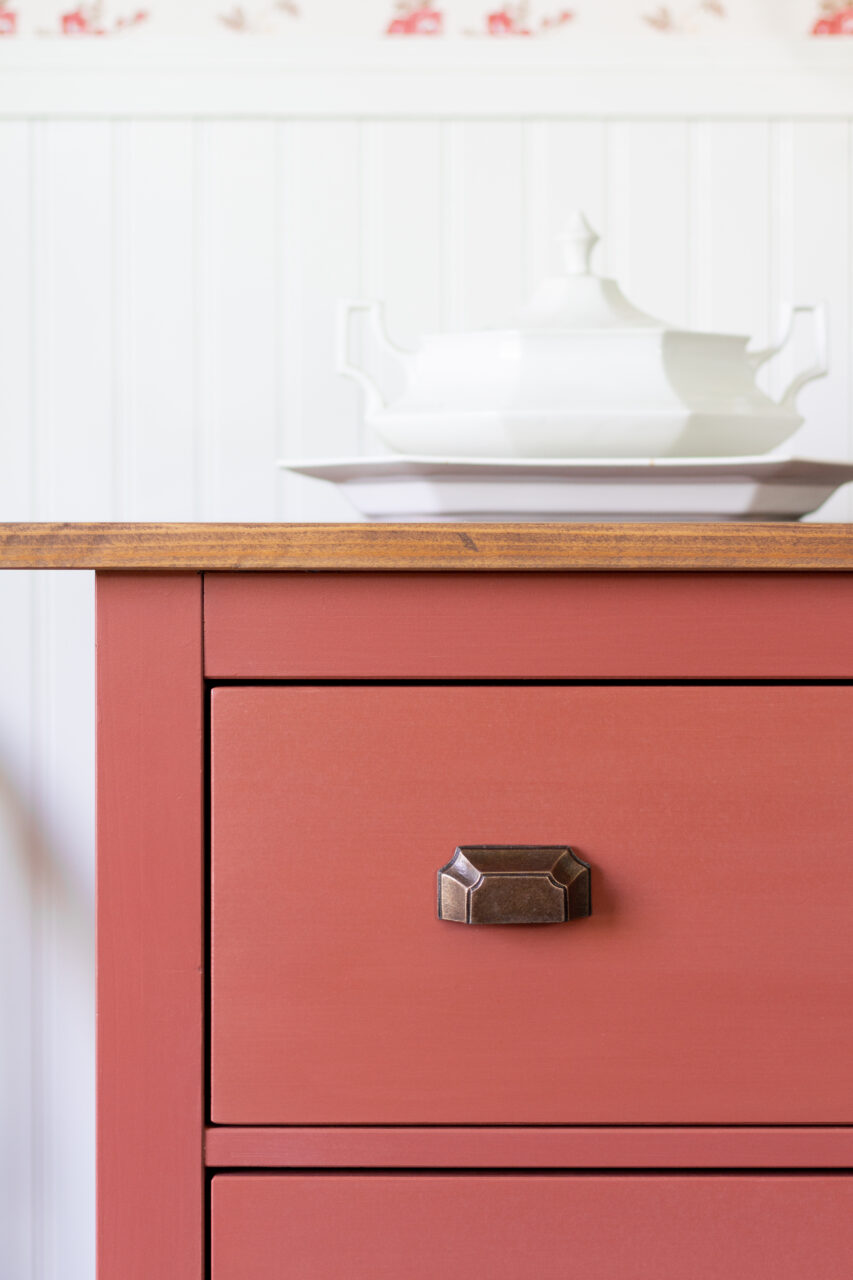 A good way to really tie in your colour is to add fun paper to the drawers. We saw this Scandinavian cottage wallpaper and knew it would pair perfectly with Dala Red. The warmth of the stained top further adds a texture that brings balance to the overall look.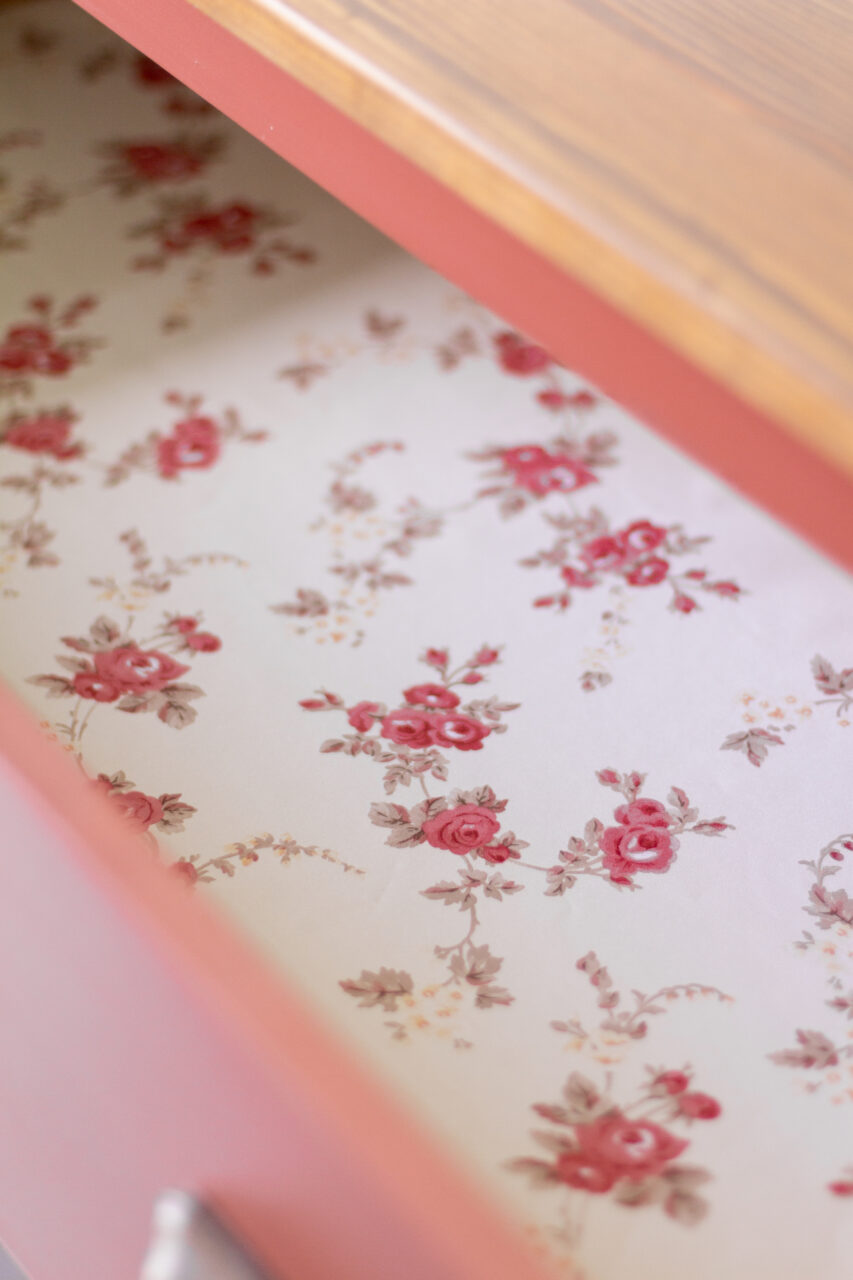 We hope you enjoyed this makeover as well as learning about the history of the colour. We can't wait to see Dala Red, a new milk paint colour, on your projects!