The most beautiful quality of milk paint is not only its non-toxic and eco-friendly ingredients, but it's ability to capture natural ageing and character in a single paint brush stroke. Milk paint is known for its chippiness and ease of distressing, which makes it unique among paints. It also comes in a powder form, ready to be mixed with water which gives you control over the type of finish. For this piece, we wanted to go with a classic, chippy farmhouse and the colour we used is Grey Silk. It did not disappoint. 
Here is a before look at the piece: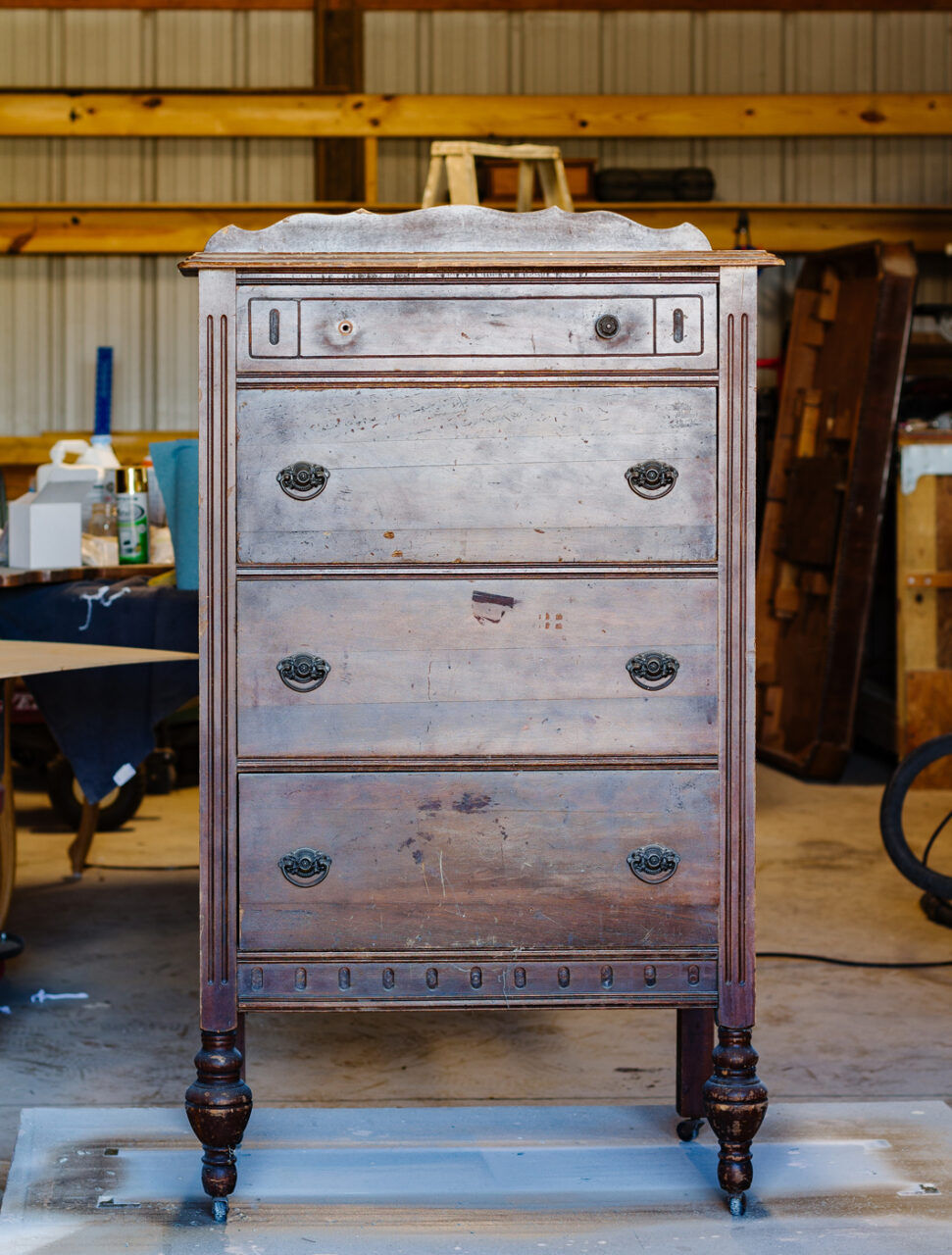 Below is a list of supplies you'll need to complete a similar project to Grey Silk: Old World Finishes
Fusion TSP Alternative + Wiping Cloths
Homestead House Milk Paint "Grey Silk"
Fusion Mineral Paint "Linen" (discontinued, we recommend Algonquin as a replacement)
Homestead House Clear Wax
Homestead House Antiquing Wax
Electric Sander and Sanding Pads/Paper
Stir stick + Container
Gel stripper + Chip Brush
Wire brush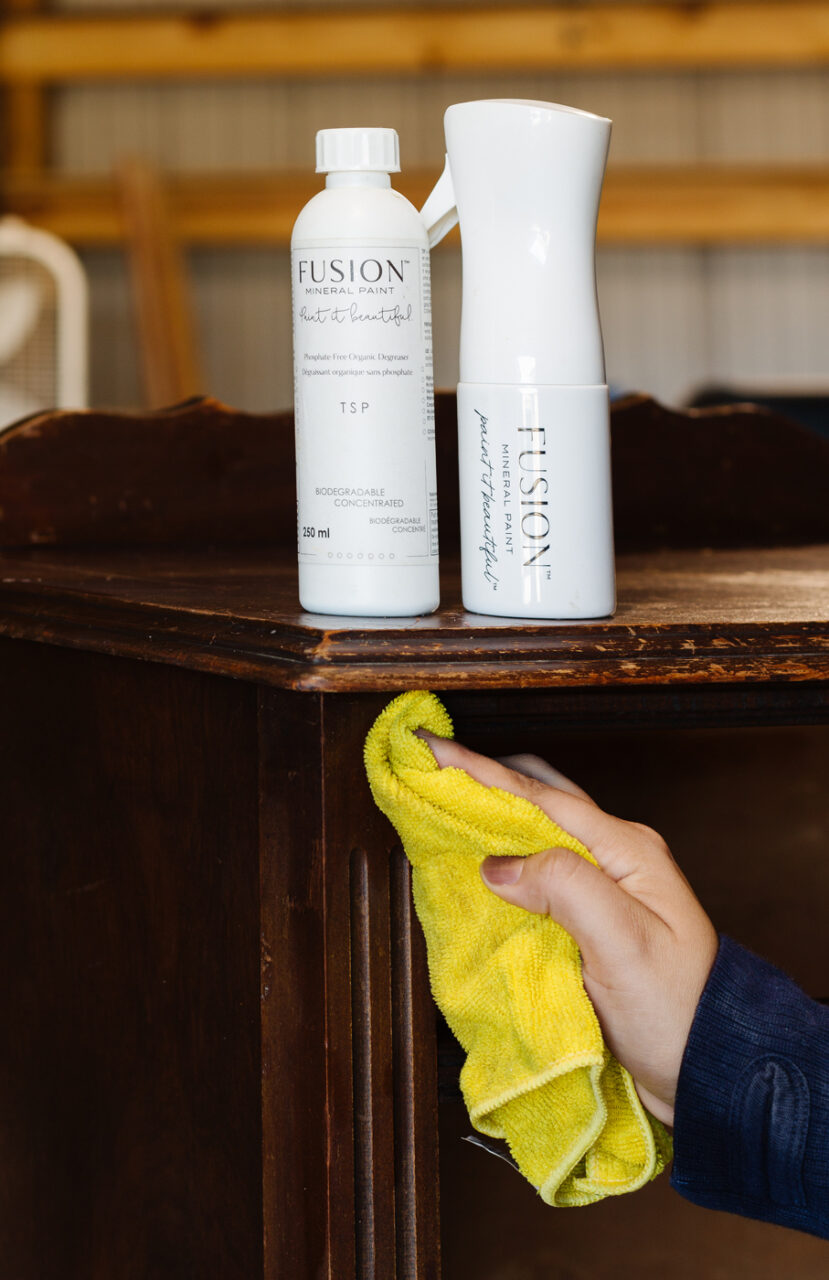 Prep
This piece was one we had stored away for a while. A good deep cleaning was definitely required to get this piece properly prepped. After vacuuming out the interior, we used Fusion TSP Alternative Solution and mixed it with water into a spray bottle. We like to apply our solution this way to avoid aggravating any possible loose veneer. Simply spray and use your wiping cloth to remove any dirt and grease.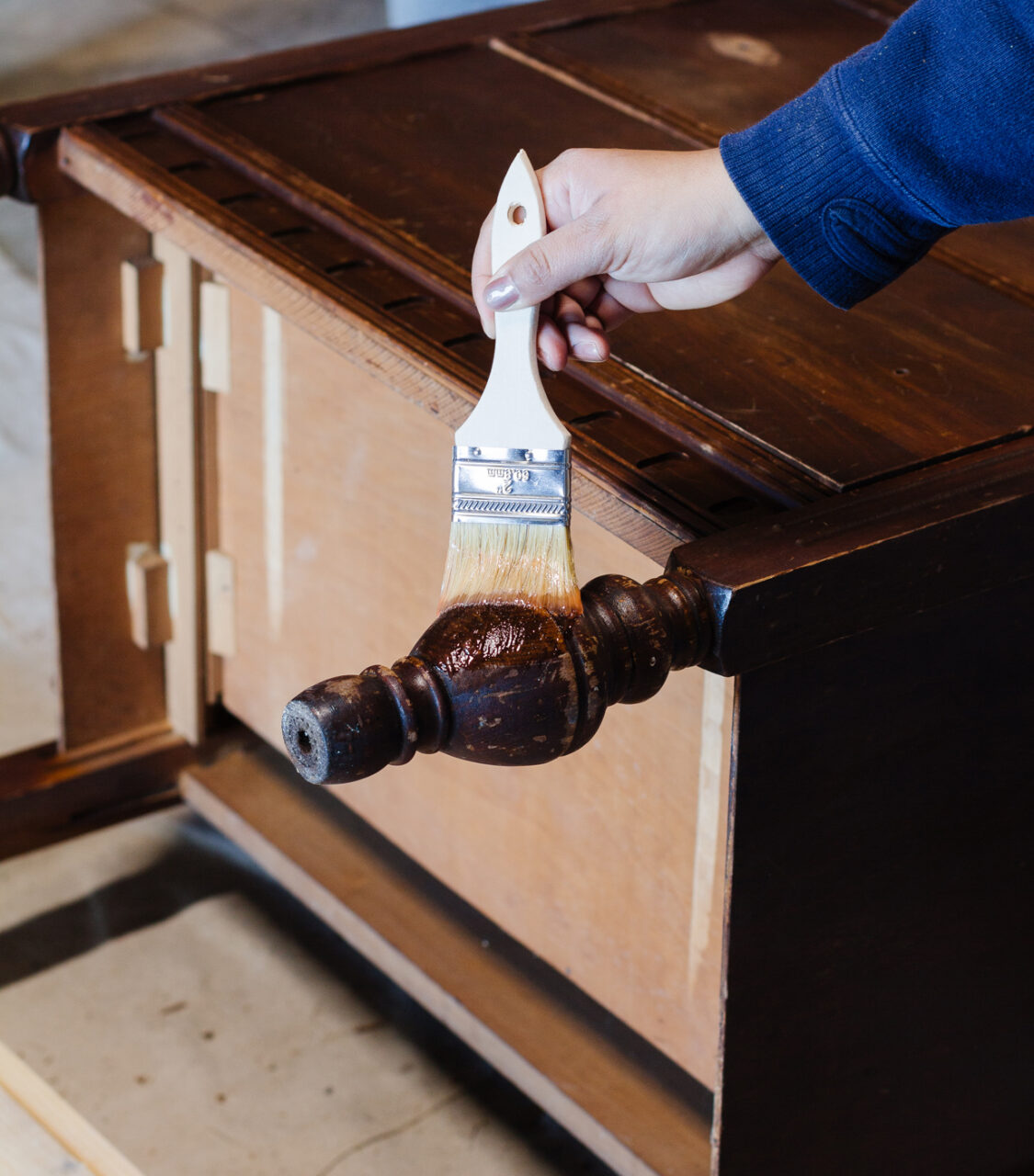 We wanted to provide some contrast but also stay true to our "old world" look. So we decided to strip the legs down to raw wood. We took an eco-friendly gel stripper and saturated the legs. Then we used a wire brush to scrape away the finish. Use Odourless solvent to remove the remaining stripper residue and leave you with a clean surface.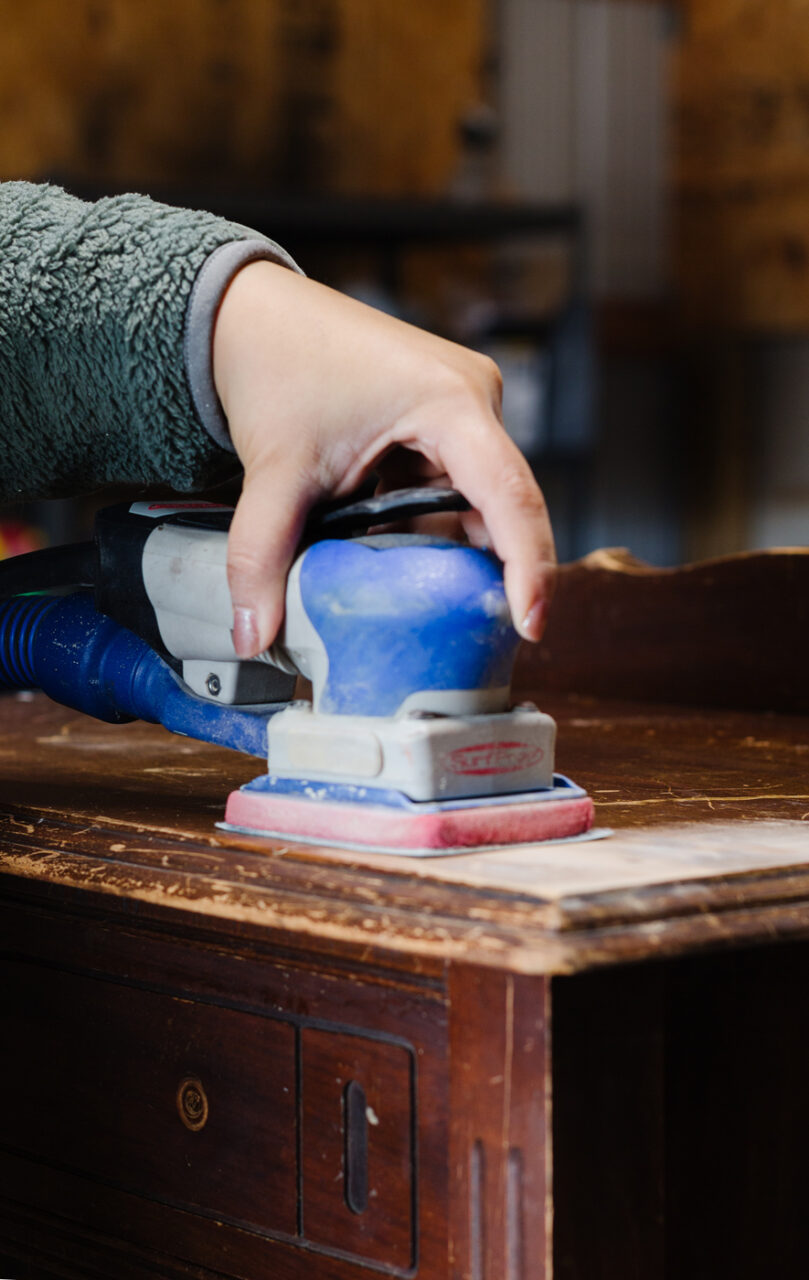 Next we started on the sanding portion. We didn't want to remove the previous finish because we wanted some chipping and distressing. So we only gave a quick scuff sand using our electric sander and sanding pads to smooth out the surface and create a grip for our paint.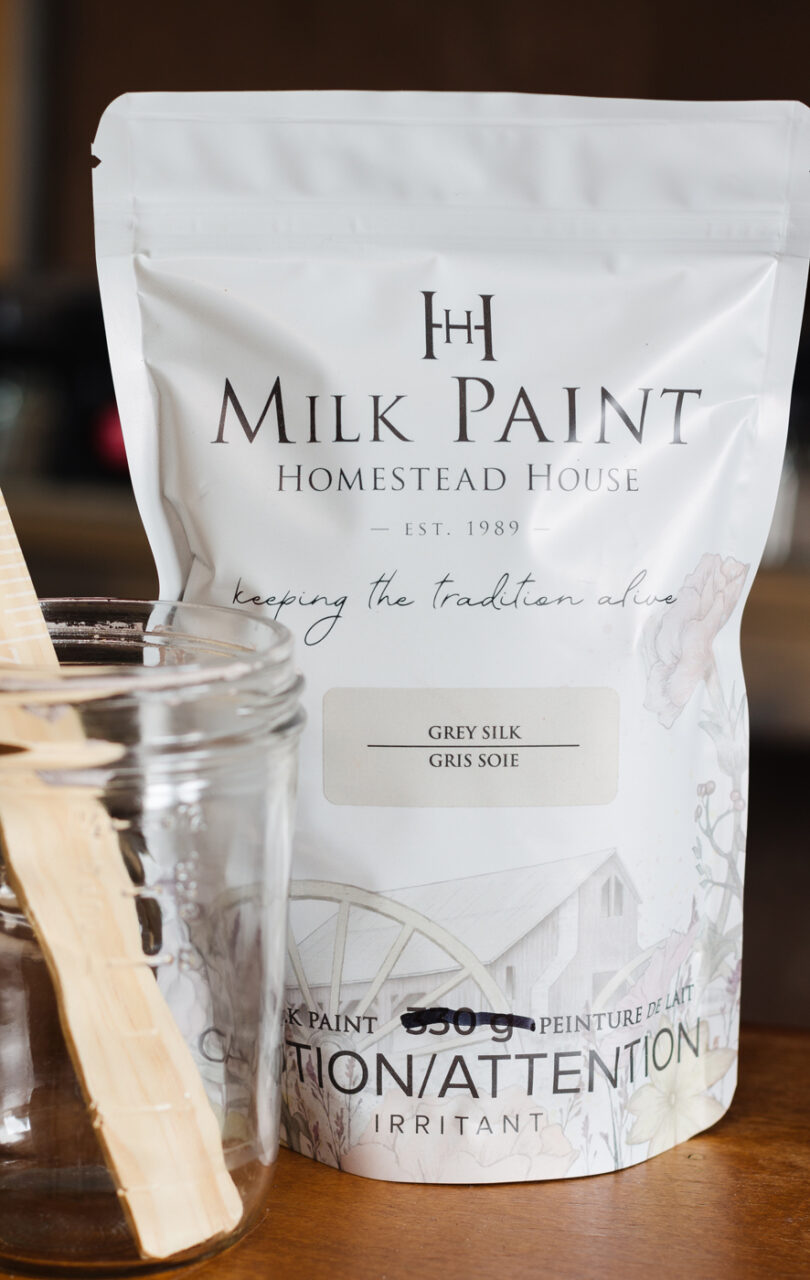 Milk Paint & Wax
We cleaned up all the dust residue with a damp cloth and got started on mixing our paint. We wanted a semi-thick consistency so we mixed a 1:1 milk paint-to-water ratio and added 2 tablespoons of additional milk paint powder to our mixture. This makes the consistency slightly thicker and gives us a more opaque build over the dark wood.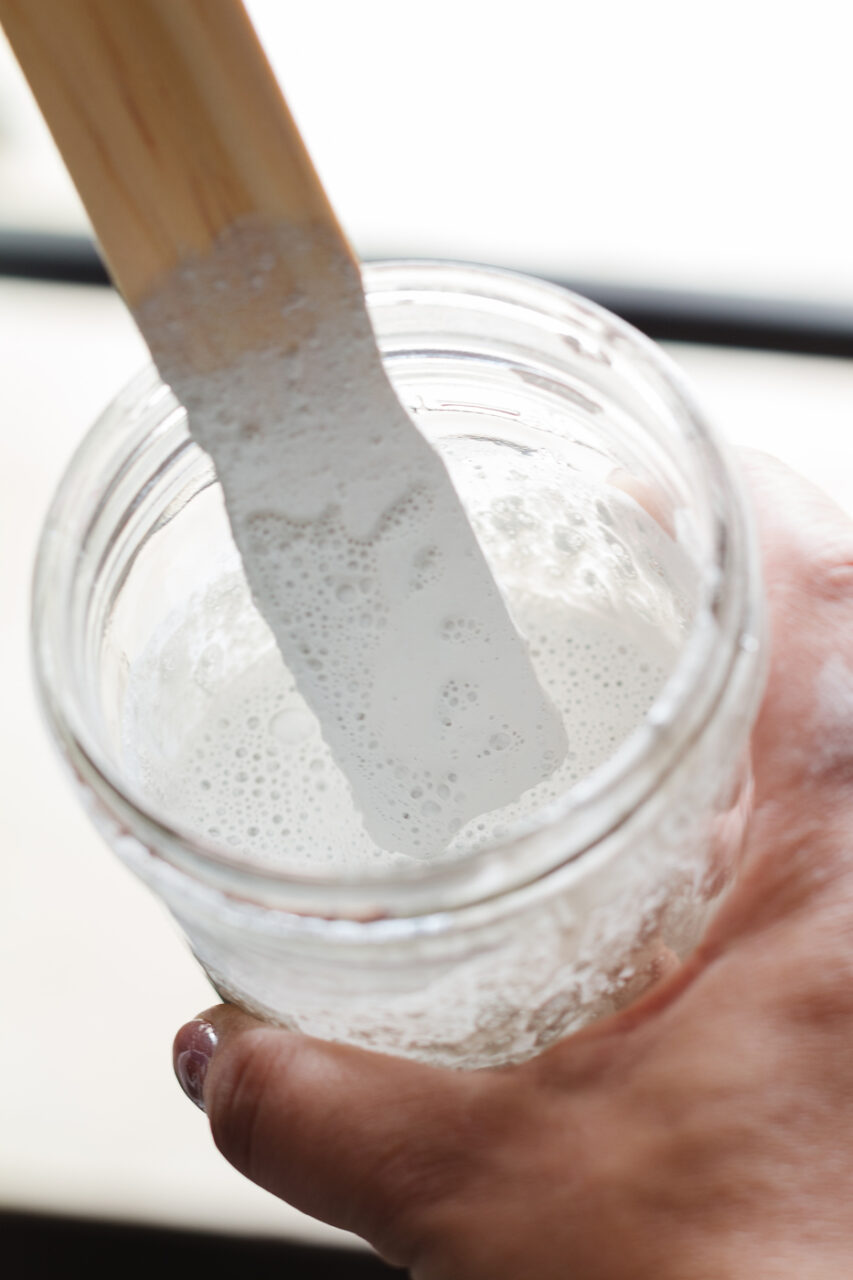 The colour will still be slightly sheer, but our first coat sets the foundation for our paint. We can see that the first coat gave us a thick, milky wash, but we wanted full opaque coverage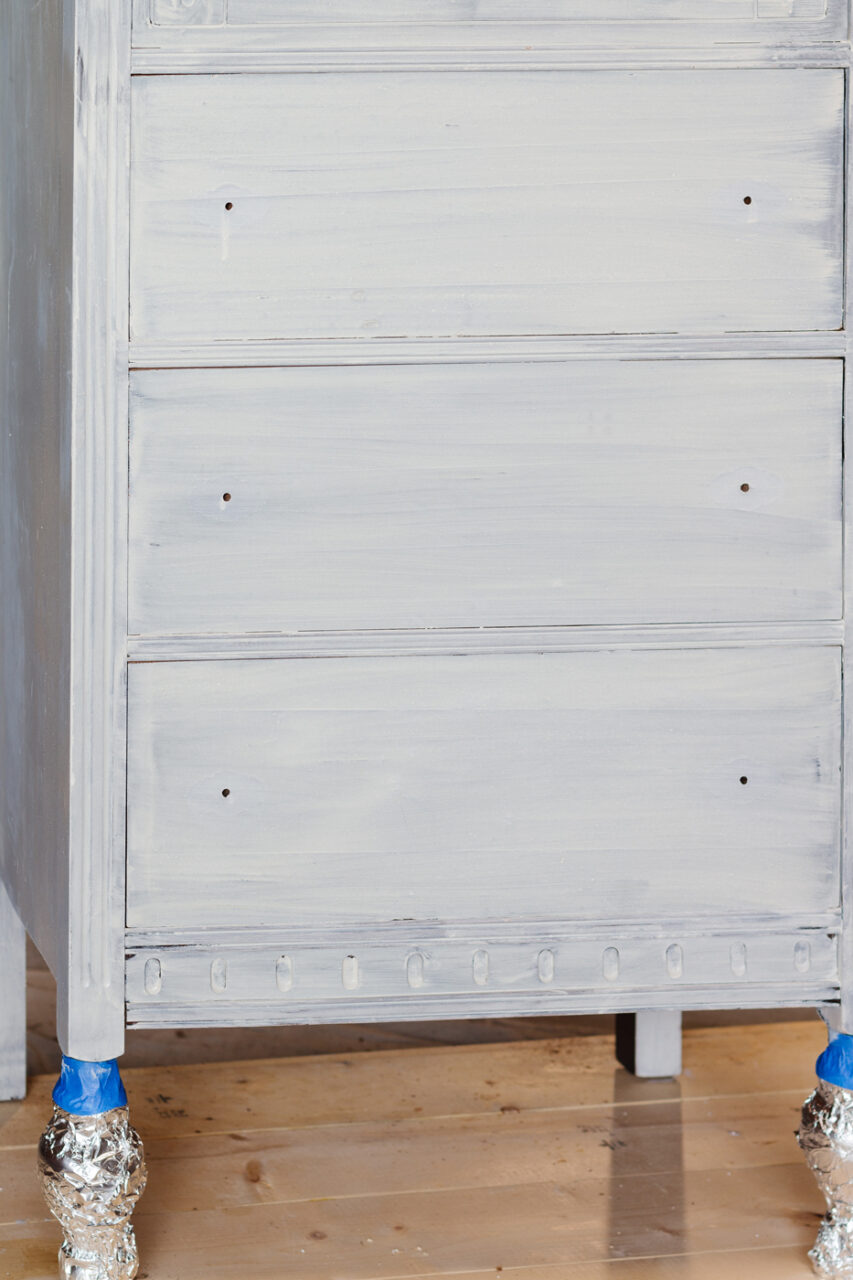 Our third and final coat gave us the coverage we were looking for. We could see some chipping and crazing in some spots which is precisely what we were looking for. At this point, you want to smooth out the finish with a sanding pad and apply more pressure over the ornate details to bring them out with distressing.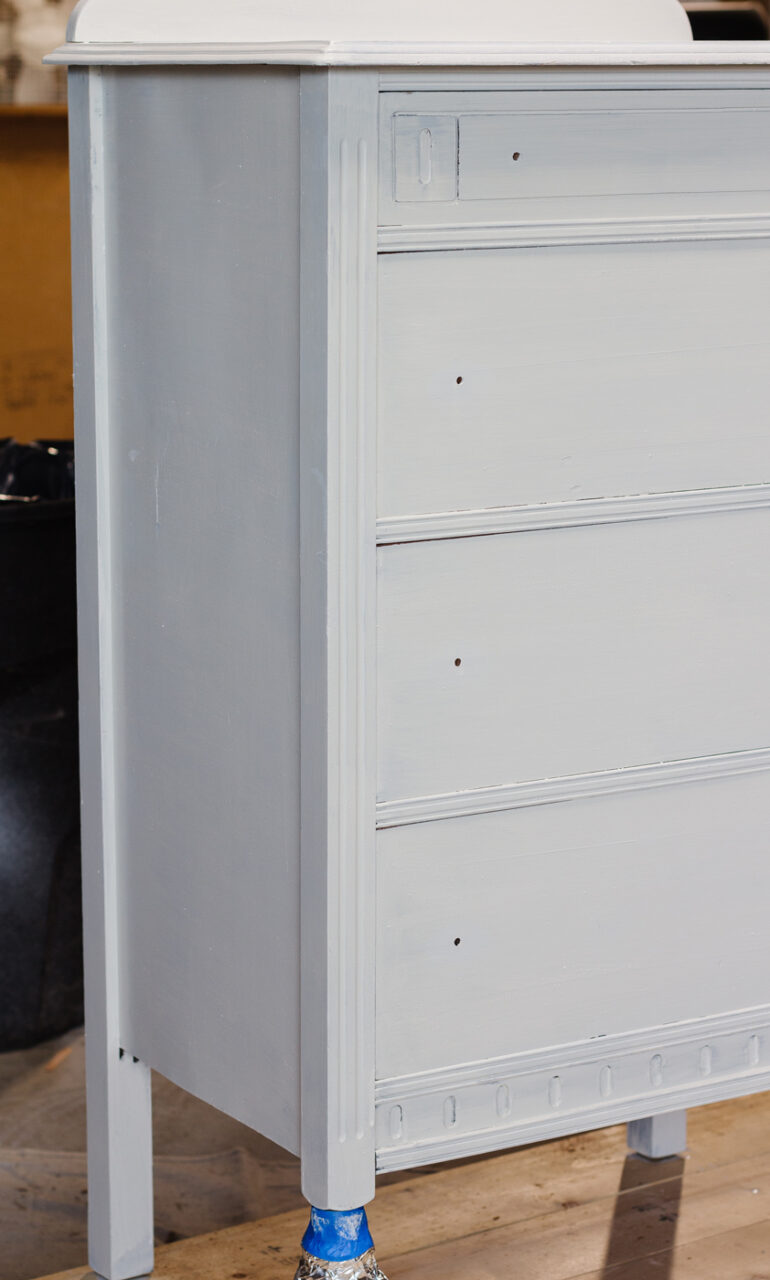 Even though we didn't completely remove the stain from the legs, we did remove the finish to allow a paint wash to soak into the wood. We used a tablespoon amount of Fusion Mineral Paint's "Linen" (discontinued, we recommend Algonquin as a replacement) mixed with 2 cups of water to create a paint wash. Simply, apply the paint wash to the legs, and wipe away the excess.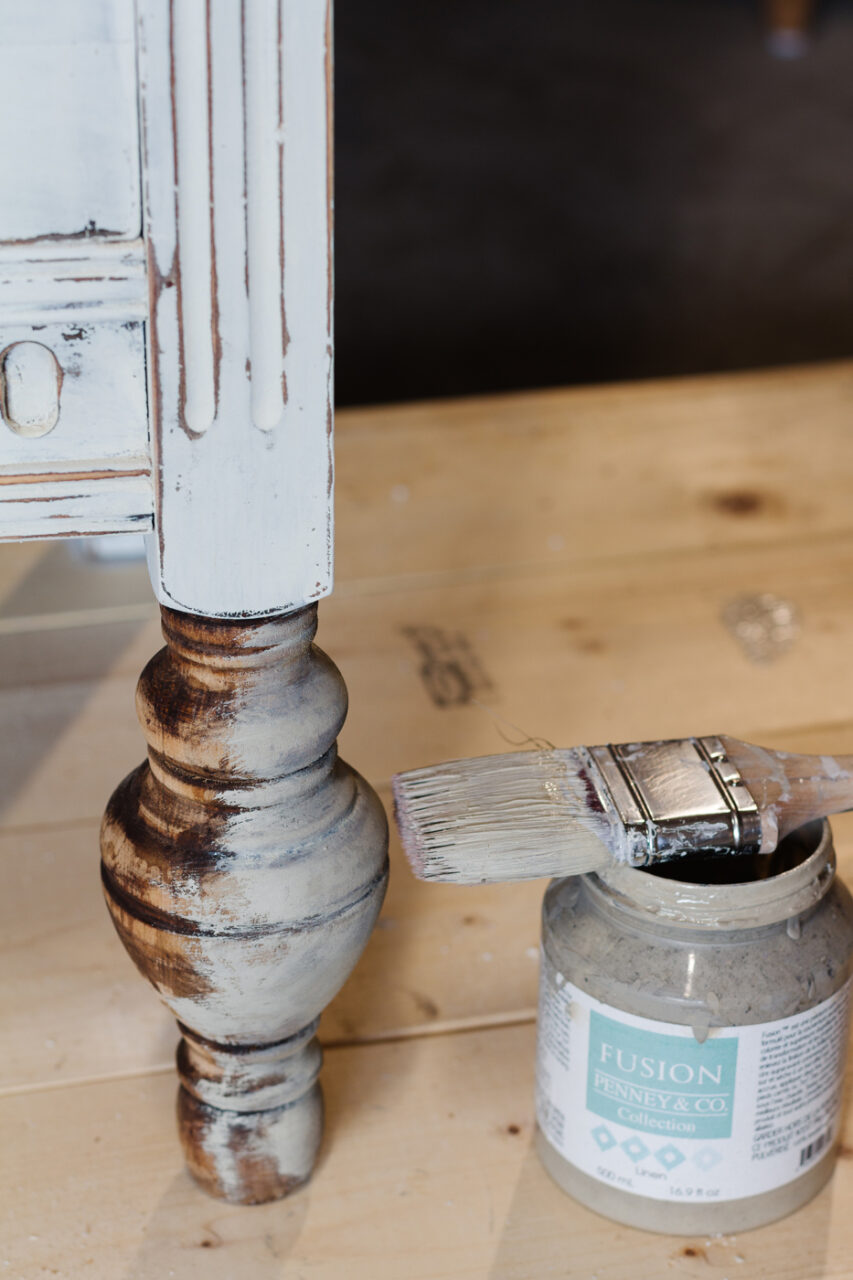 Once all your paint has dried, you're ready to seal. We love using Homestead House Clear Wax to seal milk paint because of the flat finish that still provides some water-resistant protection. It also serves as the base layer for accent waxes. Apply with a natural bristle brush in a circular motion, allow to dry to a haze, then buff with a lint-free cloth. It's that easy.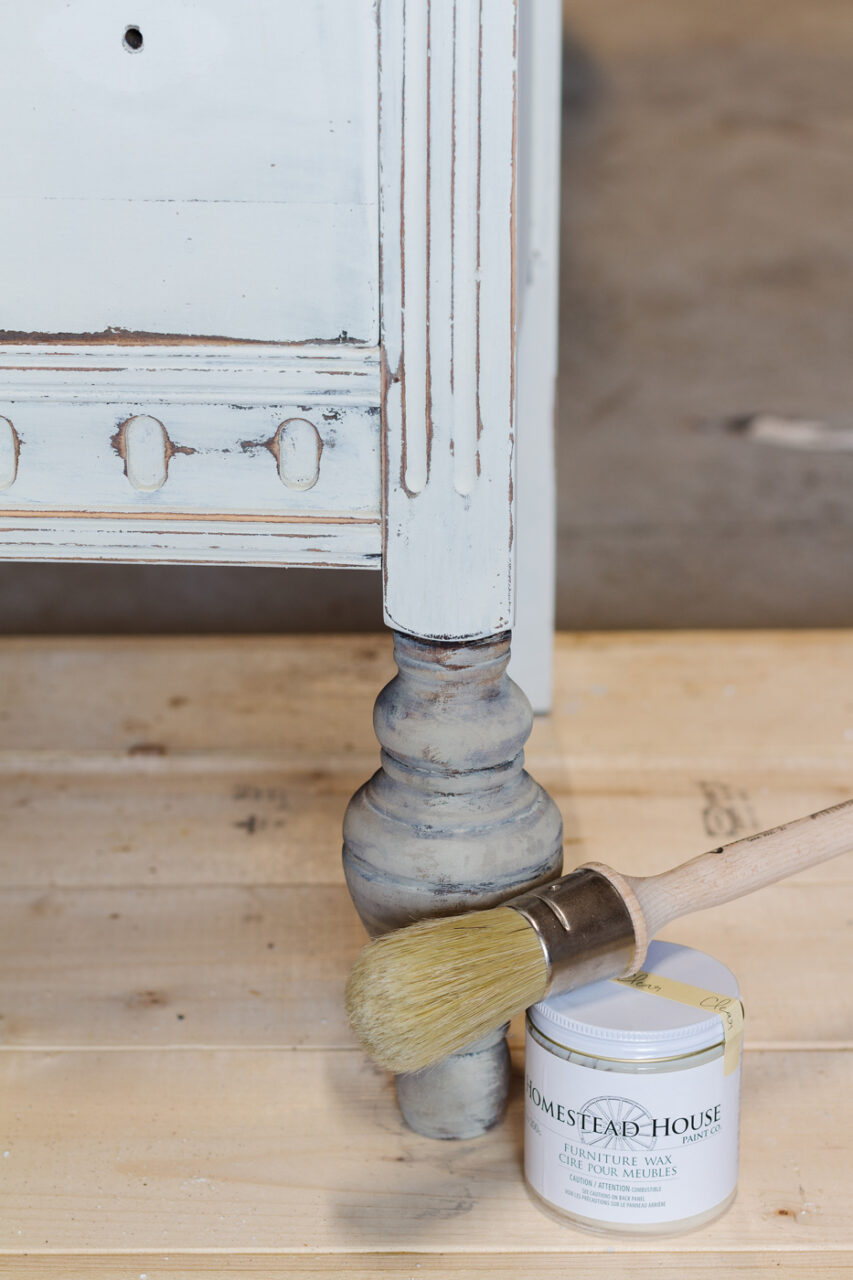 We wanted to bring back a bit of warmth to the wood so we used Homestead House Antiquing Wax to give us a more natural look on the legs. The bristle brush really helps the wax to get into all those nooks and crevices.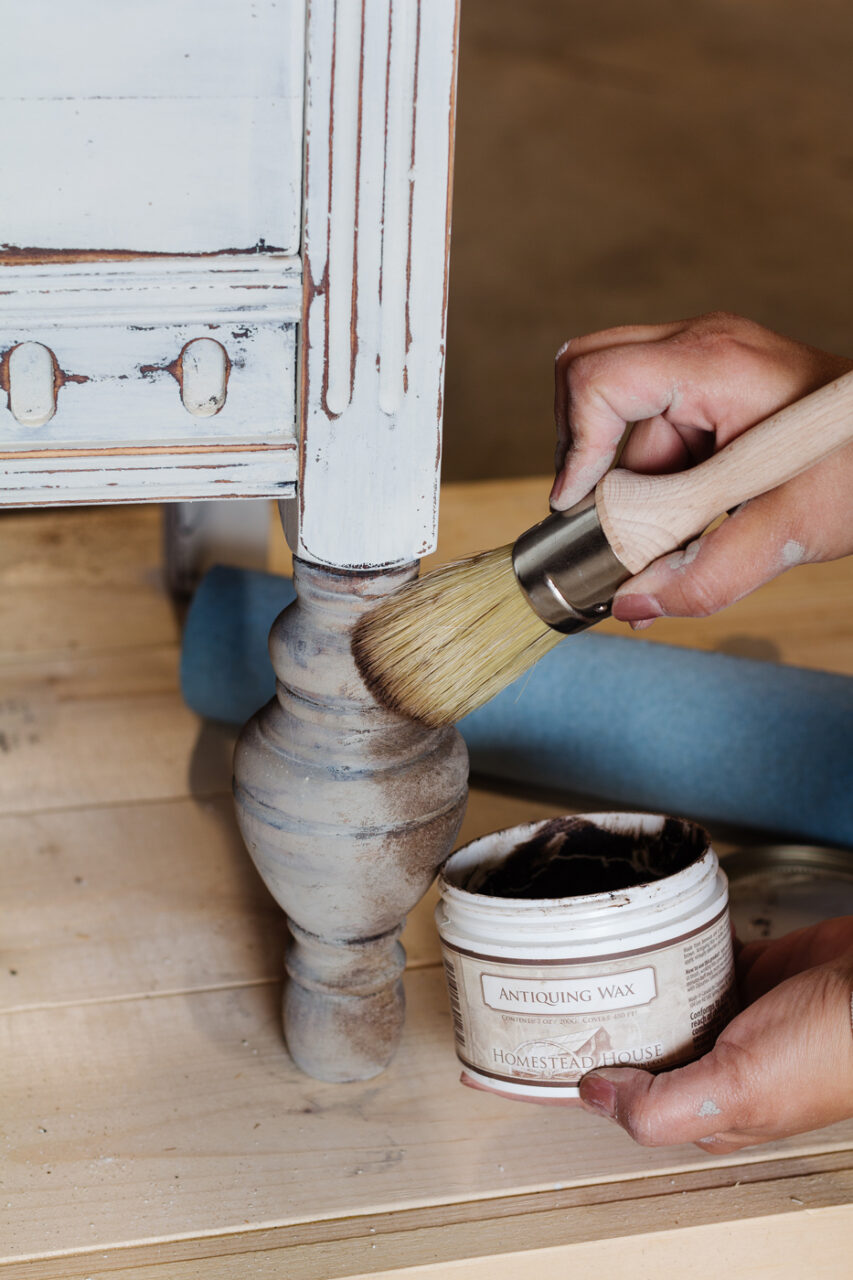 An old-world finish
Old-world finishes are timeless and classic. They bring a piece of history into your home with each finish as unique as a fingerprint. We love the various looks milk paint can give you but there is something so cozy about a chippy dresser that makes you feel like you have a treasure in your home. 
Updating the original hardware is definitely a way to give history a bit of a modern look. We spray-painted these original pulls with leftover paint from previous projects. We love how the delicate gold pairs with our pale, elegant Grey Silk.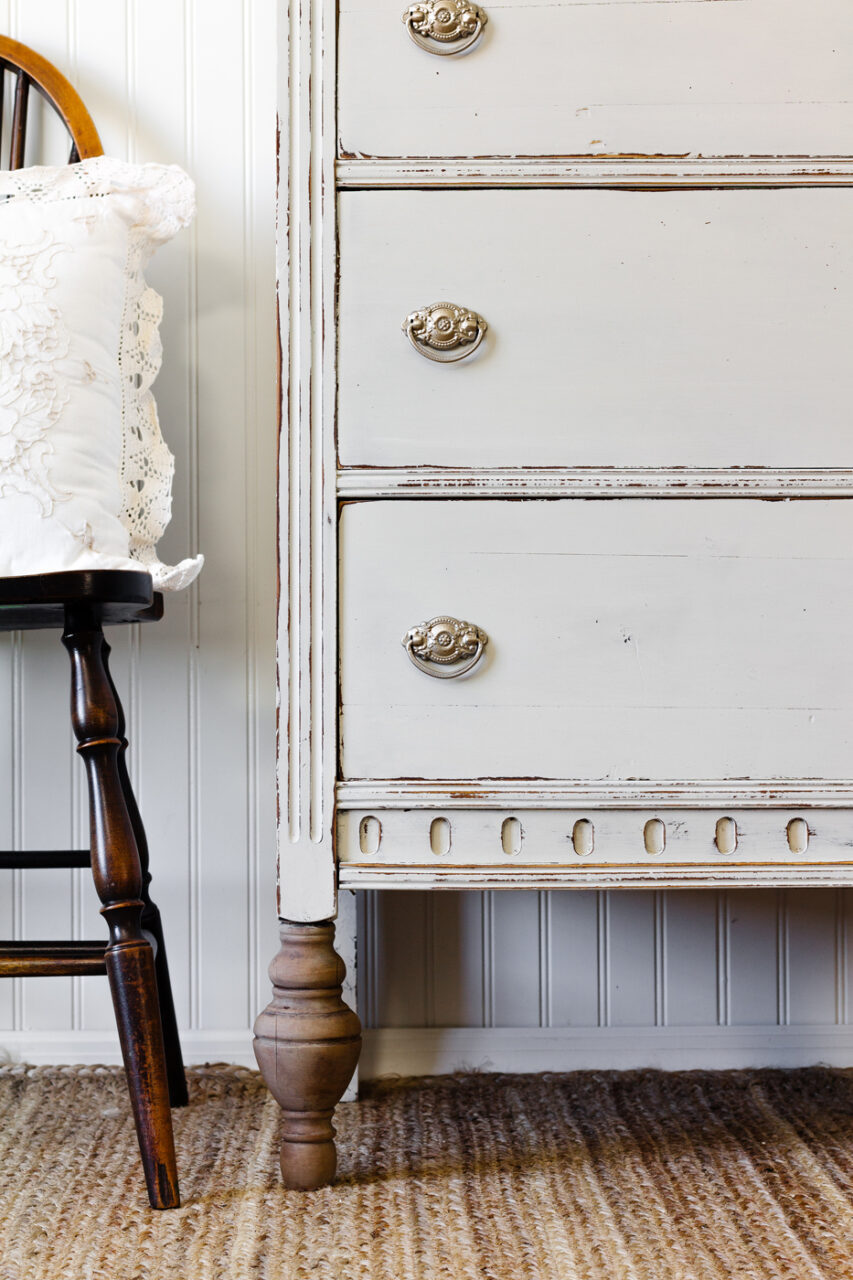 Bringing out the details with distressing is one way to draw your eye to the quality craftsmanship of some of these old pieces. Sometimes you can lose all these pretty details in a dark stain like the original finish, so the contrast here highlights all those raised edges.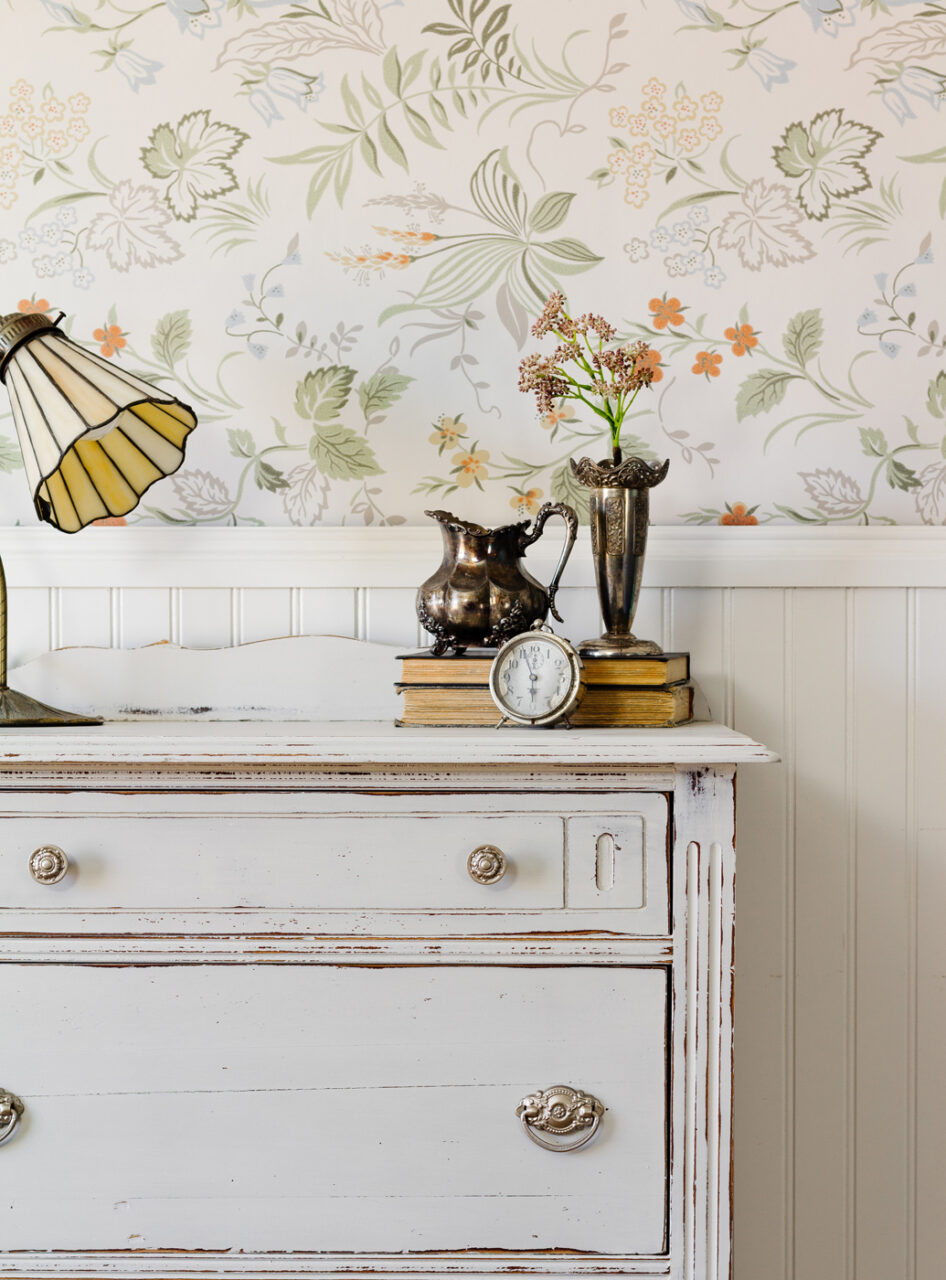 Finally, the star of our show is these legs. You would never guess that these are layers of finishes to create what otherwise would be time-worn, weathered wood.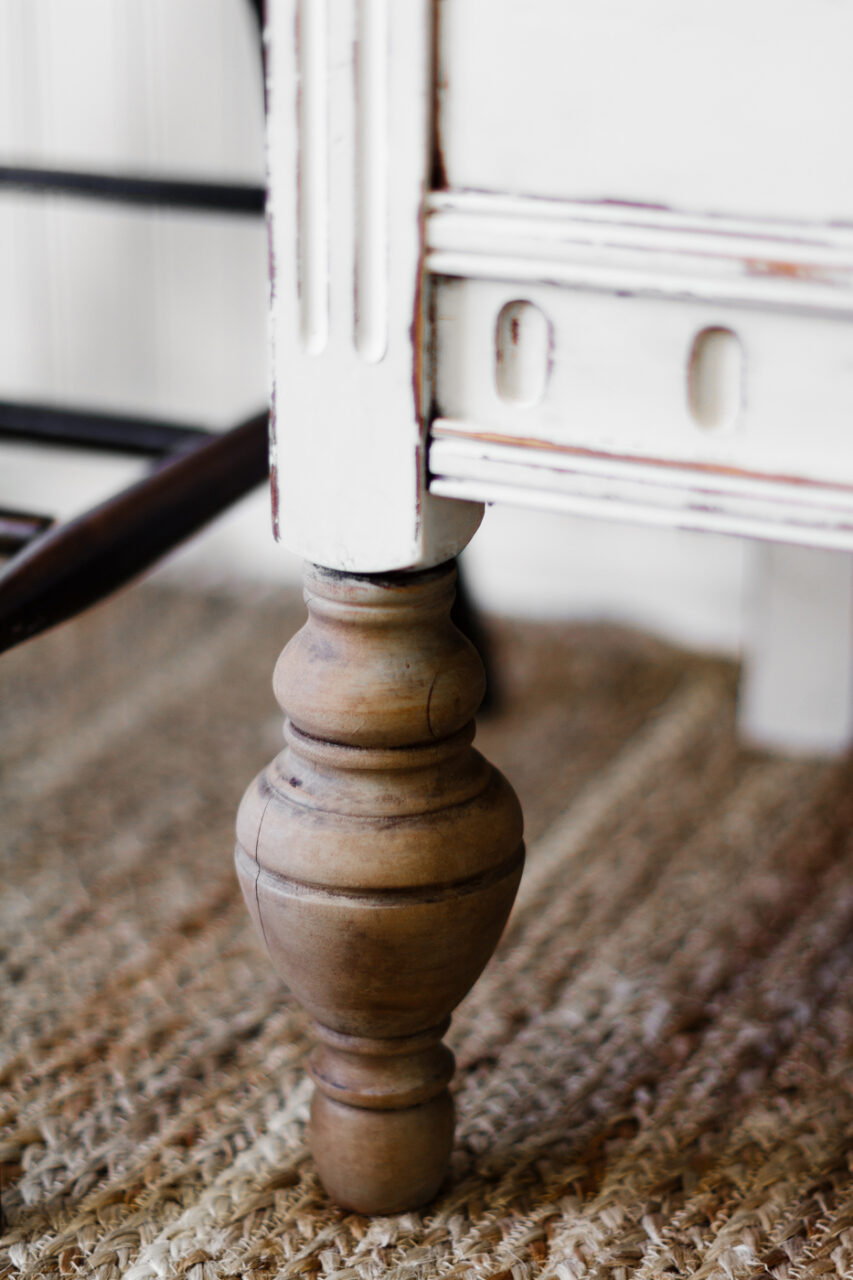 Would you like to give old-world finishes a try? Comment below if you love the final finish!