Refurbishing old furniture is an eco-friendly and affordable way to give your home a unique vintage look. One such piece that can be transformed into a practical and stylish furniture item is an old wash table. With a little elbow grease and creativity, an old wash table can be refurbished into a beautiful hallway console that adds character and charm to your space. In this blog post, we'll take you through the process of how we turned an old wash table into a stunning hallway console. We'll cover everything from planning and preparation to painting and accessorizing. So if you're looking to give your old furniture new life, read on to discover how you can transform your old wash table into a beautiful hallway console that perfectly reflects your style and taste.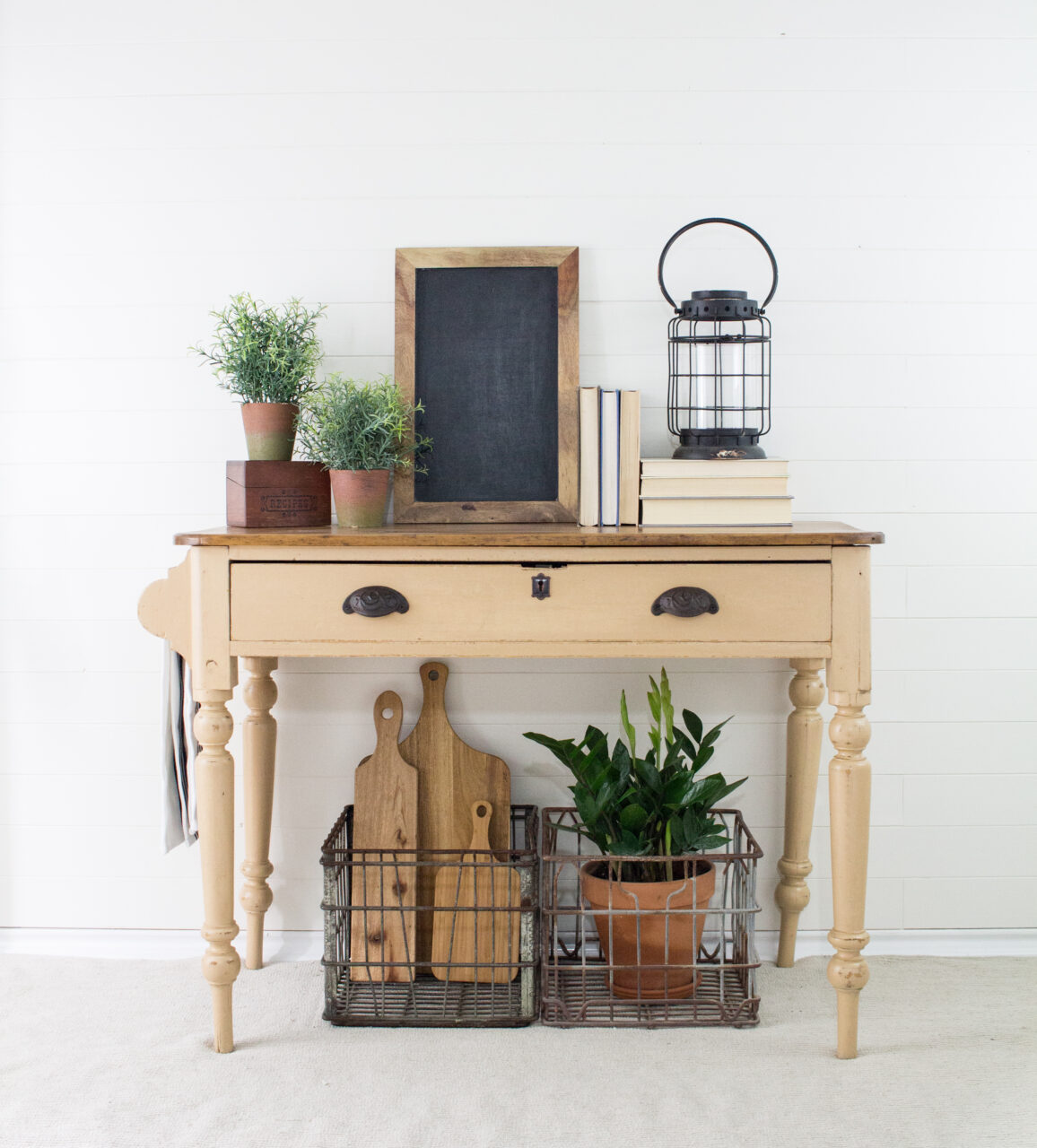 Choosing a Colour & Painting Your Piece
To start the refurbishing process, we opted for Homestead House Milk Paint in the colour Hampton. Hampton is a mid-tone neutral with a hint of aged peach, that complements any decor style. We gave the wash table a good cleaning using TSP Alternative and a quick scuff sand. Then, we applied two coats of milk paint, sanding lightly in between coats. This helped achieve a smooth and even finish while allowing some of the wood's natural texture to show through.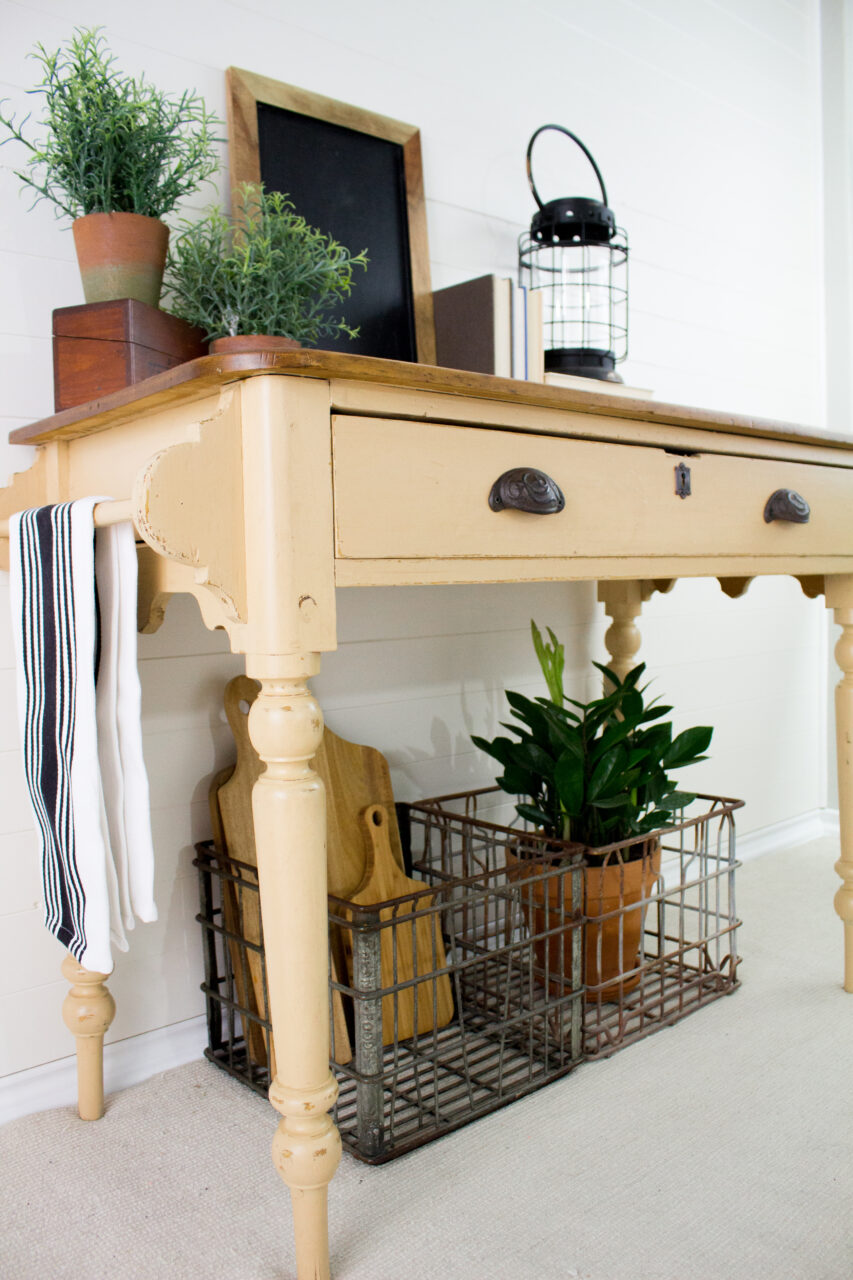 We opted to leave the top of the table natural wood. Leaving the top of a table in its natural wood finish, while painting the rest of the table, can create a beautiful contrast that adds interest and character to the piece. Natural wood grains and imperfections can provide a warmth and rustic charm that are hard to replicate with paint.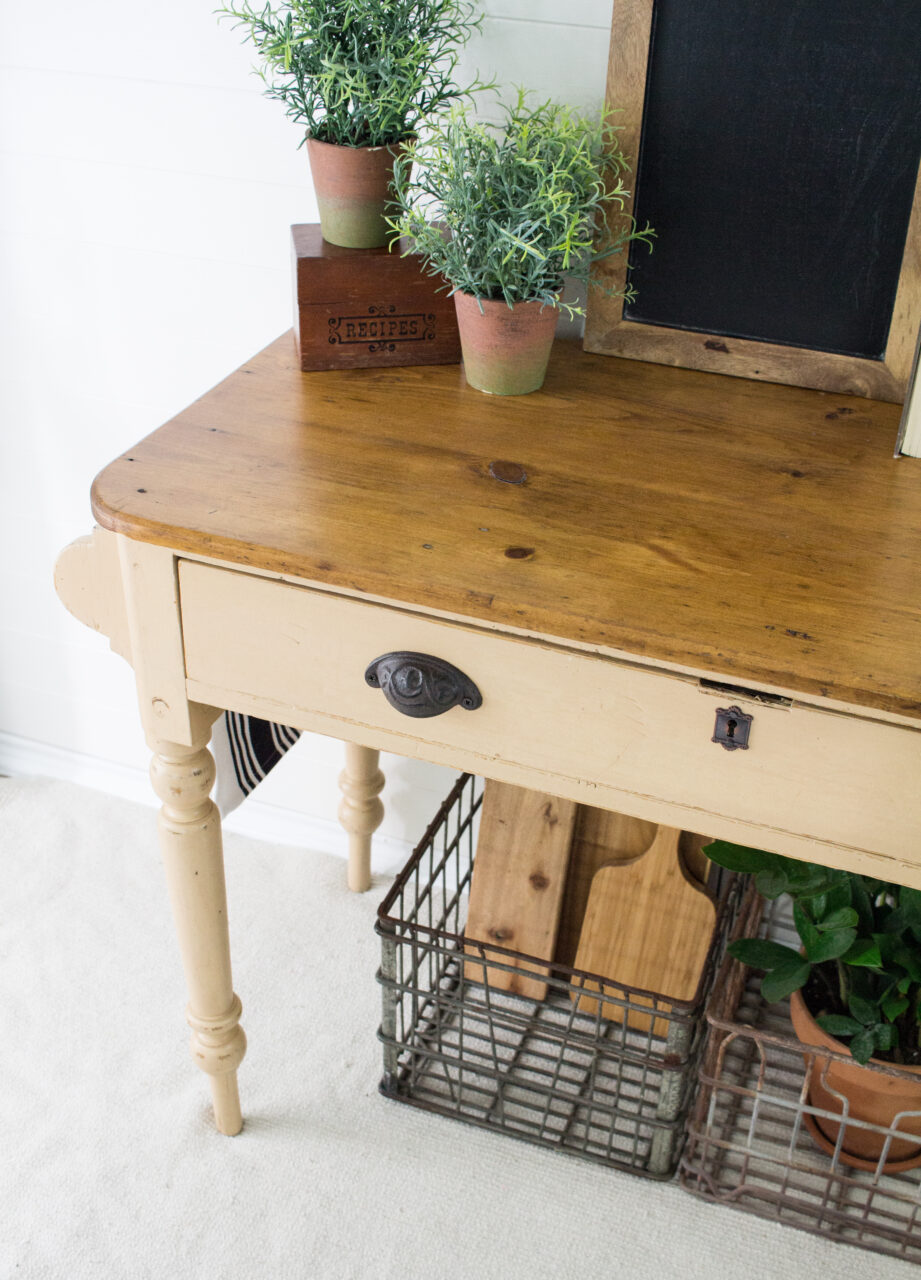 Finishing Your Furniture
Once the milk paint was dry, we very lightly distressed the edges of the table with a sanding block. This was to give it a rustic, vintage look. Hampton was perfect for achieving the weathered look we were after.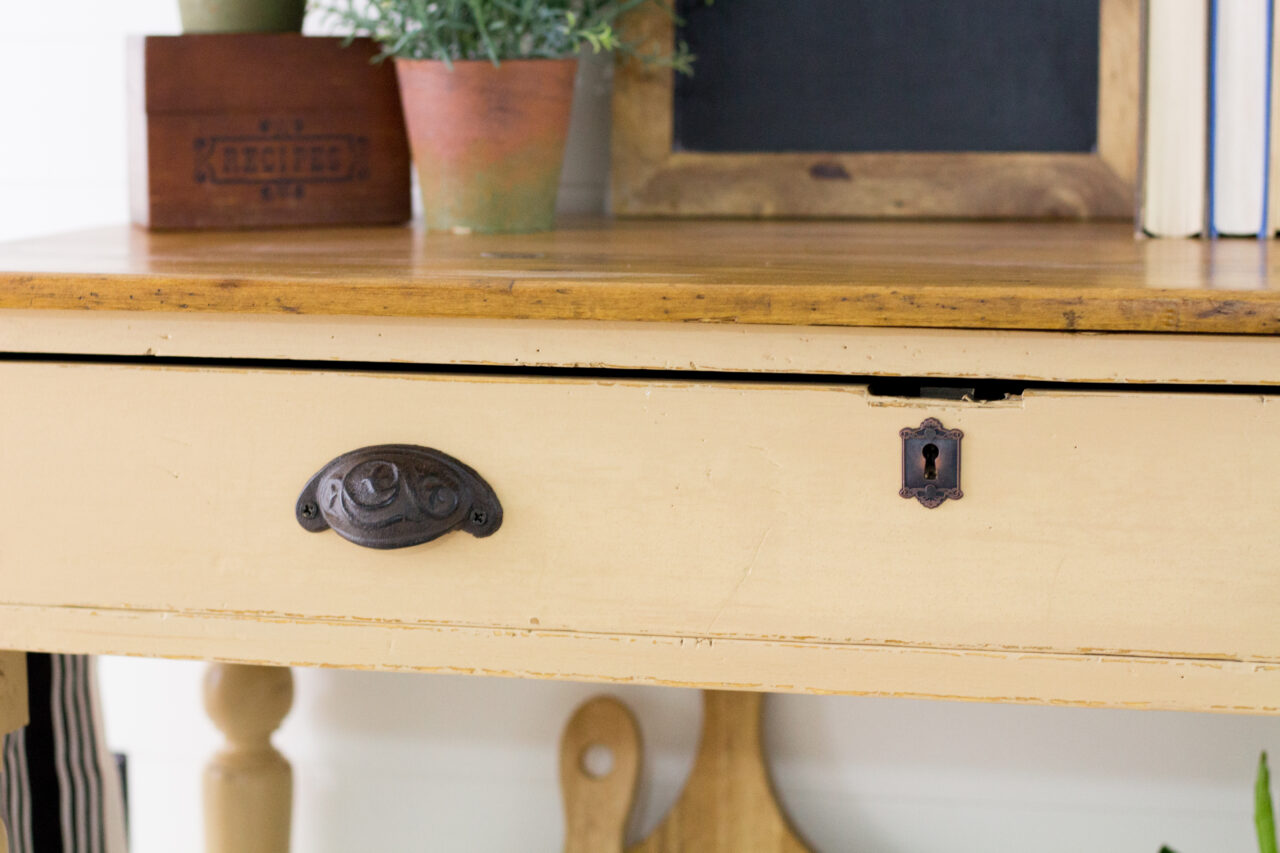 To protect the milk paint we applied a coat of Furniture Wax in Clear. The wax added richness to the Hampton colour and provided a protective layer that will help the finish stand up to everyday wear and tear.
Adding Decor
Finally, we accessorized the hallway console with some vintage-inspired decor pieces. A lantern, ceramic pots with faux greenery, and a small chalkboard. These items helped tie together the vintage feel of the wash table and the modern style of our home decor.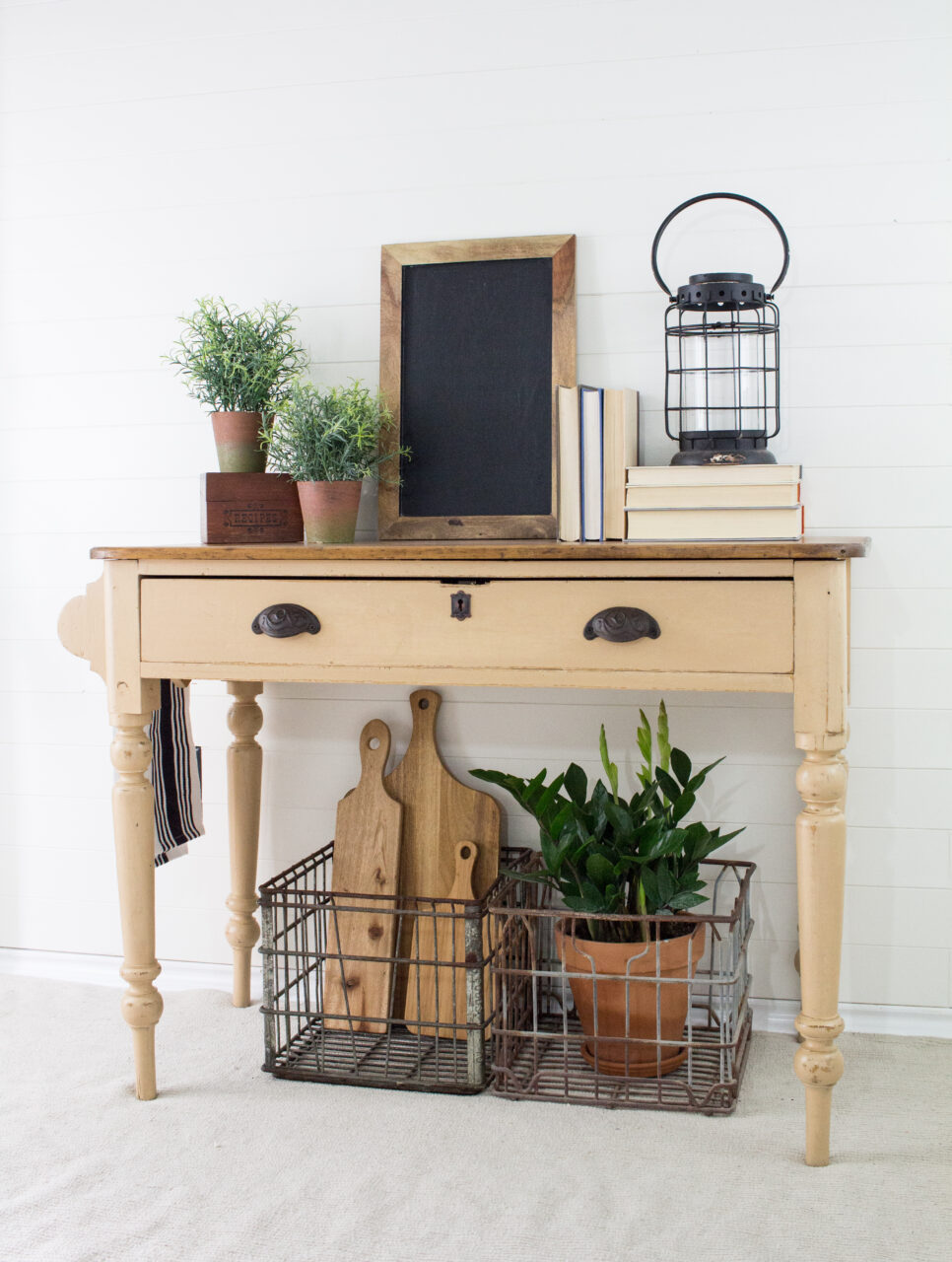 Refurbishing can be a fun and rewarding DIY project that gives your home a unique and personal touch. With Homestead House Milk Paint, achieving a vintage finish on your DIY projects has never been easier. So next time you come across an old piece of furniture that's seen better days, remember that with a little imagination and creativity, you can transform it into a stunning statement piece that adds character and elegance to your home.