There's something incredibly satisfying about giving new life to an old piece of furniture. Whether it's a thrift store find or a hand-me-down, refinishing furniture allows you to unleash your creativity and breathe fresh vitality into your space. In this blog post, we'll take you through the exciting journey of refinishing a small, single-person desk using Homestead House Milk Paint in the enchanting shade of "Mustard." The top of the desk will feature Fusion's "Cappuccino" Stain and Finishing Oil, creating a harmonious blend of rustic and modern aesthetics.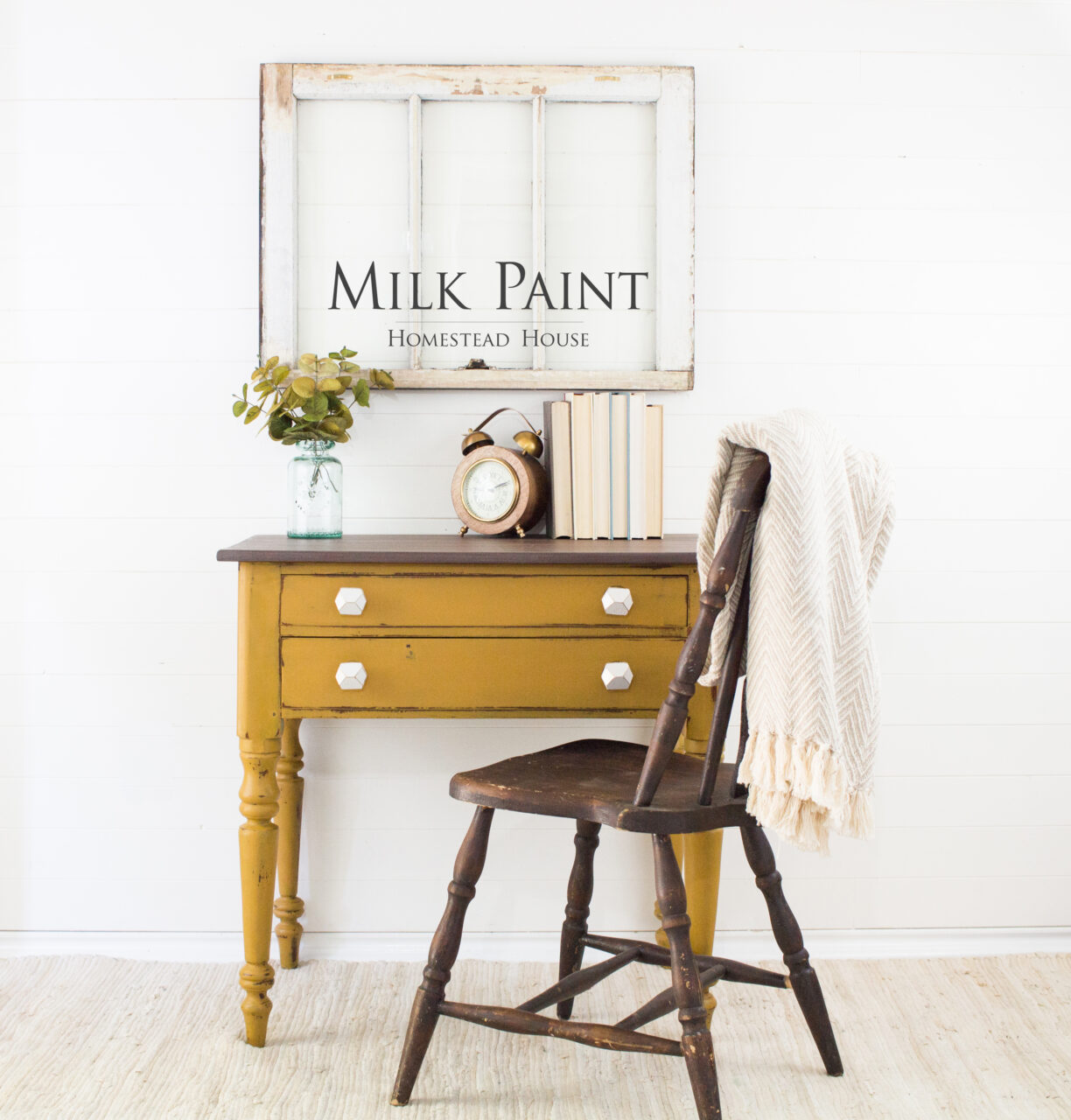 Materials You'll Need:
Small desk in need of refinishing
Homestead House Milk Paint in "Mustard"
Fusion's "Cappuccino" Stain and Finishing Oil
Sandpaper (various grits)
Screwdriver (if hardware removal is required)
Drop cloth or plastic sheeting
Tack cloth
Painter's tape
Applicator Pads for SFO
Prepare Your Workspace & Your Furniture
Before diving into the project, set up a designated workspace. Lay down a drop cloth or plastic sheeting to protect your floor or work surface.
If your desk has hardware like knobs or drawer pulls, use a screwdriver to remove them. Set them aside in a safe place to avoid misplacing them during the refinishing process. Then, you'll start your project by giving your desk a thorough cleaning using TSP Alternative.
Next up, you'll want to scuff sand the entire desk. Start with a coarse-grit sandpaper to remove any existing finish or imperfections. Gradually move to finer grits for a smoother surface. Sand until the wood feels smooth to the touch and any old finish is removed. Be sure to wipe away the dust and give it a second quick cleaning with TSP Alternative to make sure the surface is dust-free and ready for the milk paint.
Mixing & Applying Homestead House Milk Paint "Mustard"
Now, it's time for the star of the show – Homestead House Milk Paint in "Mustard." Mix the milk paint powder with a 1:1 ratio of water and stir for about 30 seconds, until all the pigments are dissolved. Next, use your favourite Staalmeester paintbrush to apply a thin, even coat. Milk paint can create a beautiful distressed look, so don't worry if it appears streaky or uneven at first. Allow the first coat to dry completely, and then apply a second coat for a more opaque finish. You can distress the paint if desired by lightly sanding specific areas for a vintage look.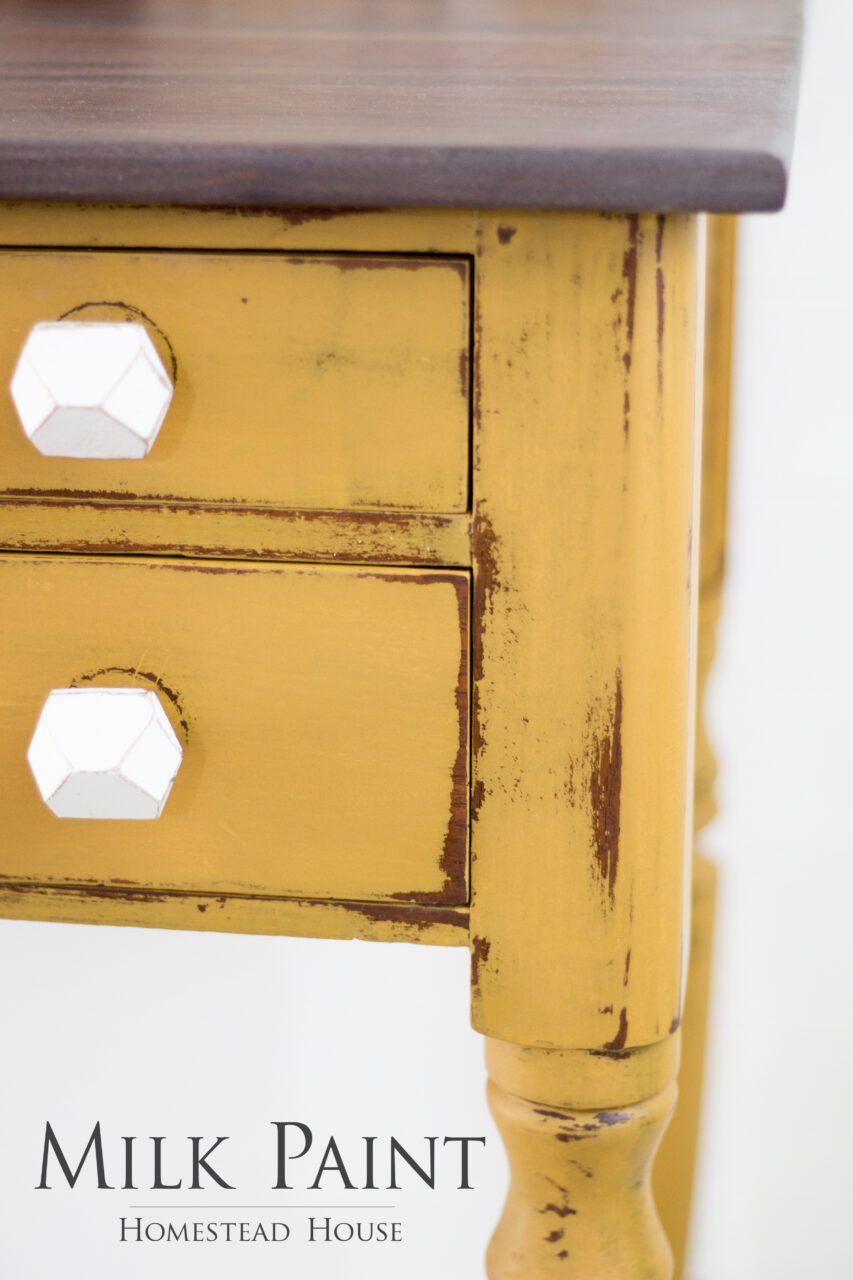 Furniture Wax Brings Out the True Depth of Milk Paint
Next up, your top coat. We used Furniture Wax to top coat our desk. Applying a top coat seals your Milk Paint and brings out the true depth of colour! This will also protect your paint for a finish that lasts generations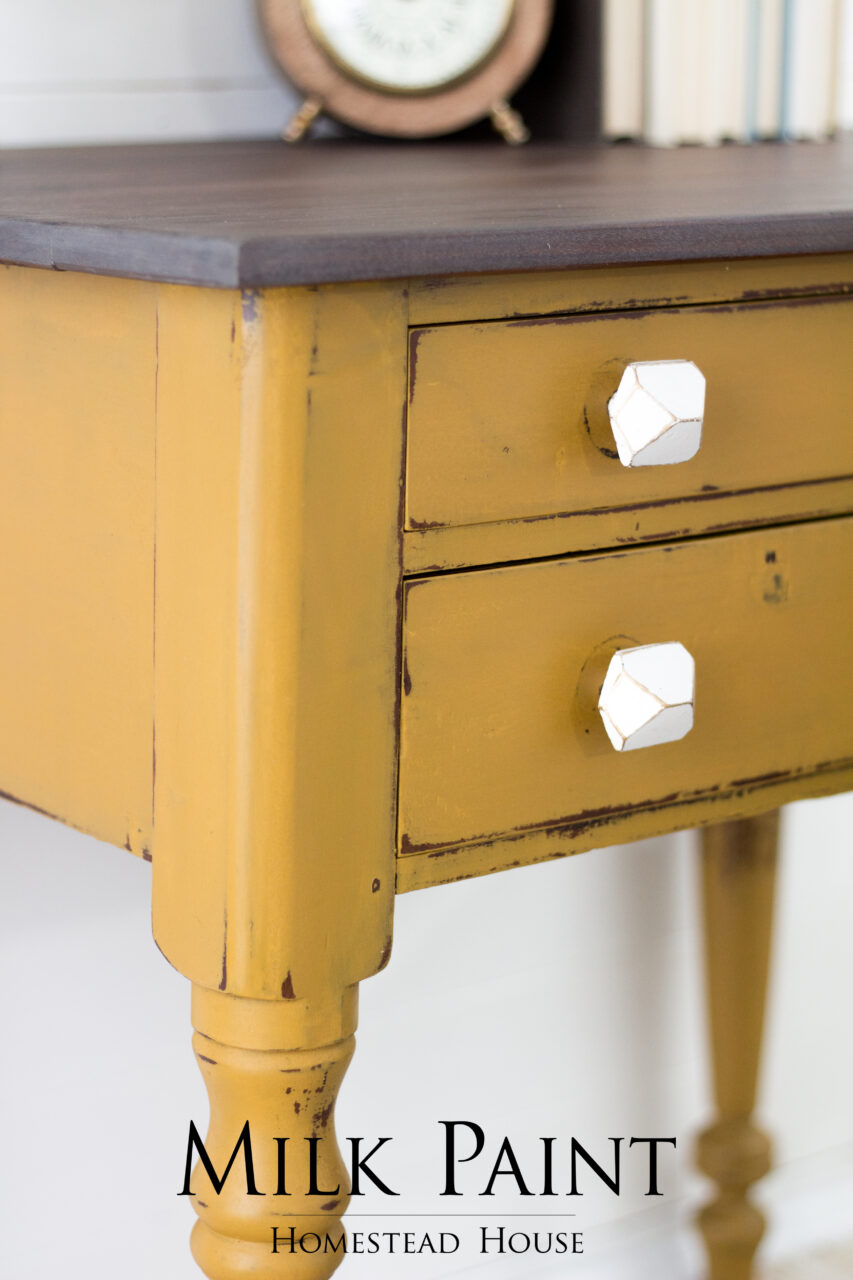 Staining the Desk's Top for a Rustic and Modern Aesthetic
While your paint is drying, focus on the desk's top. Fusion's "Cappuccino" Stain and Finishing Oil will bring out the natural beauty of the wood. Using an applicator pad, apply the stain evenly in the direction of the wood grain. Allow it to penetrate for a few minutes before wiping off any excess with a clean rag. The more coats you apply, the darker the finish will become, so adjust accordingly to achieve your desired look.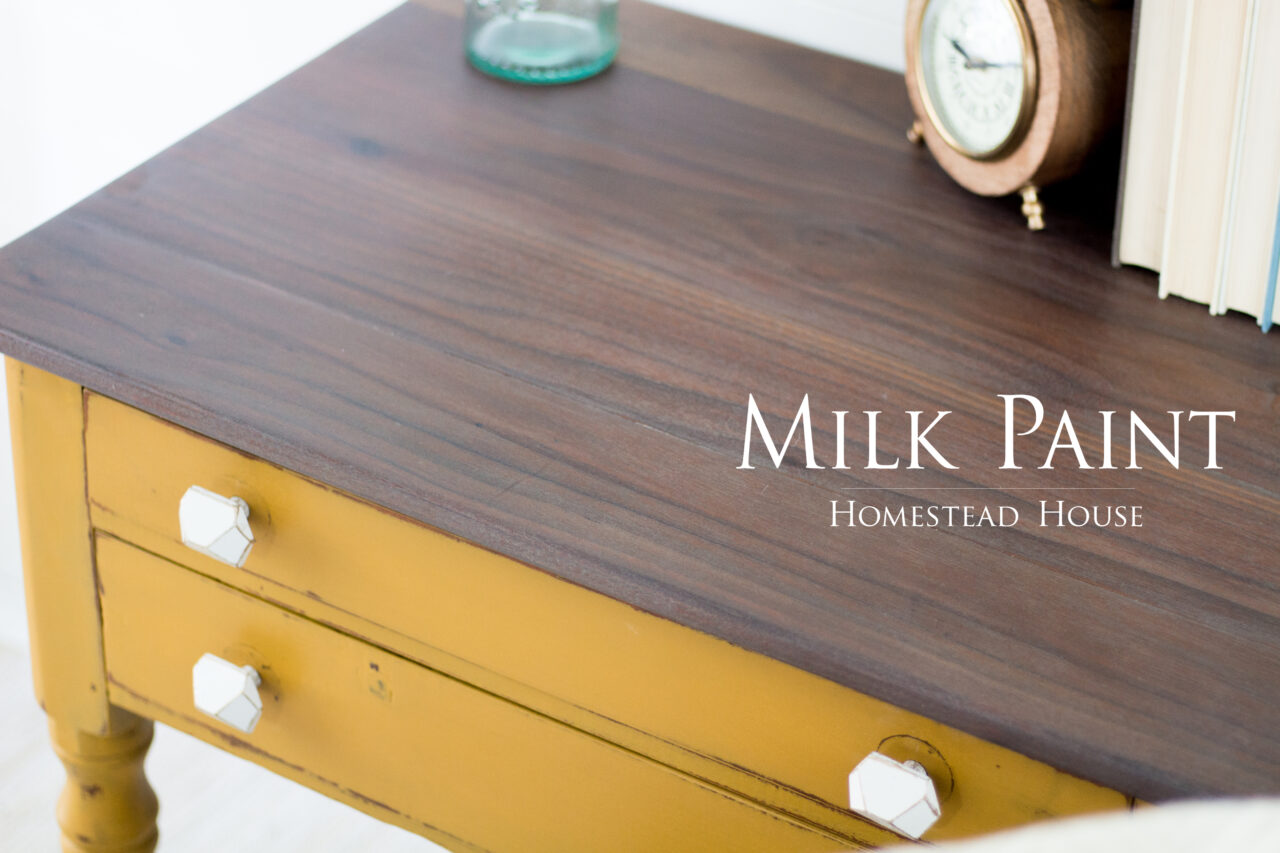 Add a Hidden Pop of Fun
To add a hidden pop of fun and whimsy to your newly refinished desk, consider lining the drawer with a delightful floral wallpaper. This unexpected touch not only adds a touch of personality but also brings a surprising element of joy every time you open the drawer. Choose a wallpaper pattern that complements the Mustard and Cappuccino tones of your desk, creating a harmonious blend of colours and aesthetics. It's a small detail that makes a big impact, turning a practical drawer into a charming and delightful surprise, making your desk truly one-of-a-kind.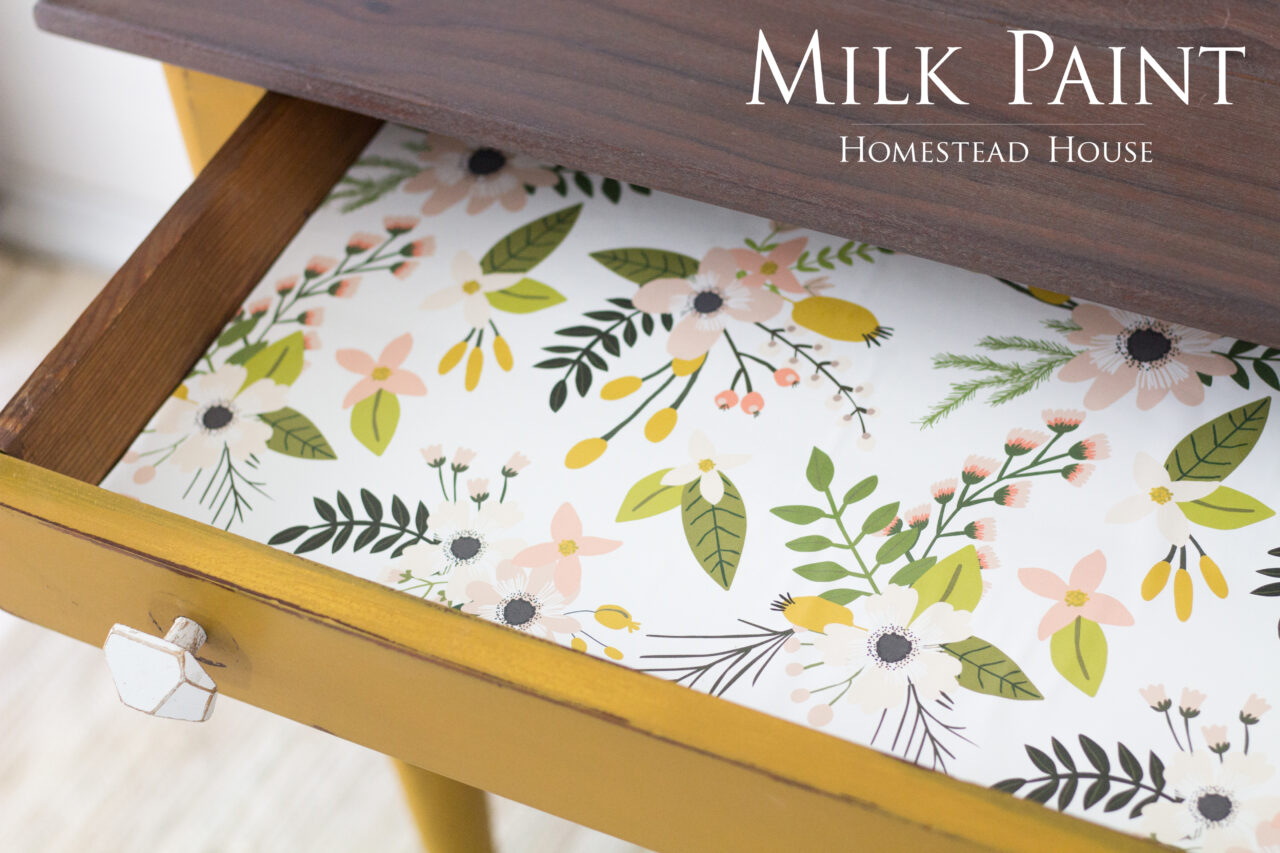 Reassemble Hardware & Accessorize Your Rustic and Modern Desk
If you removed any hardware, now is the time to reattach it to your beautifully transformed desk. We chose to update the hardware with some modern white knobs to refresh the look.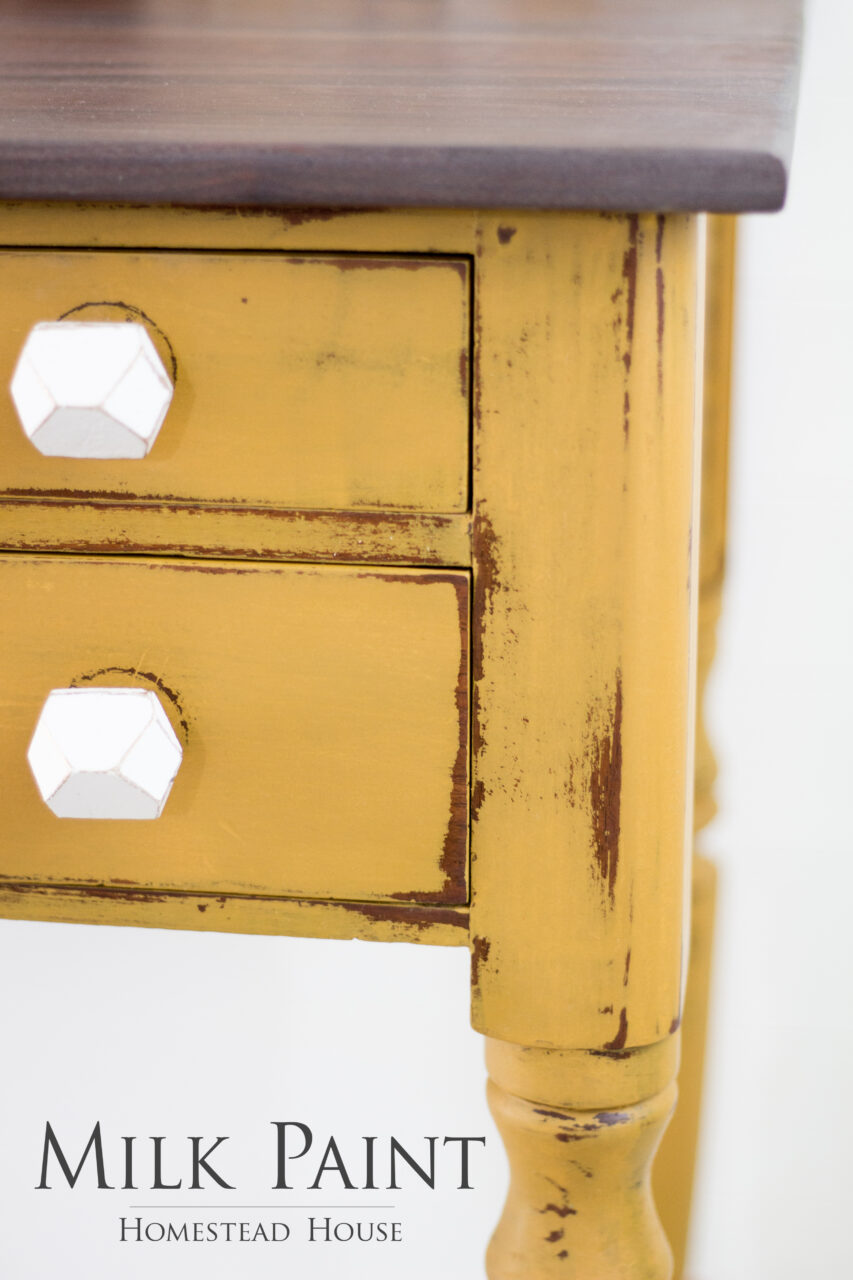 In completing the transformation of your desk, consider the art of accessorizing. Pair your desk with a matching wooden chair stained in "Cappuccino" Stain and Finishing Oil, creating a seamless and elegant look. Drape a soft white throw blanket over the chair for comfort and style. Adorn the desk's surface with a curated selection of books, a timeless clock to keep you on track, and a clear vase filled with fresh flowers, bringing life and vitality to your workspace.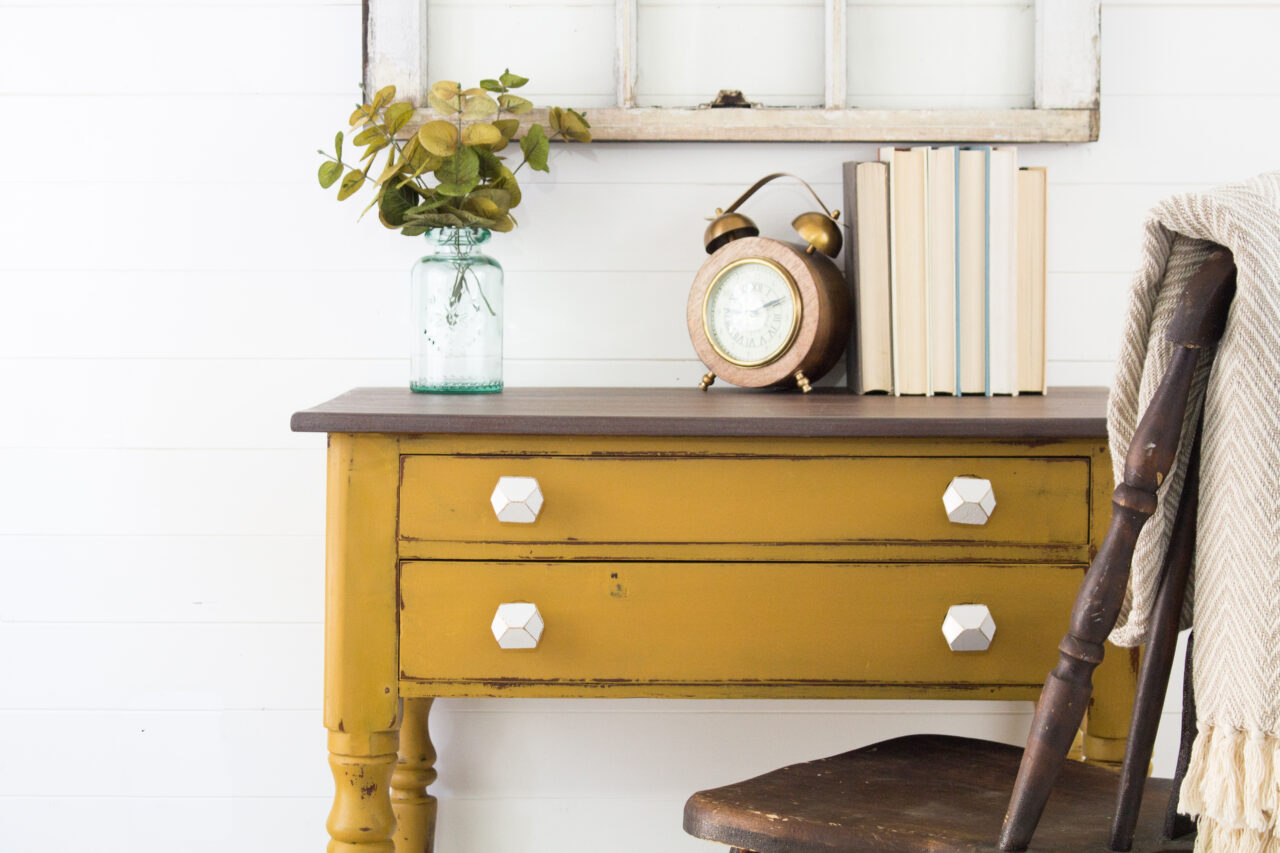 With this final touch, your desk becomes not only a functional workspace but also a cozy, inviting corner where inspiration flourishes and creativity thrives. Your refinished desk is now a reflection of your unique style and personality, a place where productivity meets beauty in perfect harmony.