Kurbits Indigo New Swedish Colour. Let us introduce you to the first close look at the new Homestead House Swedish Collection. This is Kurbits Indigo. This oak dresser is a timeless and classic piece with solid bones and good structure. We rarely come across pieces in such good shape so we knew this would be the perfect candidate for a milk paint makeover. We knew we wanted to give this piece a stately look and Kurbits Indigo was the perfect colour for this piece! Take a look at the original piece: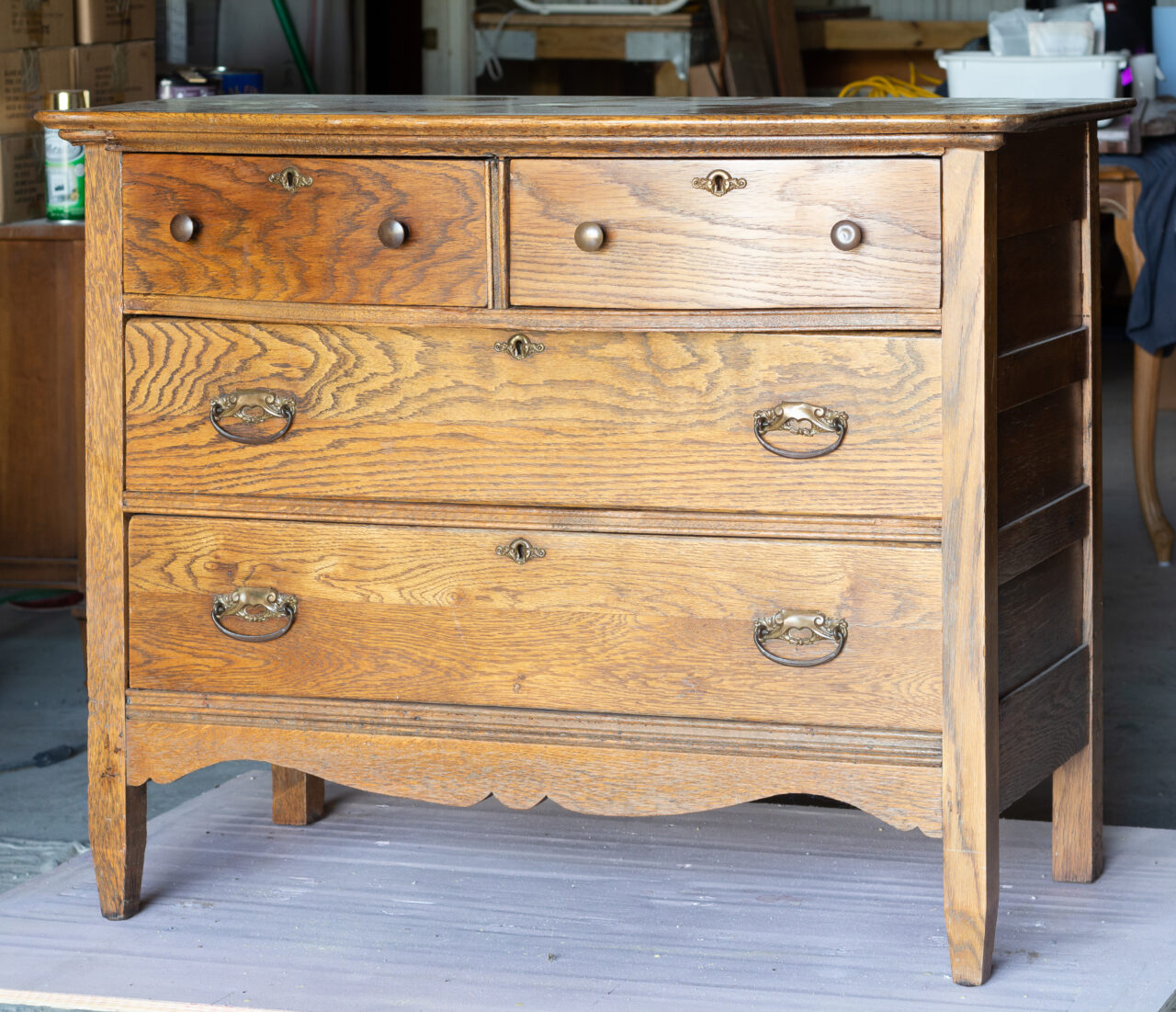 Below is a list of supplies you'll need to complete a similar project. 
Fusion TSP Alternative + Wiping Cloths
Homestead House Milk Paint "Kurbits Indigo" 
Mixing Cup + Stir Stick
Electric Sander with 120-180 scuff pads/paper
Fusion Mineral Paint Synthetic Chip Brush
The First Steps
Because this dresser was in such great shape, the prep was minimal. The longest part of our prep process on this piece was cleaning. Fusion Mineral Paint makes a great cleaning solution called TSP Alternative that we mixed into a spray bottle with water. Simply mix into a 1:4 TSP to water ratio and spray along your piece. Then use wiping cloths to mop up the solution along with any dirty and debris. Since the original finish was worn and we wanted some distressing, we did not sand at all and skipped this step entirely.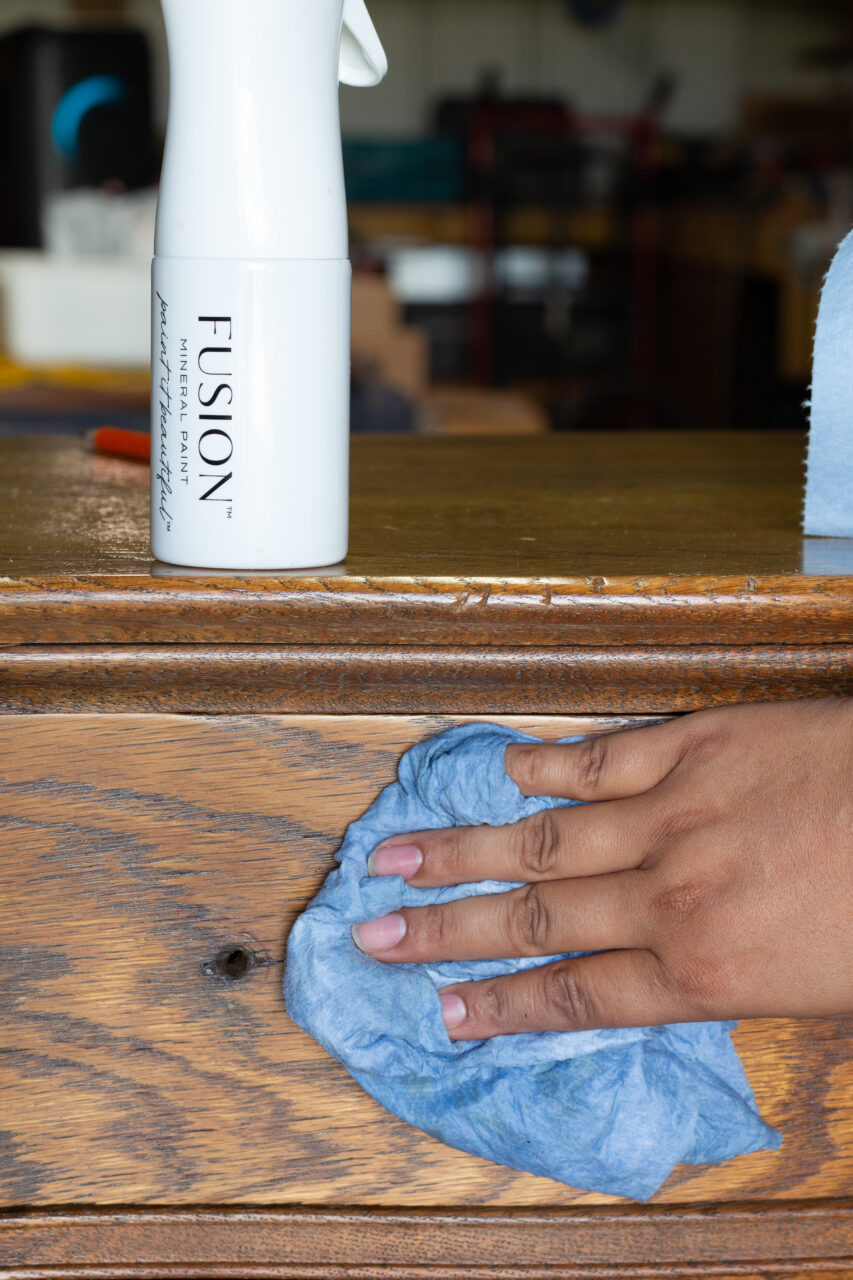 After our surface was clean and dried, we started mixing up our milk paint. Our Milk Paint has been refined over the 30 years we have produced it. It now only takes a minute or so to mix, dissolve, and be ready for painting! We mixed a 1:1 ratio of milk paint to water and used a stir stick to combine the mixture.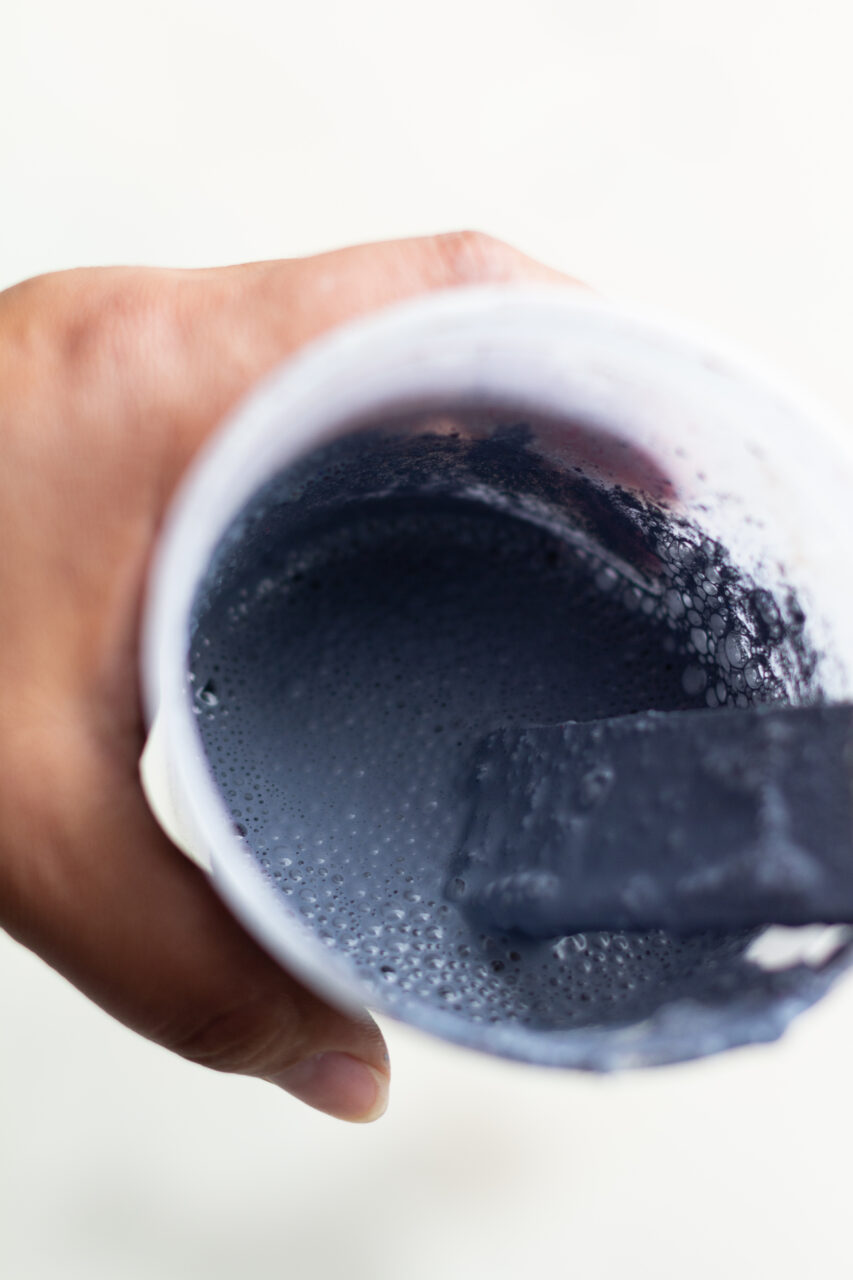 Kurbits Indigo New Swedish Colour
Painting your first coat is always the most exciting! And the creamy Homestead House formula always makes for a rich and smooth finish. The first coat went on like a dream. Kurbits Indigo, a new Swedish colour, is highly pigmented and you can barely see the original finish peeking through after one coat.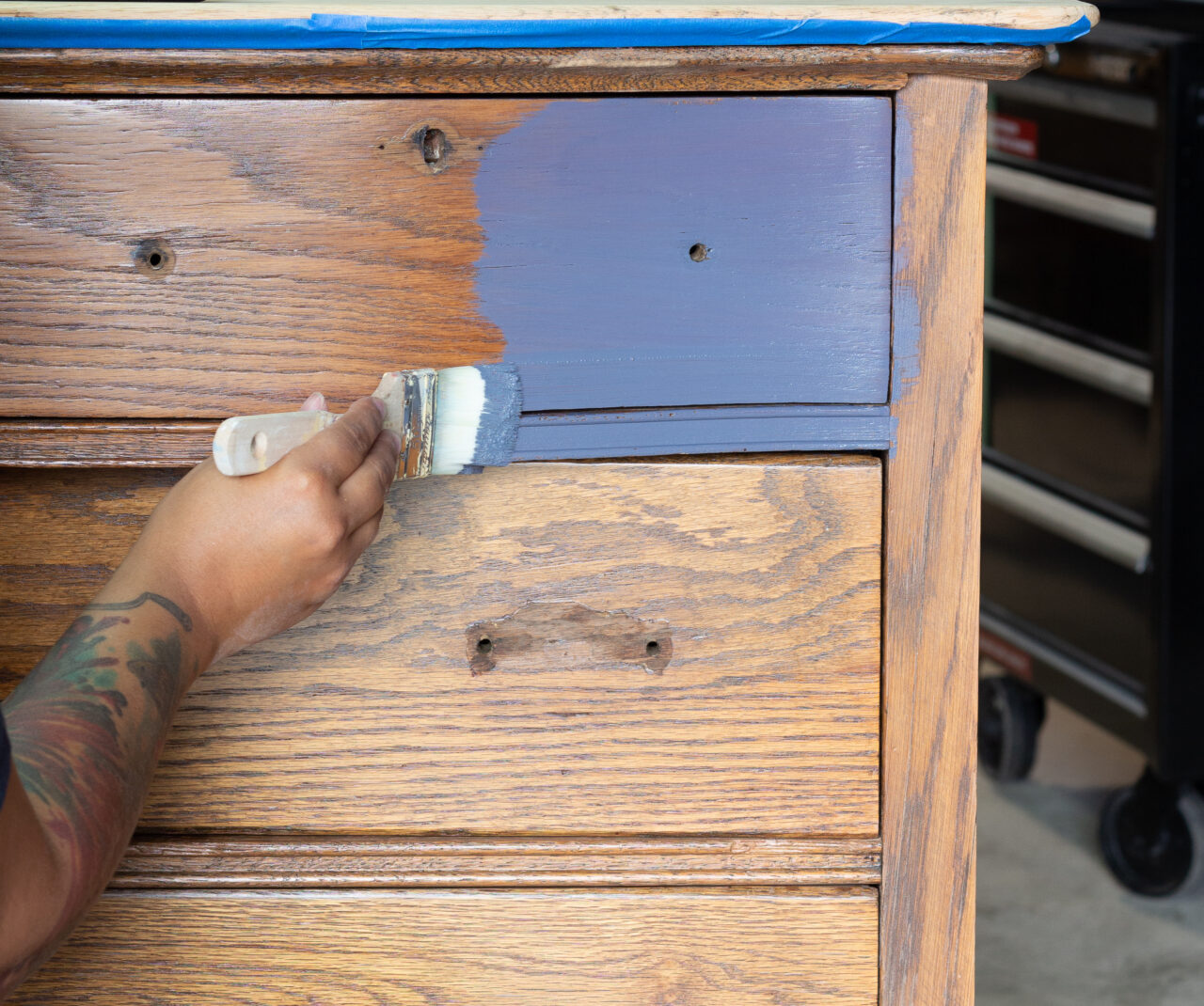 In total, we only needed 2 coats for full coverage. Our paint was dry after 30 minutes which means distressing was next! Did you know that as soon as milk paint is dry it is cured? This is due to the natural ingredients
Take a sanding sponge or paper and rub against the raised edges for a naturally distressed look. You can also run it across the flat surfaces to smooth out any residual pigments and to remove any chipping paint. 
Top coating Milk Paint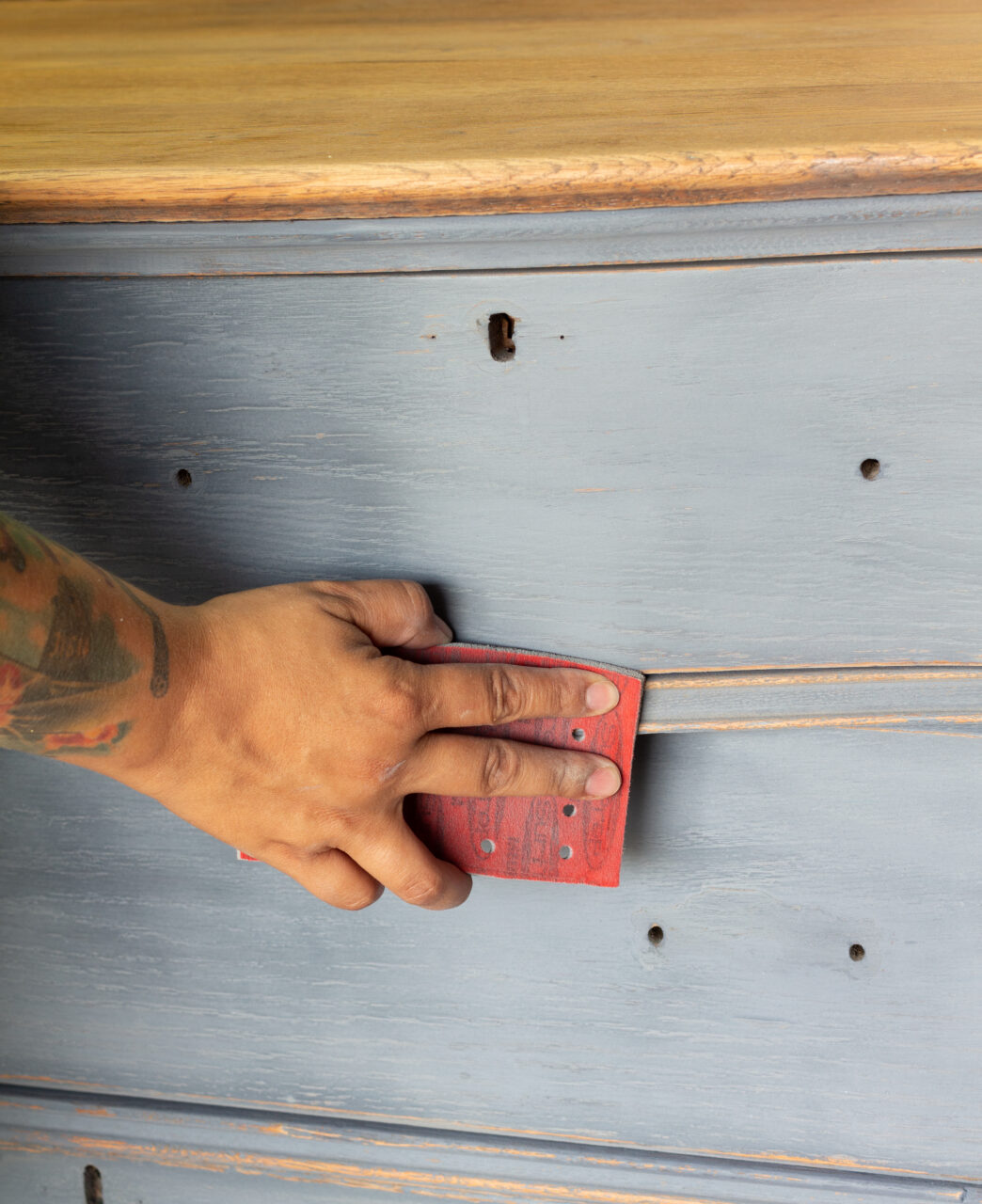 The finish on our top was pretty raw. We decided to use Stain and Finishing Oil in Driftwood to tone down the honey oak colour in the top and to provide protection. Simply add a generous layer of oil, allow it to penetrate for 5 -15 minutes then wipe away the excess. The trick is not to let the oil dry, so apply plenty.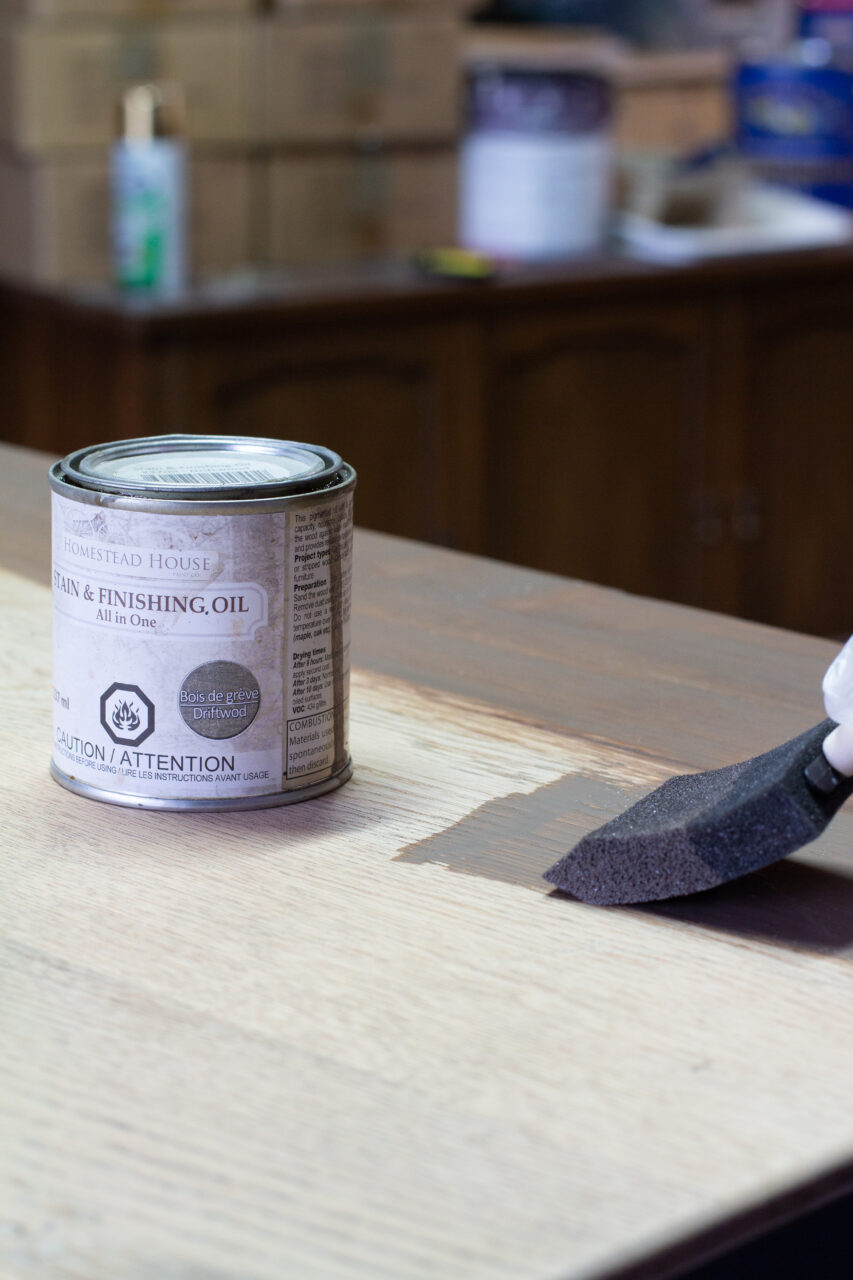 After you've wiped away the sanding dust from your piece, you are ready to seal!
We love using Hemp Oil to seal our milk paint pieces. Not only does hemp oil seep into the painted surface and give you a rich, deep colour, but it also penetrates below the milk paint to the wood surface. Hemp Oil is easy to apply by adding a thick layer, allowing to penetrate the surface and then wiping away the excess. You can not get it wrong.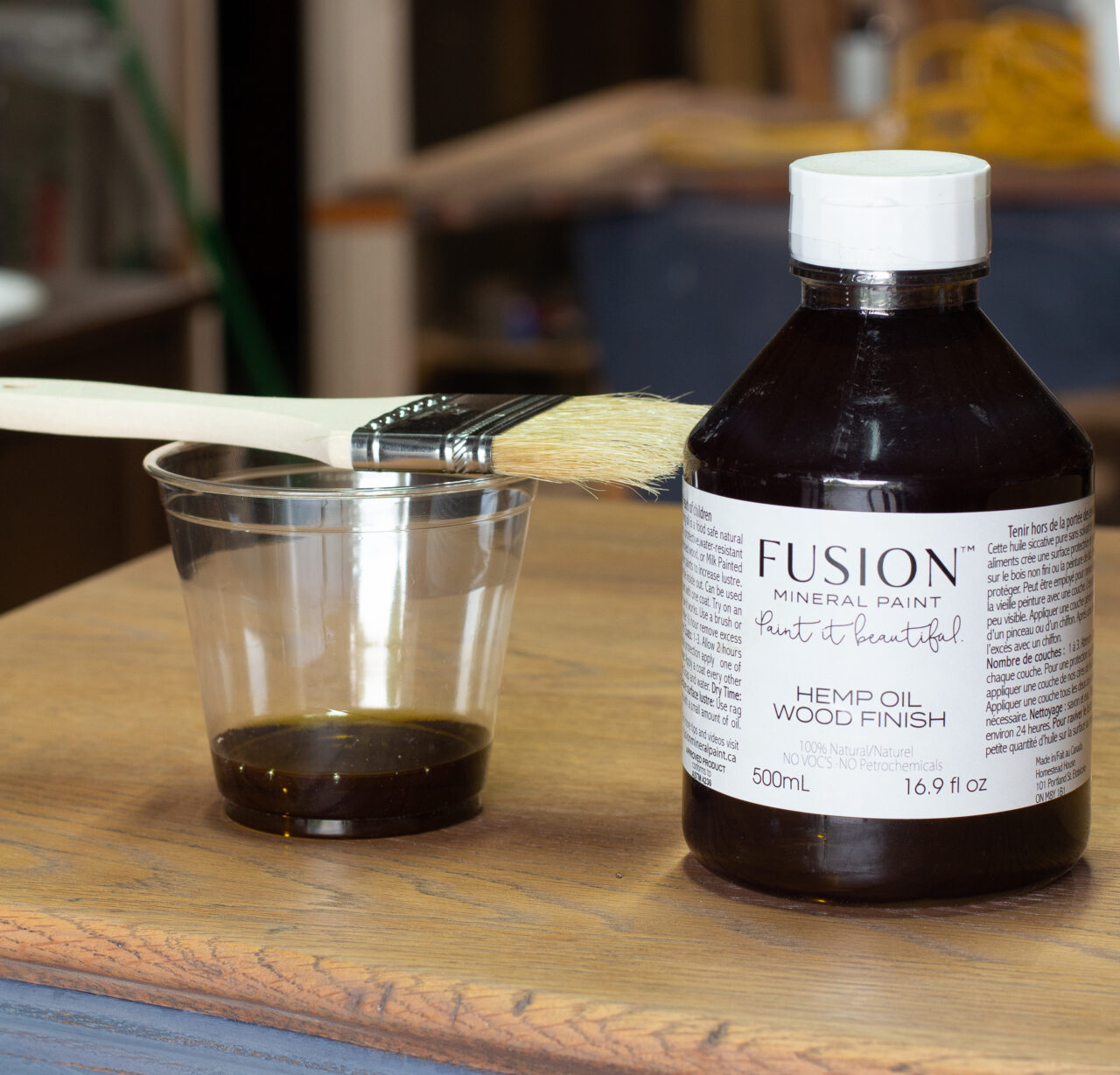 A stately piece
We said our goal was to give this oak dresser a stately look and we think we nailed it. Kurbits Indigo from the Swedish-inspired colours was a perfect choice. A timeless and handsome finish for this dresser.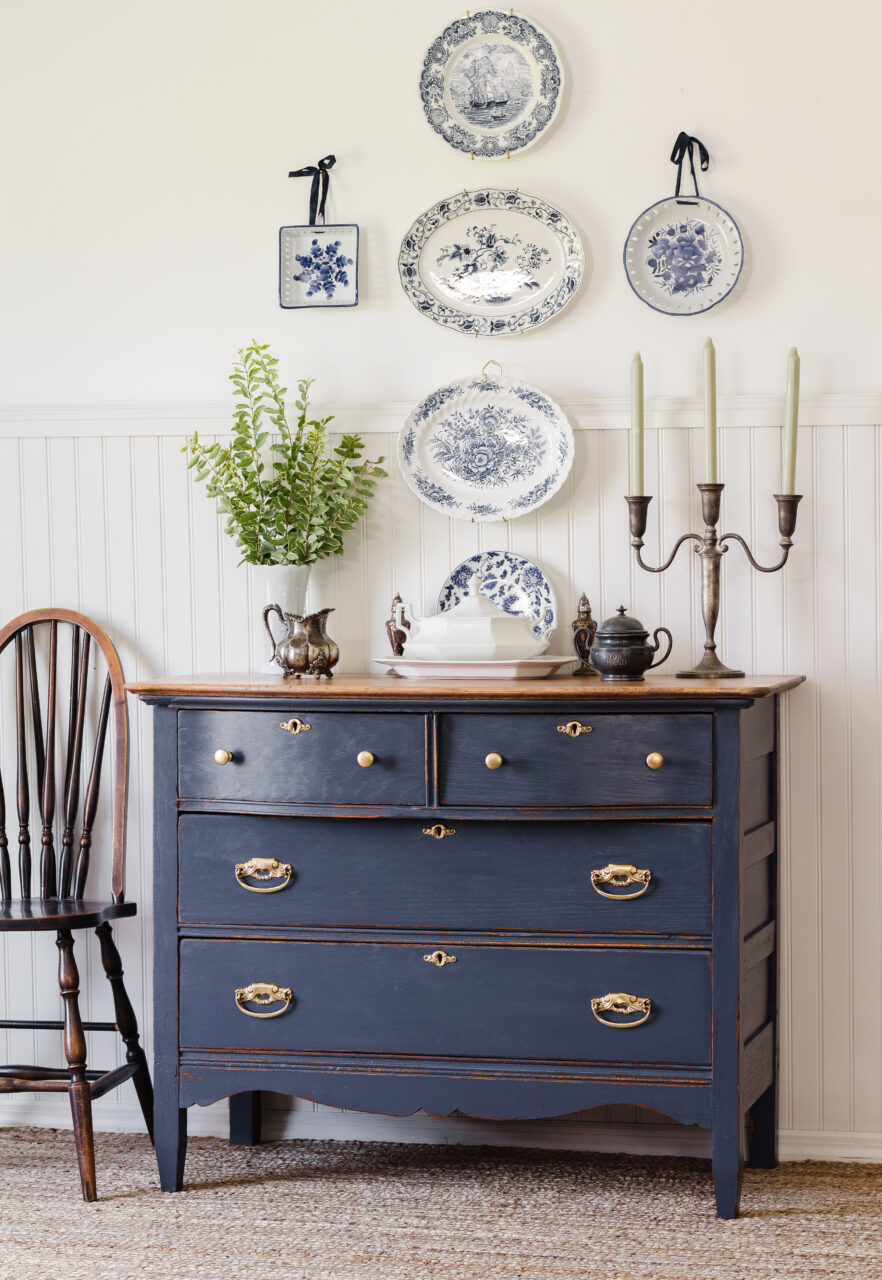 Kurbits Indigo new Swedish colour was inspired by the Kurbits and folklore paintings that originated in Sweden in the 18th century. More traditionally, they feature beautiful drawings of the iconic Dala Horses.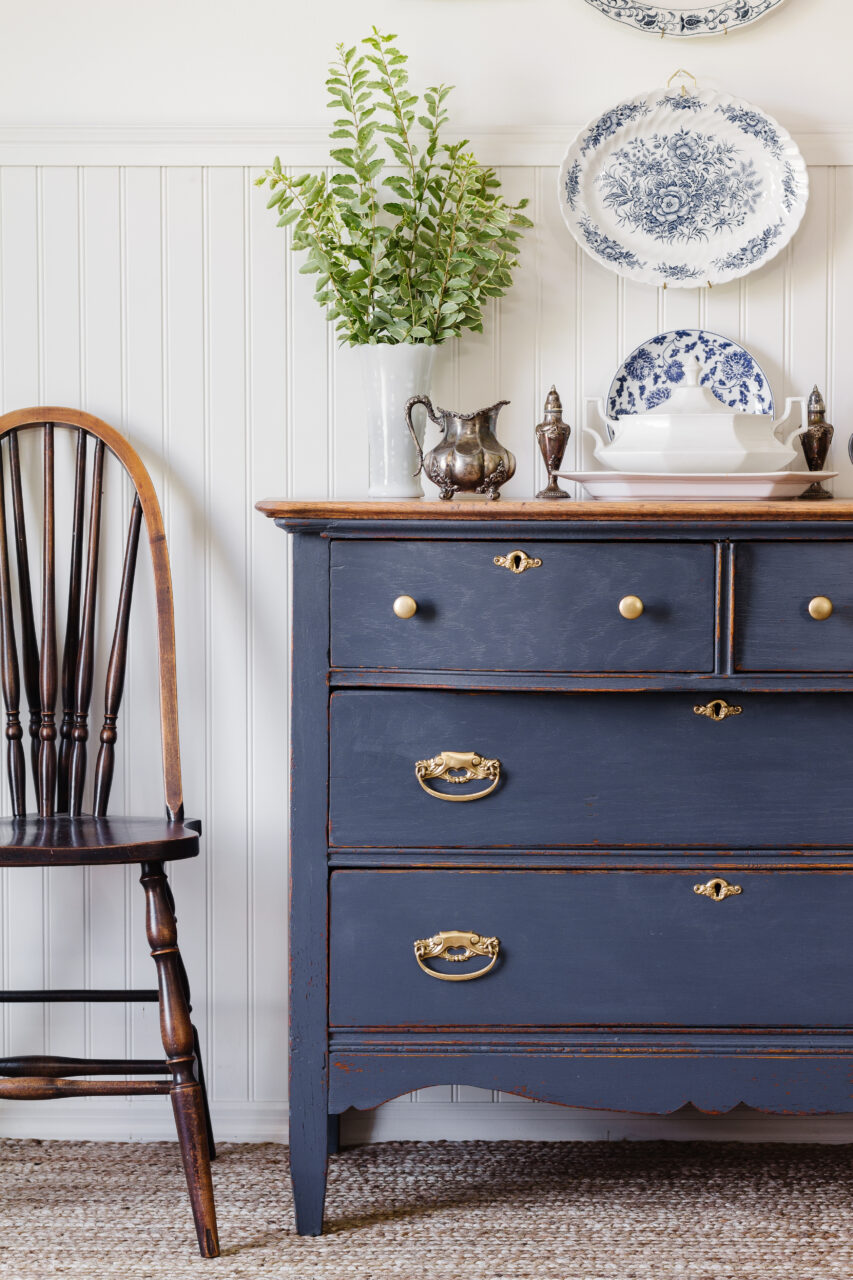 An even better surprise about this colour is how the pigment that gives it its shade. Indigo which is a dark blue hue is reminiscent of the blue chequered textiles used in Swedish interiors as well as the deep moody blue colour of blueberries which grow abundantly in the Swedish forests.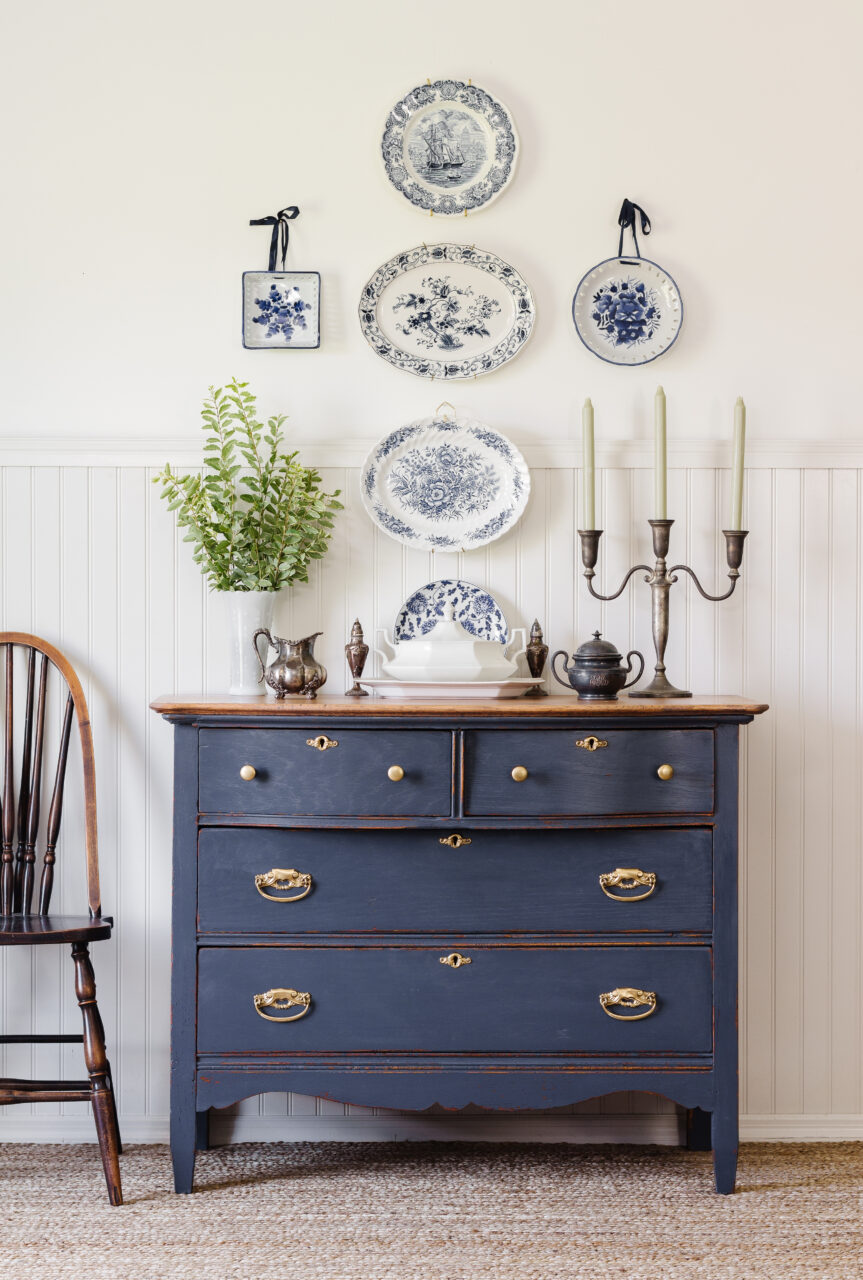 The hardware looks beautiful against the deep blue backdrop of Kurbits. Salvaging the hardware was the perfect way to keep original pieces of the dresser together, even with a fresh look.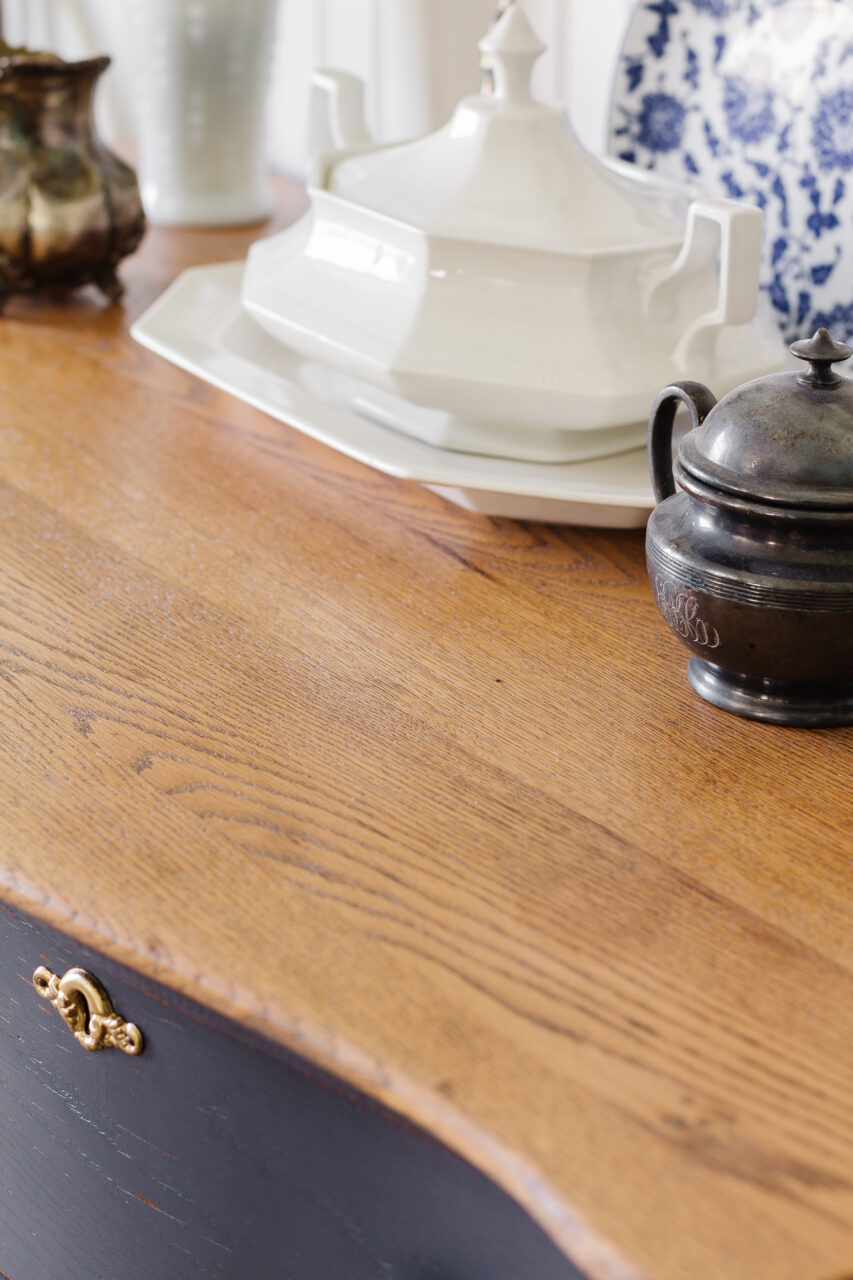 Even though the top still has great warmth, it's toned down to compliment the cool shade of the blue base.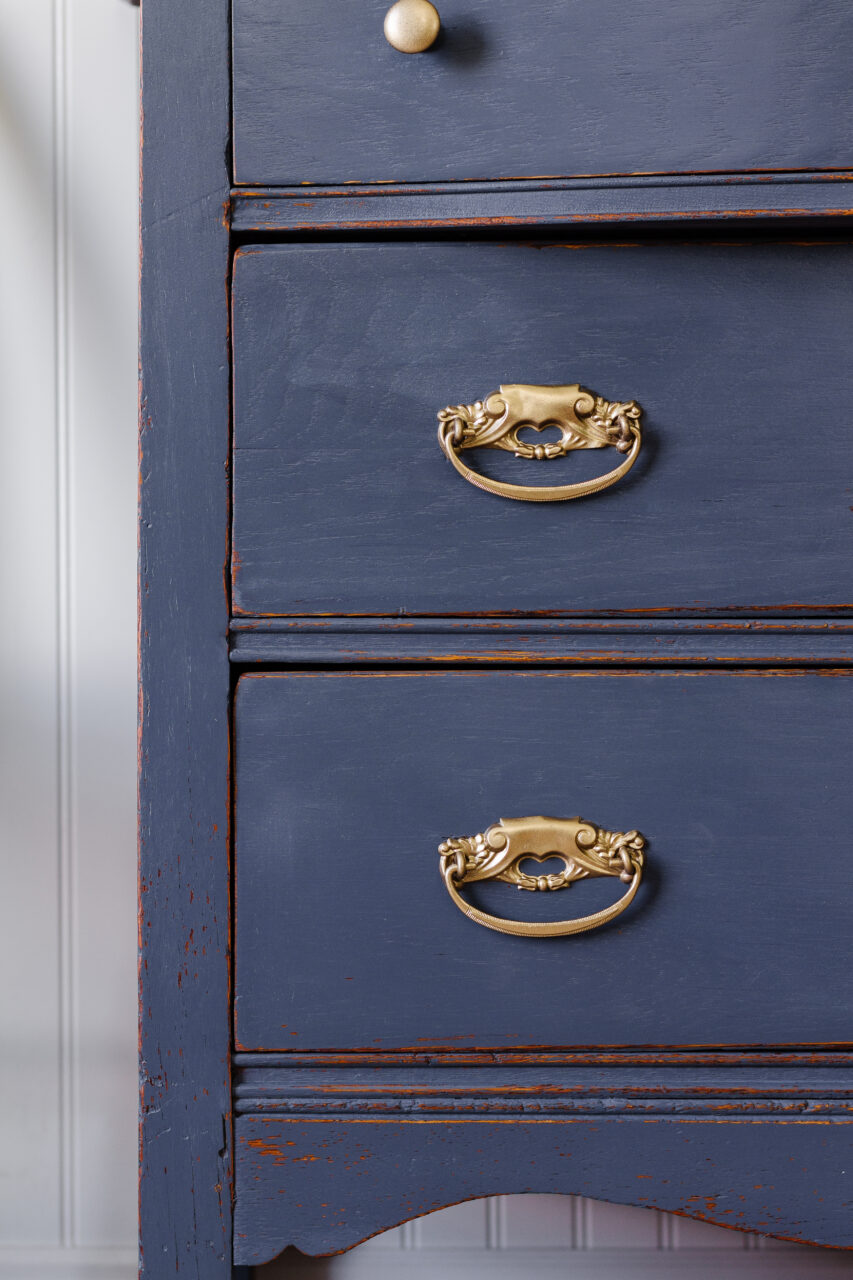 We hope you enjoyed this makeover as well as learning about the history of the color. We can't wait to see all the moody blue projects in Kurbits Indigo!