Refinishing furniture can breathe new life into your home decor, giving your space a fresh and exciting look. If you're on the hunt for a bold, unique colour that can instantly uplift your interior, then Homestead House Milk Paint Laurentien is the answer. This vibrant sea-glass blue with a hint of green is the perfect choice for those who want to add a pop of colour to their furniture. In this blog post, we'll take you through the steps of refinishing a hutch with Homestead House Milk Paint Laurentien, and we'll finish by adding some beautiful decor to complete the look.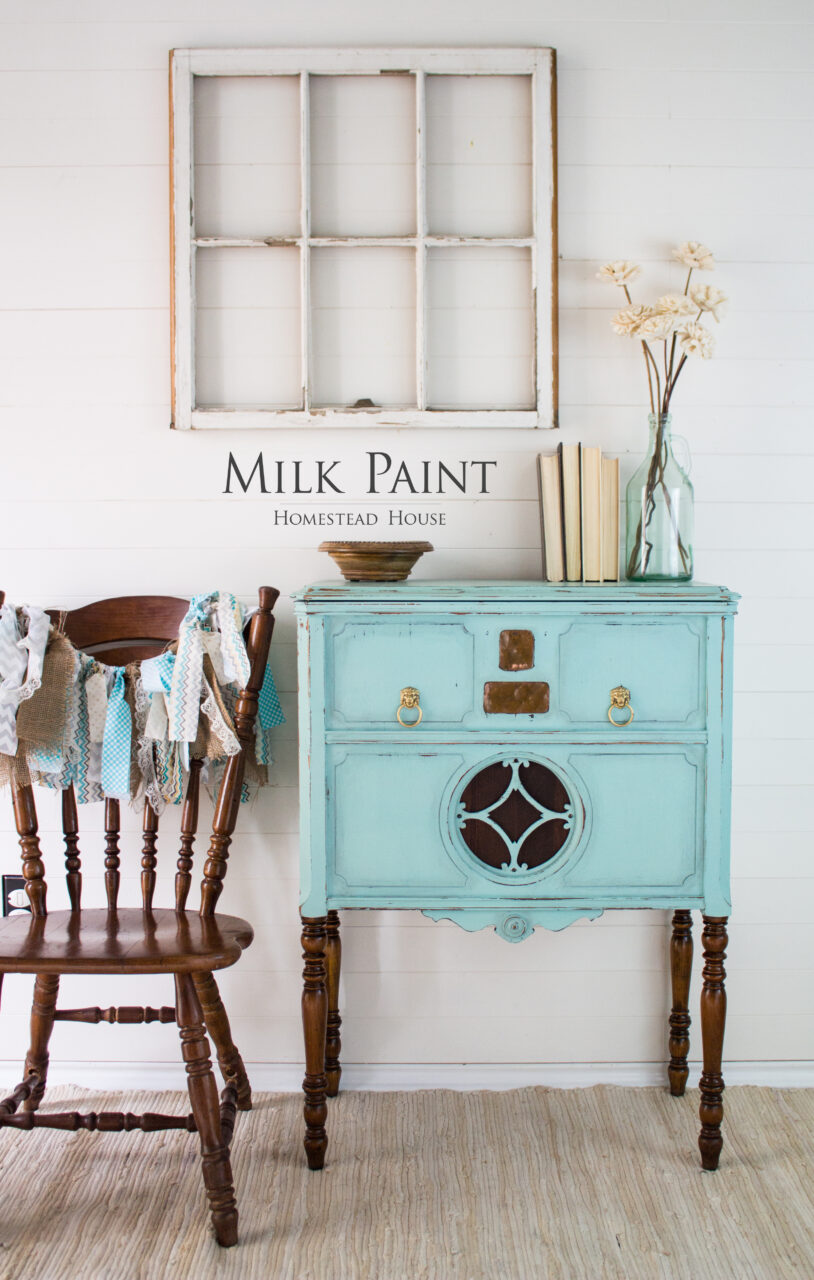 Materials You'll Need:
Before you get started, gather the following materials:
Hutch in need of refinishing
Sandpaper (various grits)
Cloths
Homestead House Milk Paint Laurentien
Drop cloths or plastic sheeting
Stain & Finishing Oil Cappuccino (for the hutch's legs and center)
Rags for staining
Step 1: Prepare the Hutch
Start by removing any hardware from the hutch, including handles, knobs, or any detachable parts. This will make the painting process much smoother. Place the hardware in a safe container for later reattachment. Next, give your piece a thorough cleaning with TSP Alternative. Then, lightly sand the entire surface of the hutch to create a suitable base for the paint to adhere to. After sanding, wipe down the hutch with a tack cloth to remove any dust or debris.
Step 2: Paint with Homestead House Milk Paint Laurentien
Now comes the fun part! Using a high-quality paintbrush such as a Staalmeester Brush, apply the Homestead House Milk Paint Laurentien to the hutch. The beautiful sea-glass blue colour will instantly give your hutch a fresh, vibrant look. Apply 2-3 coats, allowing each coat to dry thoroughly in between (about 20 minutes). To achieve a distressed look, lightly sand the edges and areas of the hutch that would naturally wear overtime.
Step 3: Stain the Legs and Center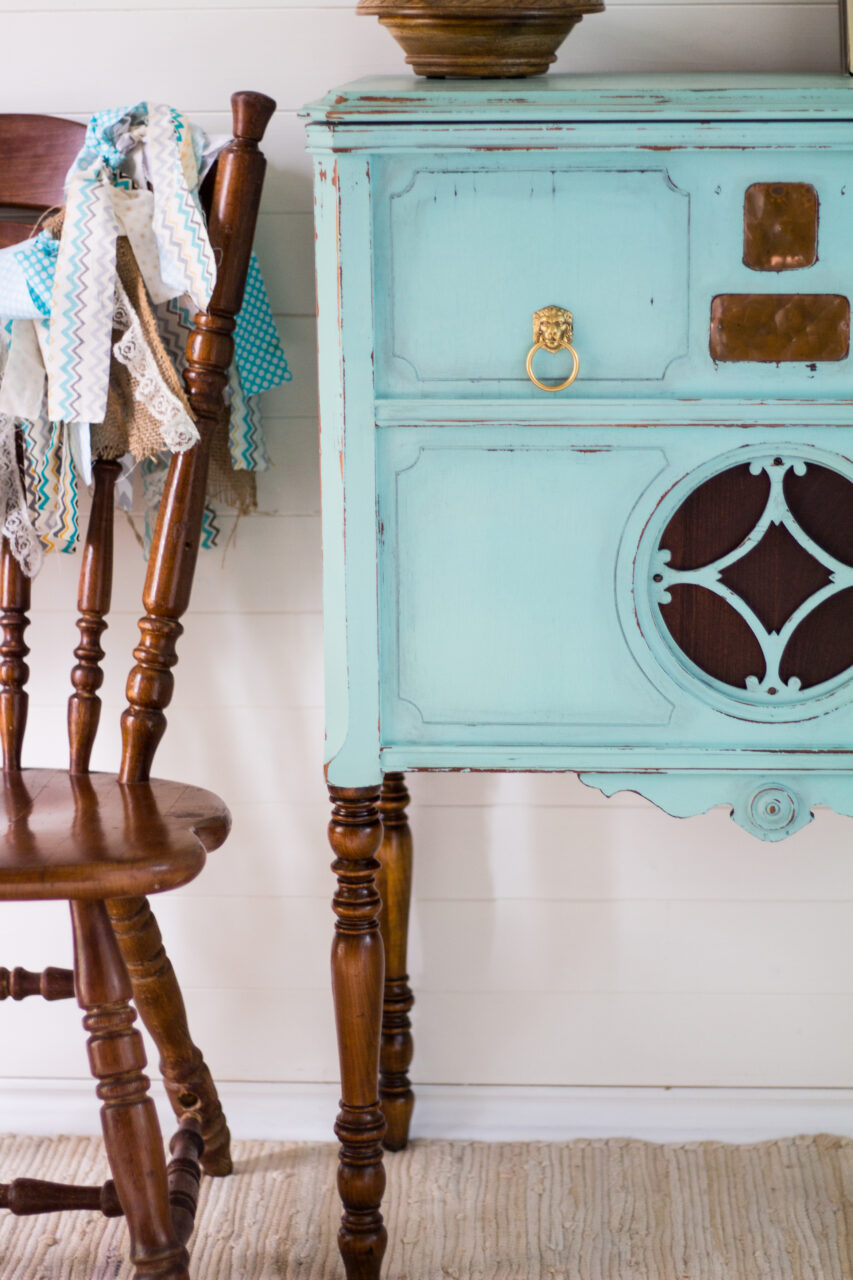 For a stunning contrast, stain the hutch's legs and center with Stain and Finishing Oil in Cappuccino. This shade complements the vibrant blue of the milk paint. Pour or brush the stain onto the surface, remove excess after 15-20 minutes. If desired, add a second coat after re-coat time for a deeper colour or more sheen.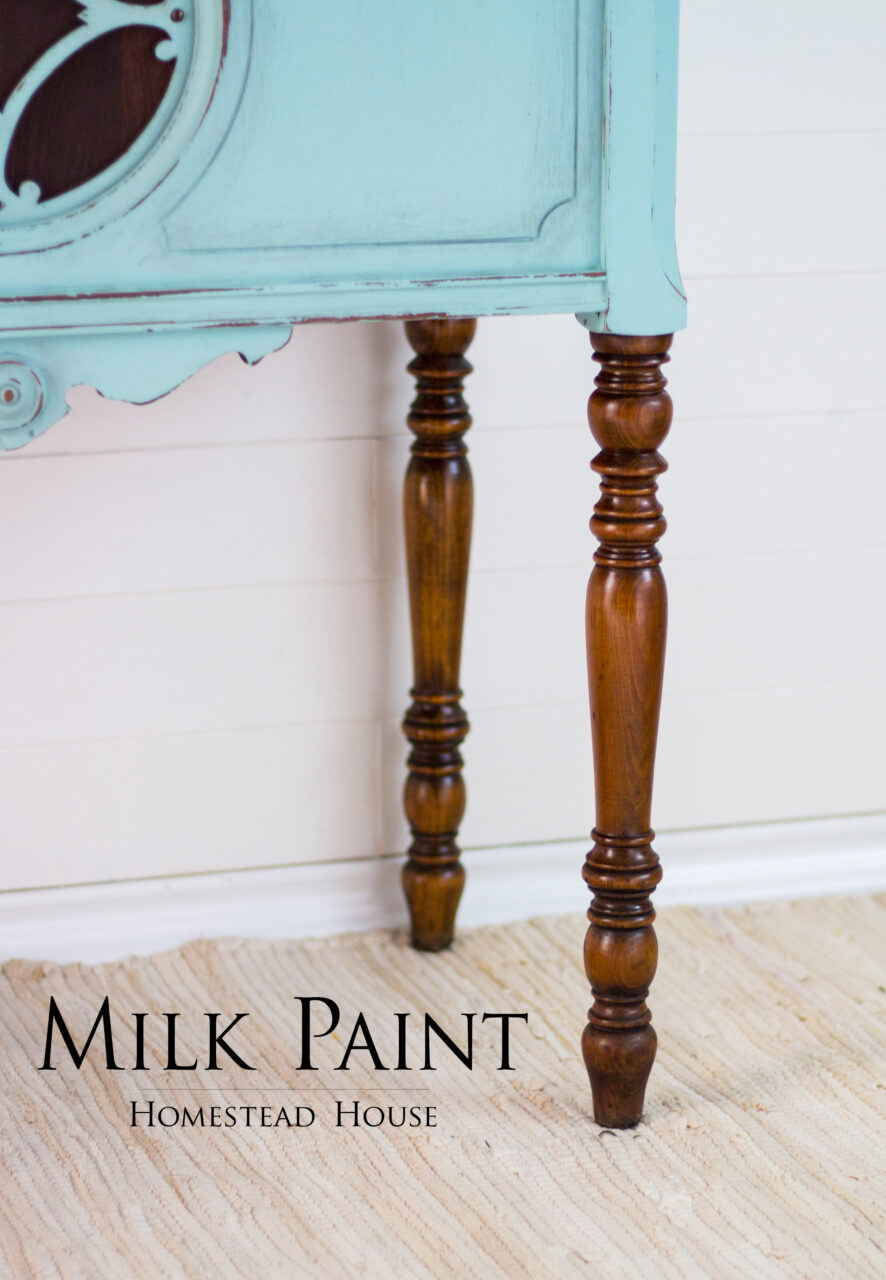 Step 4: Apply a Topcoat
To protect your newly painted and stained hutch, apply a coat of Clear Furniture Wax. This will not only add durability but also enhance the appearance of the paint.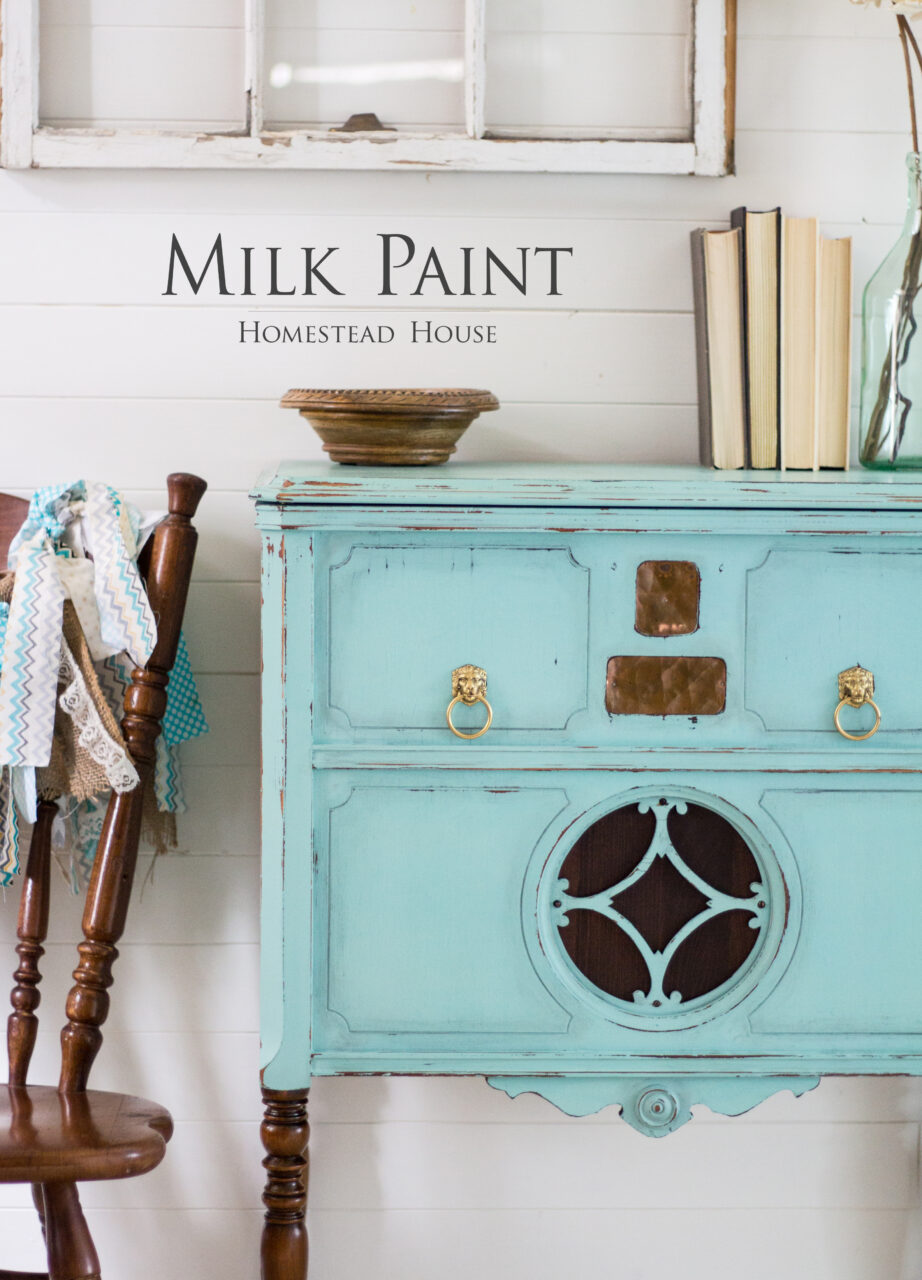 Step 5: Decorate with Elegance to Complement A Bold Unique Colour
Now that your hutch has been transformed with Homestead House Milk Paint Laurentien, it's time to add some finishing touches. Decorate the hutch with a clear vase filled with white florals to complement the sea-glass blue. Place a stack of books on one of the shelves to add a touch of character and sophistication. To complete the look, add a white wooden windowsill for a fresh, rustic touch. These decor items will not only enhance the hutch's beauty but also add a personalized charm to your space.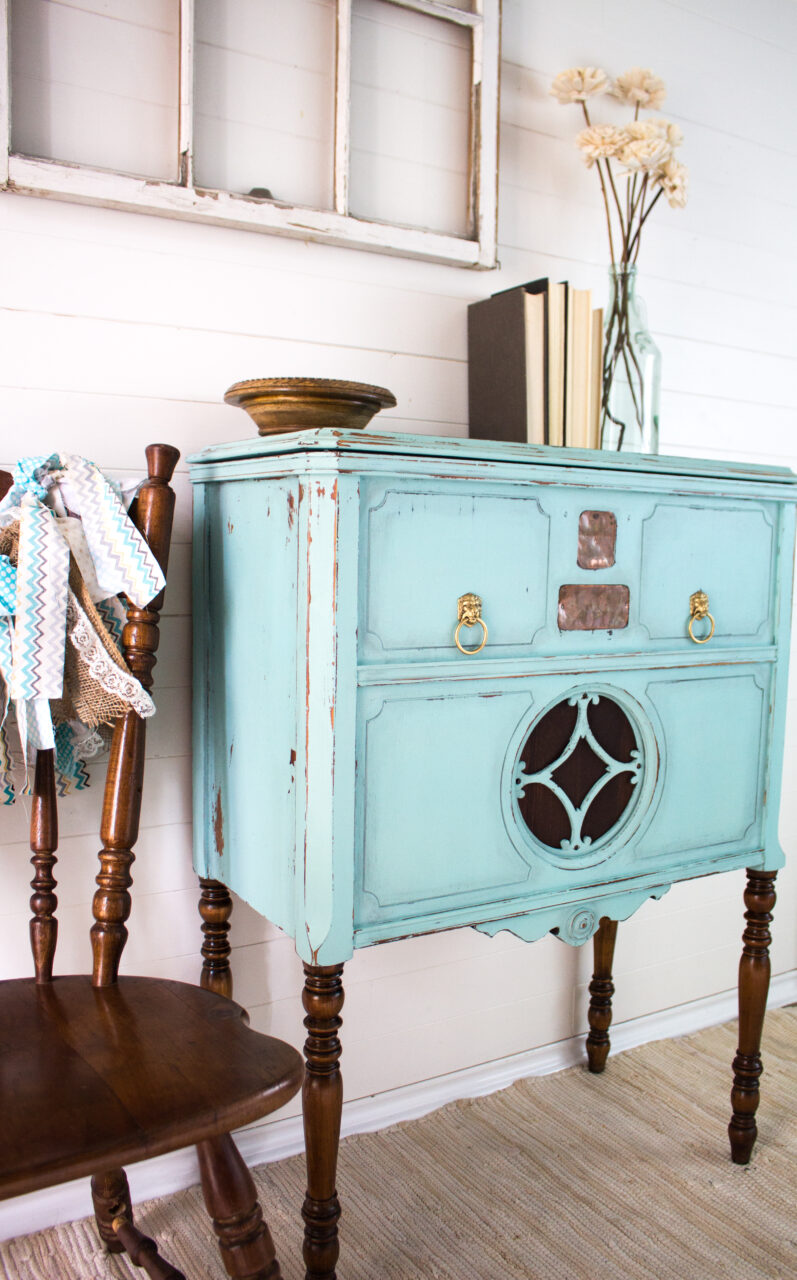 Refinishing a hutch with Homestead House Milk Paint Laurentien is a fantastic way to revamp your furniture and give your interior a vibrant, sea-glass blue makeover. By following the steps outlined in this blog post, you can create a stunning centerpiece that will bring life and colour to your home. Finish the transformation with carefully chosen decor items, and your hutch will be a showstopper in any room.