Maximalism is making its rounds in the design world and boy is the statement BIG! If you have no idea what maximalism design is, prepare your eyes for a vibrant bouquet of textures, patterns, and some of the boldest colours you can set your eyes on. Maximalism design focuses on a funky mix of animal, floral and abstract patterns, metallic touches, and personalized bright and bold colours. The goal of this design style is to feed your eyes with maximum impact in personalization. When it comes to the Fusion and Homestead House line, we have no shortage of colours and projects to make your maximalism dreams come true. But one colour, in particular, was just destined to be the star of the show. That colour is Beret from the Homestead House Milk Paint line. Let's take a look at the start of our Maximalism Bold Furniture Makeover project: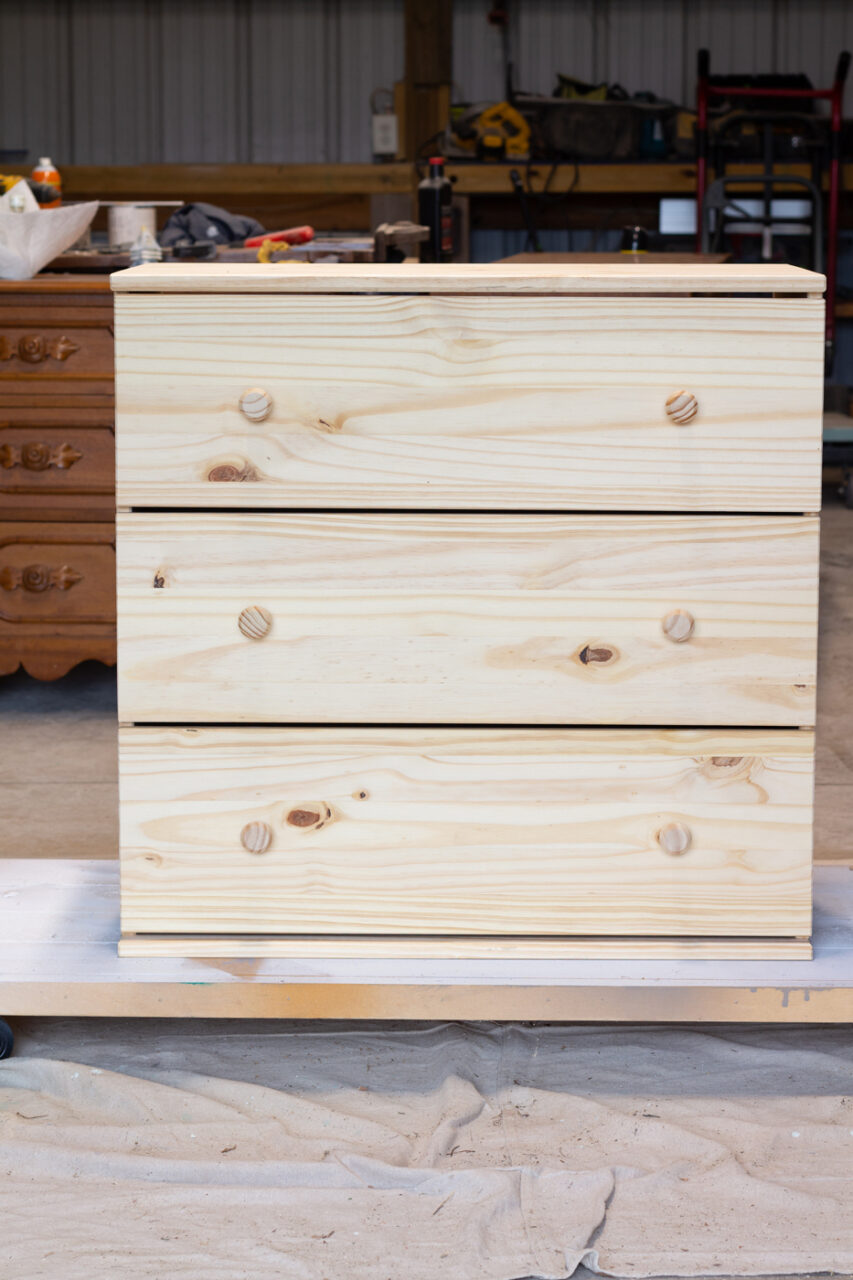 Below is a list of supplies you'll need to complete a similar project. 
Ikea Tarva Dresser
Homestead House "Beret" Milk Paint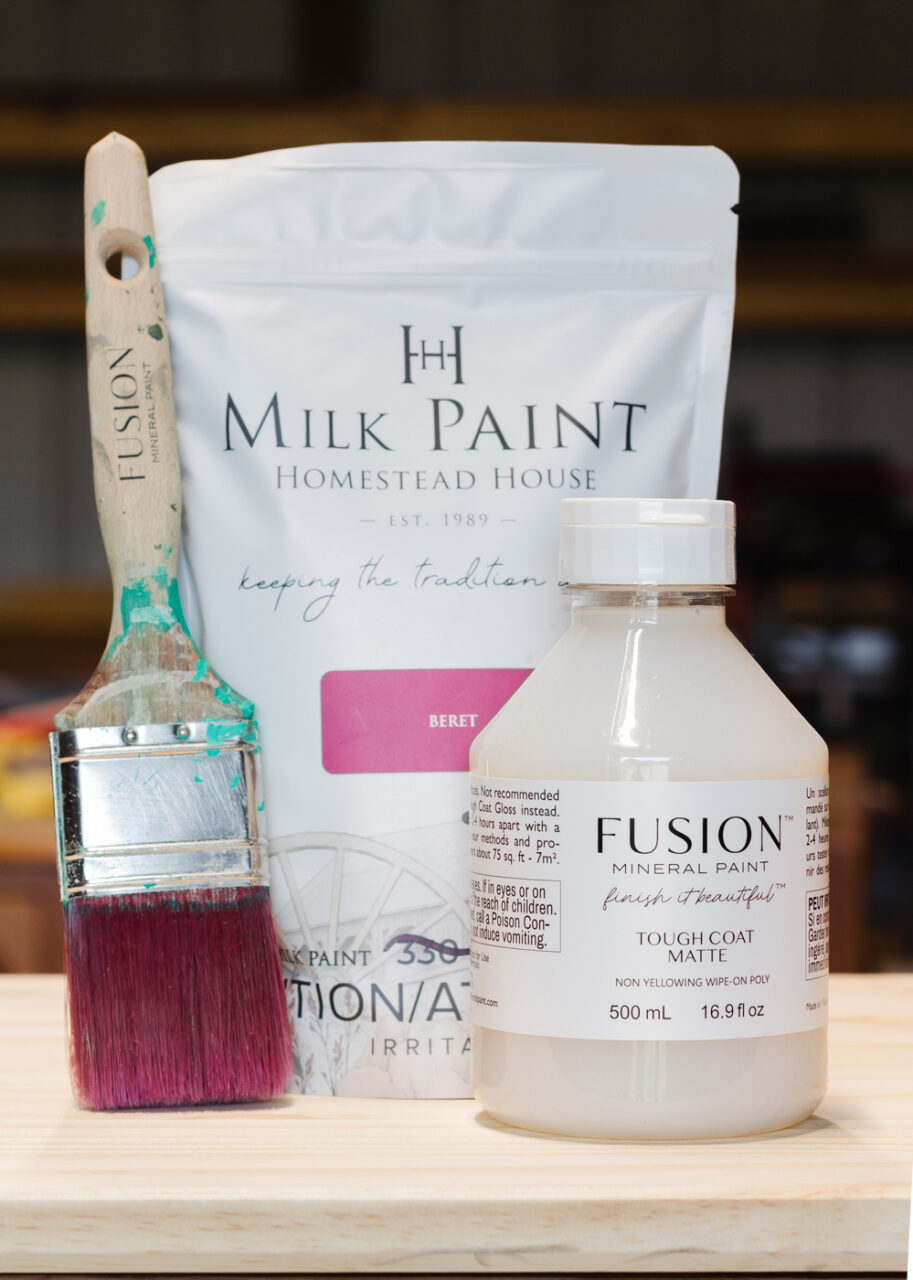 Customizing the Ikea Tarva Dresser for Maximalist Brilliance
What we have for the very base of our project is a brand-new Ikea Tarva 3-drawer dresser. The best thing about these Ikea dressers is the endless customization you can get by starting with a wood project that has clean straight lines. Simply put it together and get started on your vision. For starters, we removed the wood knobs and left the legs off. We have plans to replace both with some hardware that is a little more upscale.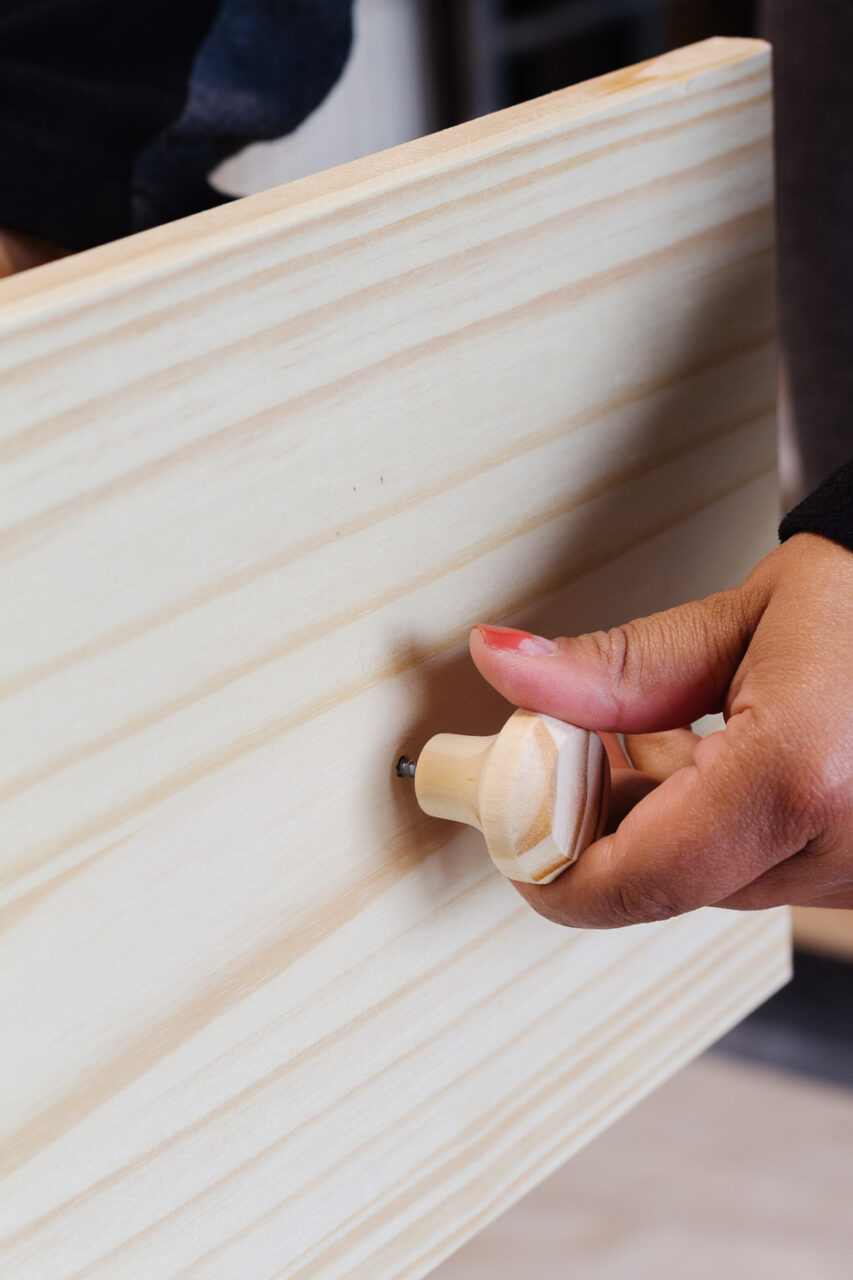 Since this piece is raw wood, there is very little prep needed. The wood was rough in some areas, so we took our Fusion Mineral Paint Fine Sanding Pad and ran it over the entire piece to knock down the raised wood fibres and give us a smooth surface to work with. Then you take a damp cloth to lift the dust residue.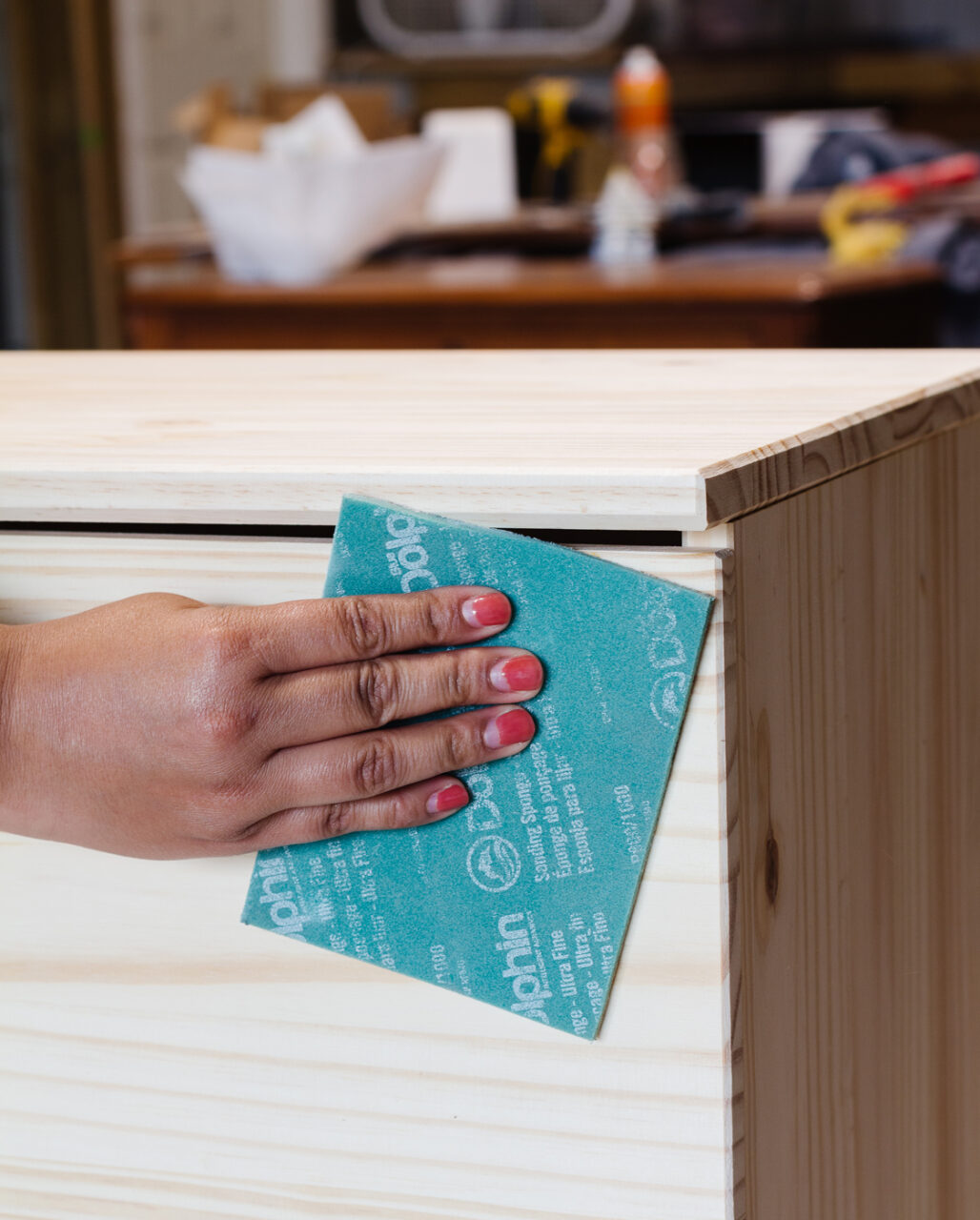 Creating a Dazzling Masterpiece
Now comes the fun part! We mixed a 1:1 ratio of room temp water to milk paint in a large bowl. We knew this colour was going to make a splash so we made sure to mix the paint thoroughly. The components of this colour require mixing, so you have to make sure to mix continuously as you paint to keep the pigments incorporated and the colour consistent.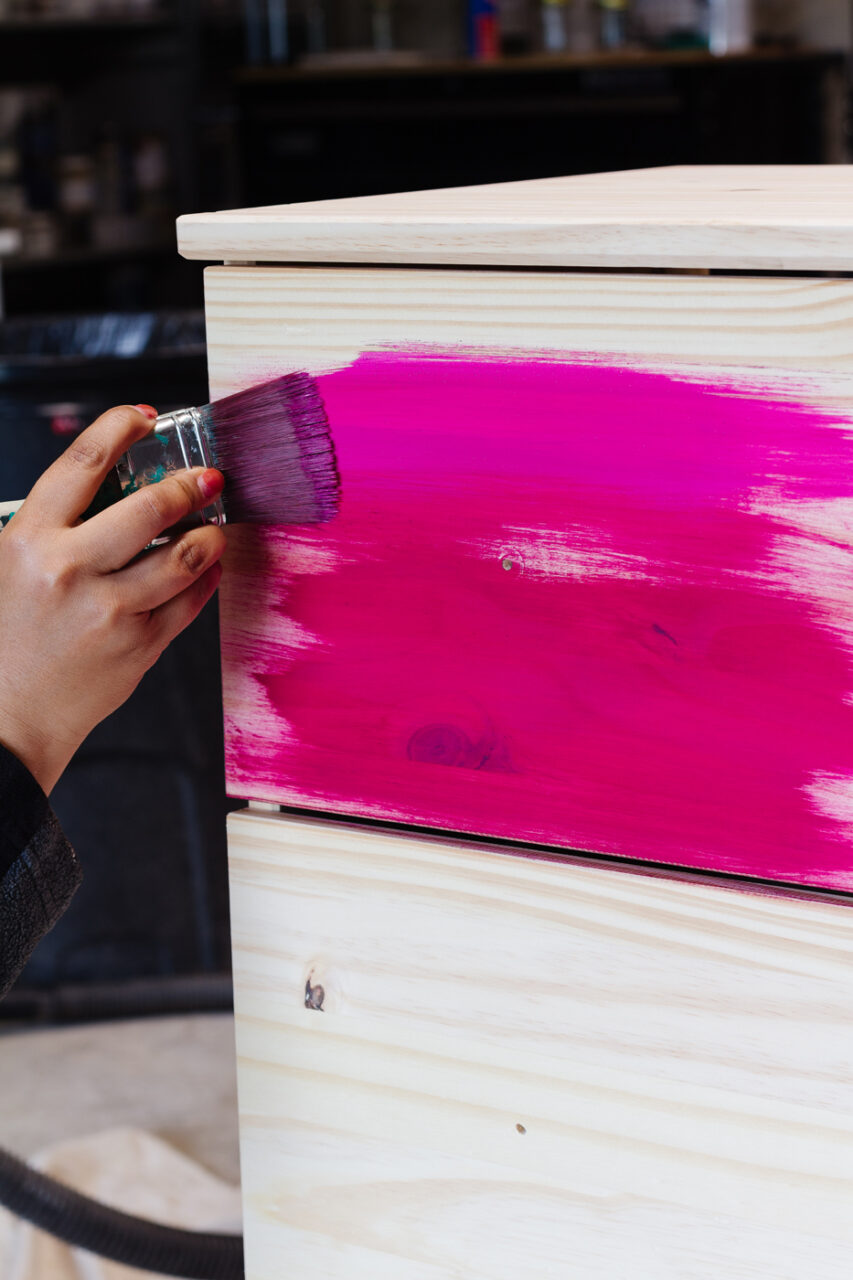 Your first coat of paint is going to be bright! But don't worry, the colour tends to darken as it dries leaving you with a rich raspberry magenta hue. Overall this raw wood piece took 3 coats of paint, with sanding in between and lots of continual mixing to get full coverage.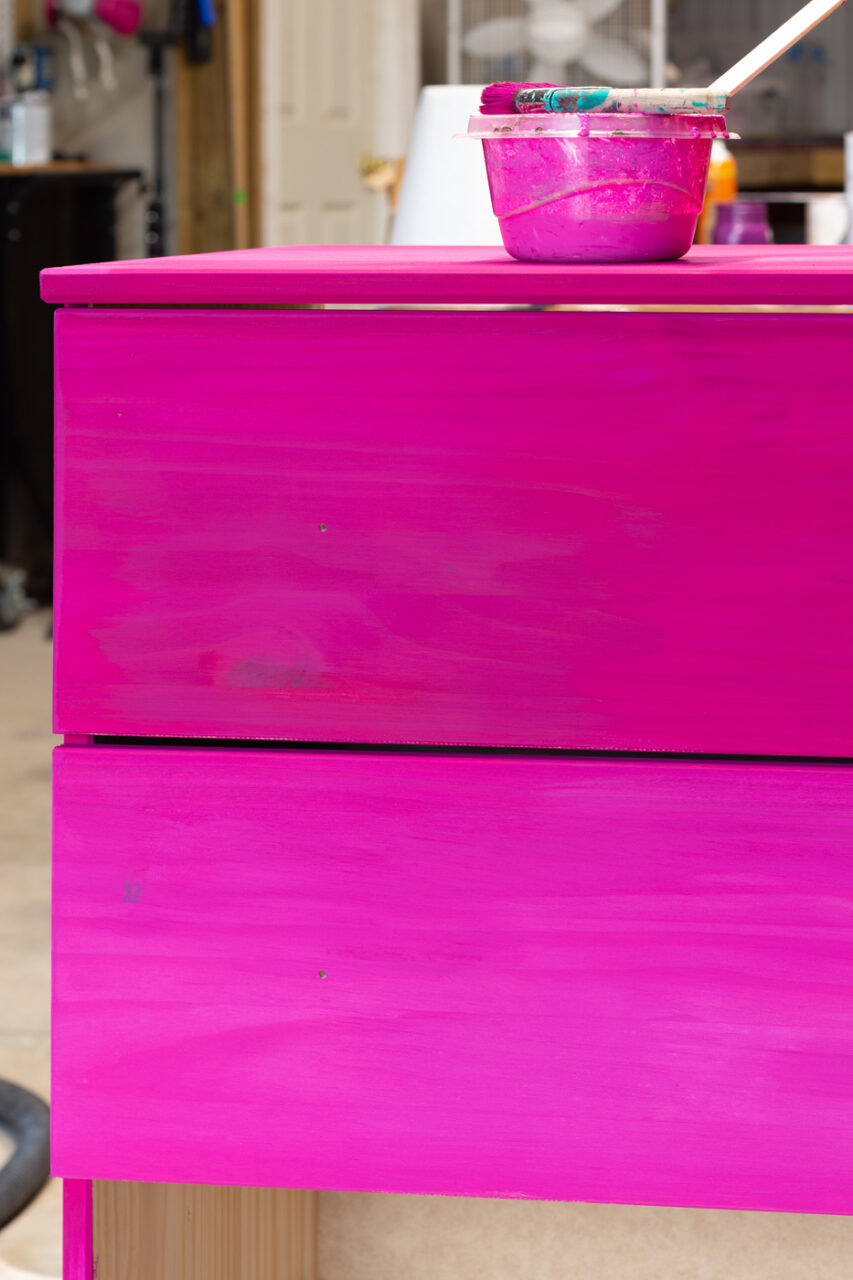 Once your last coat is dry, you are ready for your top coat. We chose the Fusion Tough Coat to give our newly painted dresser some durability and to help deepen the colour just a tad. 
A Showstopping Bold Raspberry Colour
Beret truly is a stunning, eye-catching and jaw-dropping colour! The rich red undertones with the bold raspberry magenta notes in this are really something that elevates your design.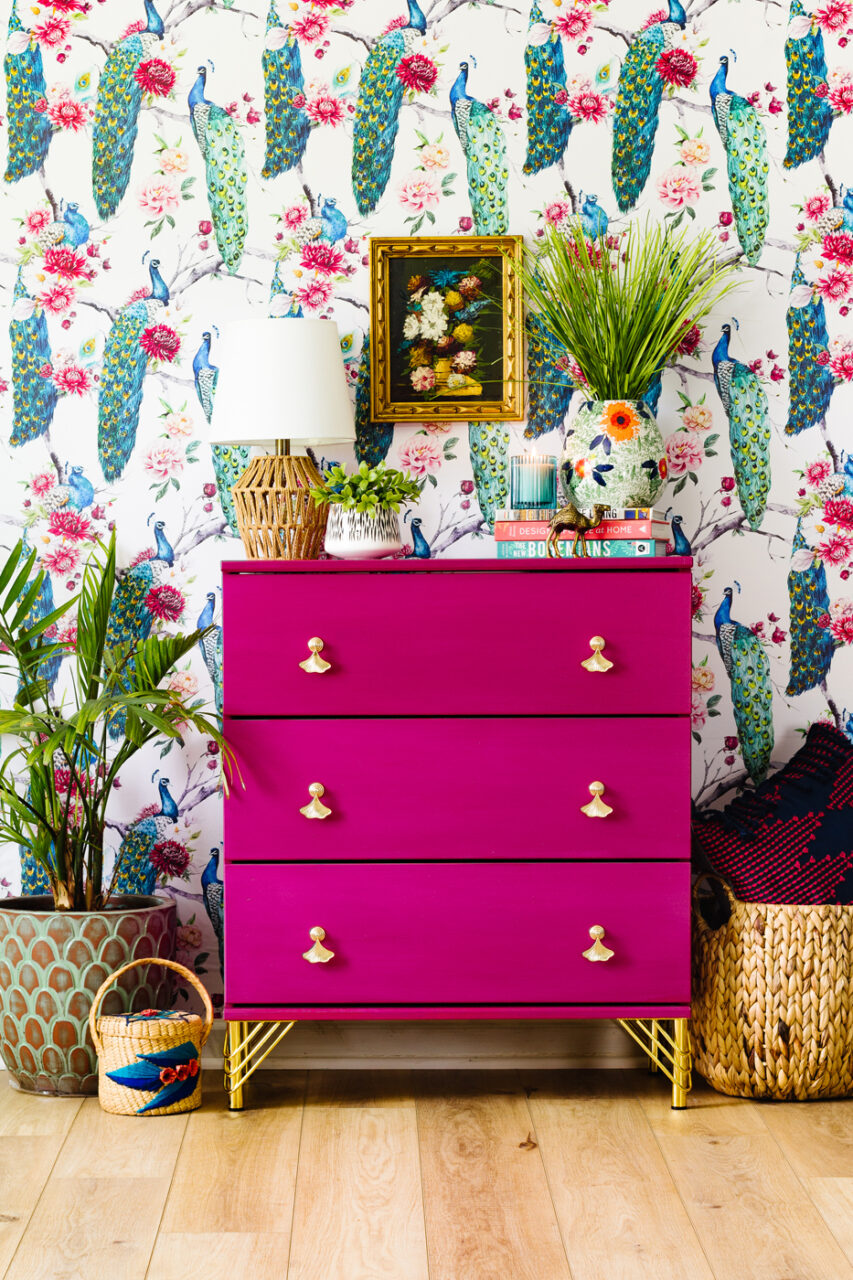 Pairing Beret with lots of textures like the boho lamp, and greenery really makes the colour feel organic. Our backdrop of fun peacock wallpaper really takes this piece to the next level and ties it all together.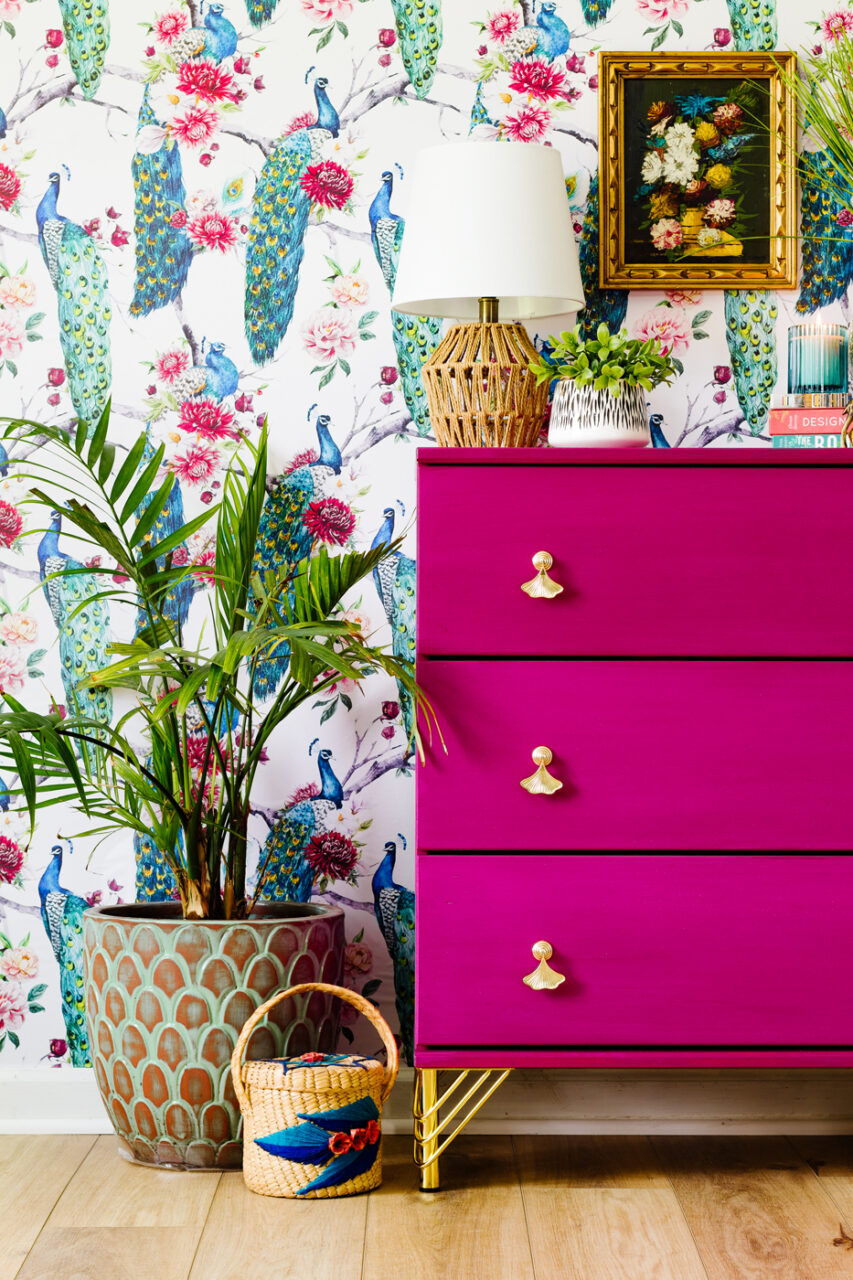 Maximalism Bold Furniture Makeover
Adding a little glam with the gold legs and hardware is a way to dress up this simple ikea piece and make it look like something out of an interior designer's magazine. You wouldn't be able to guess this is a simple, store-bought, pine piece.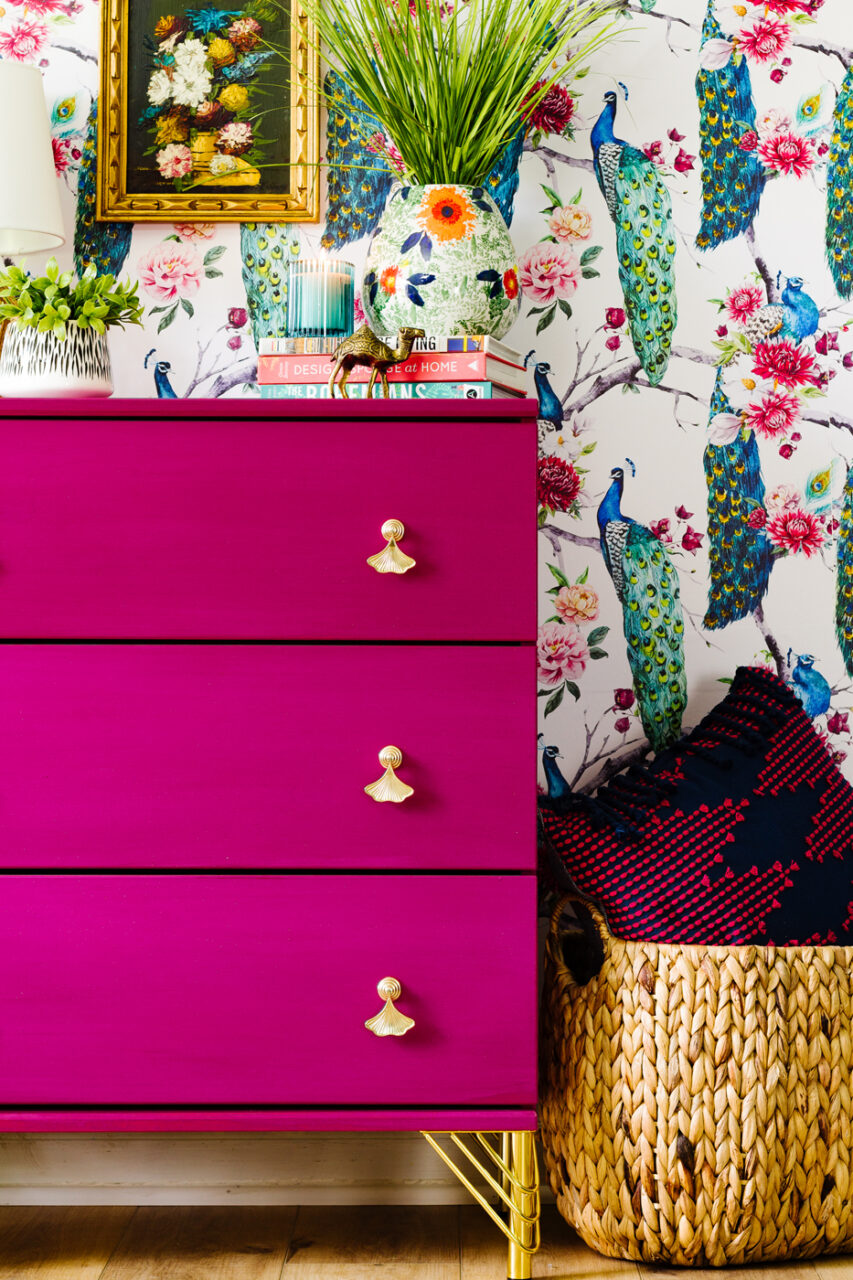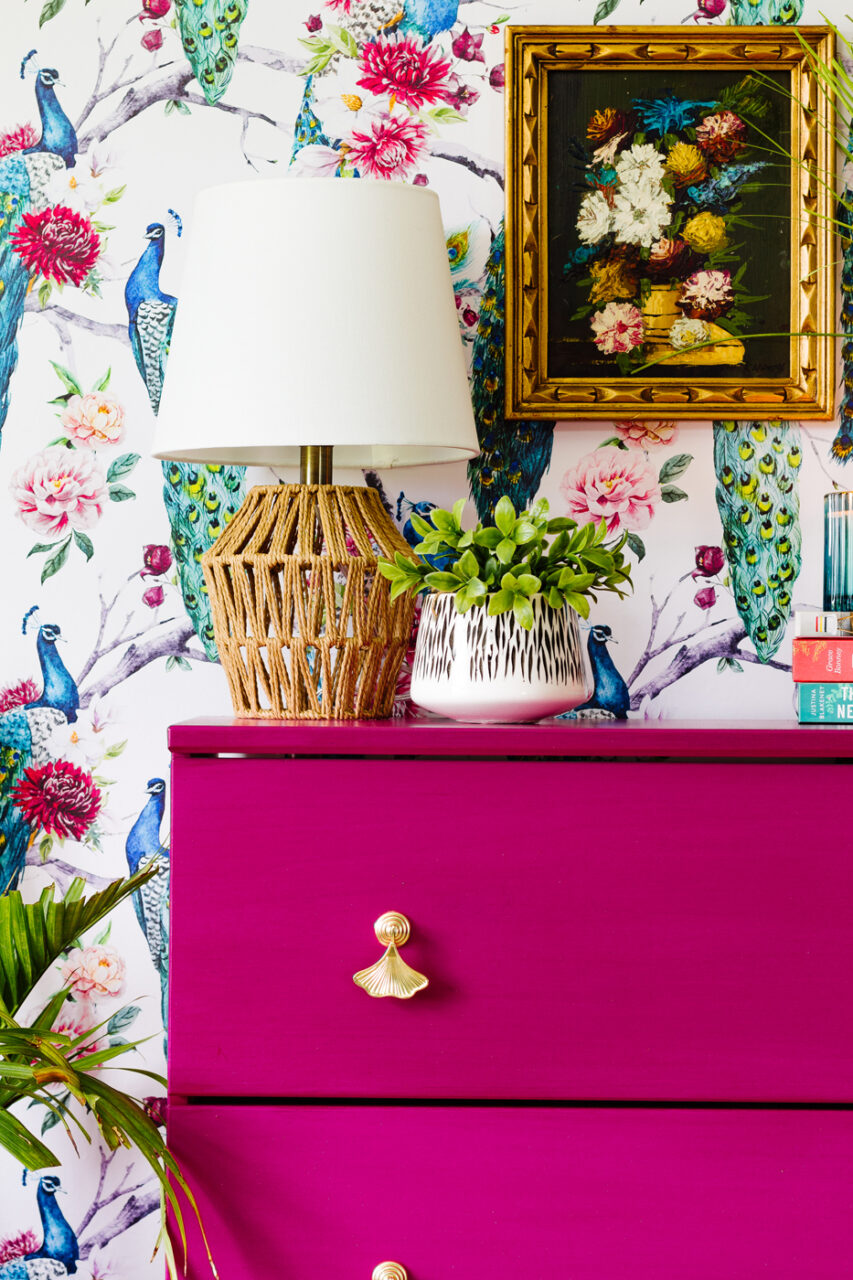 A quirky way to tie your furniture into your staging is to add the same funky wallpaper into the drawers. It adds a nice surprise that makes your furniture pop!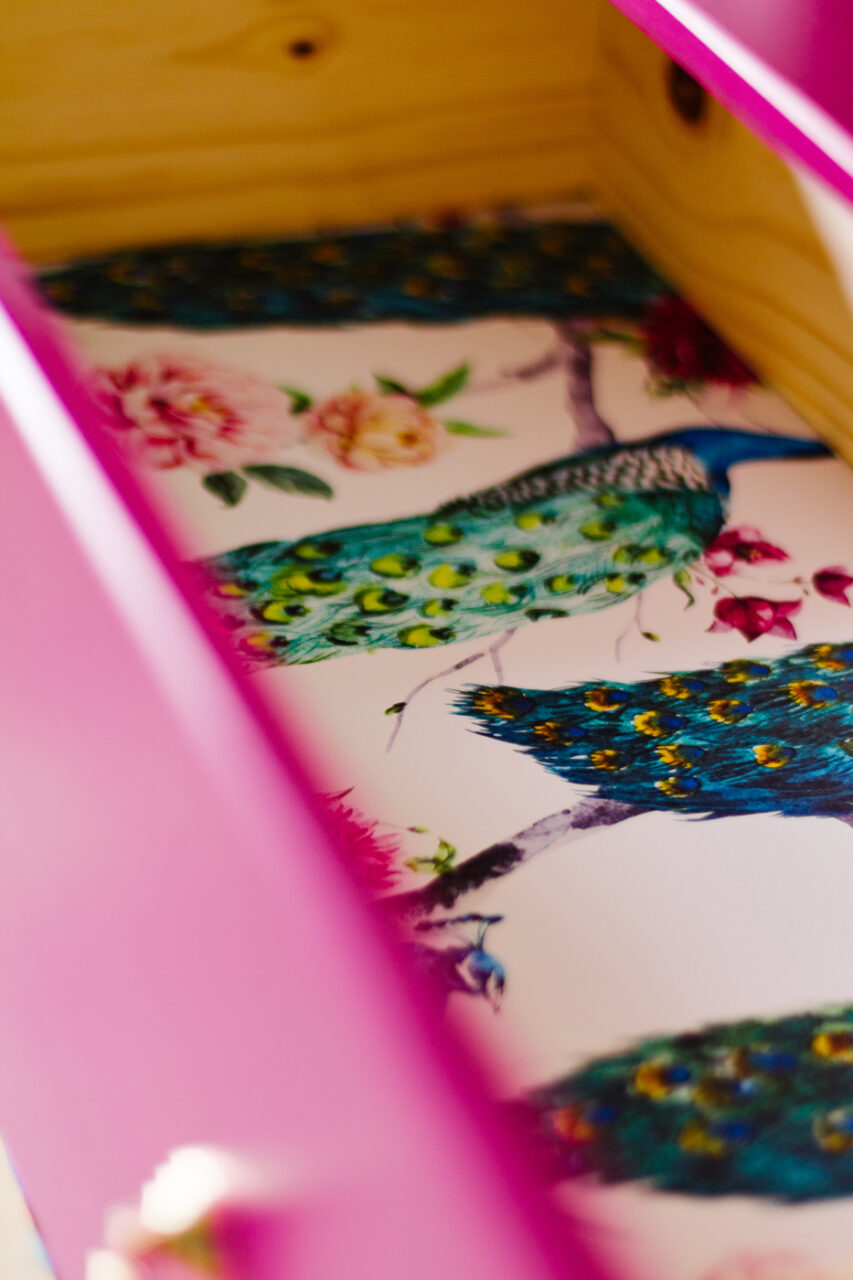 This is one colour we hope to see making the rounds in all your homes and on all your furniture! We'd love to see your projects featuring this Beret!