The hardest decision to make when refinishing furniture is often choosing what colour to paint it. You certainly want to be creative and unique but also focus on what the furniture needs for your transformation. If you're lucky the vision speaks to you right away but sometimes the furniture has to do the talking. When we picked up this piece off the side of the road, we knew the dark wood had to go. What better way is there to brighten up a piece of furniture and add some flair than to paint it with milk paint? We couldn't wait to get started with a cool & coastal colour!
Here is a before look at the piece: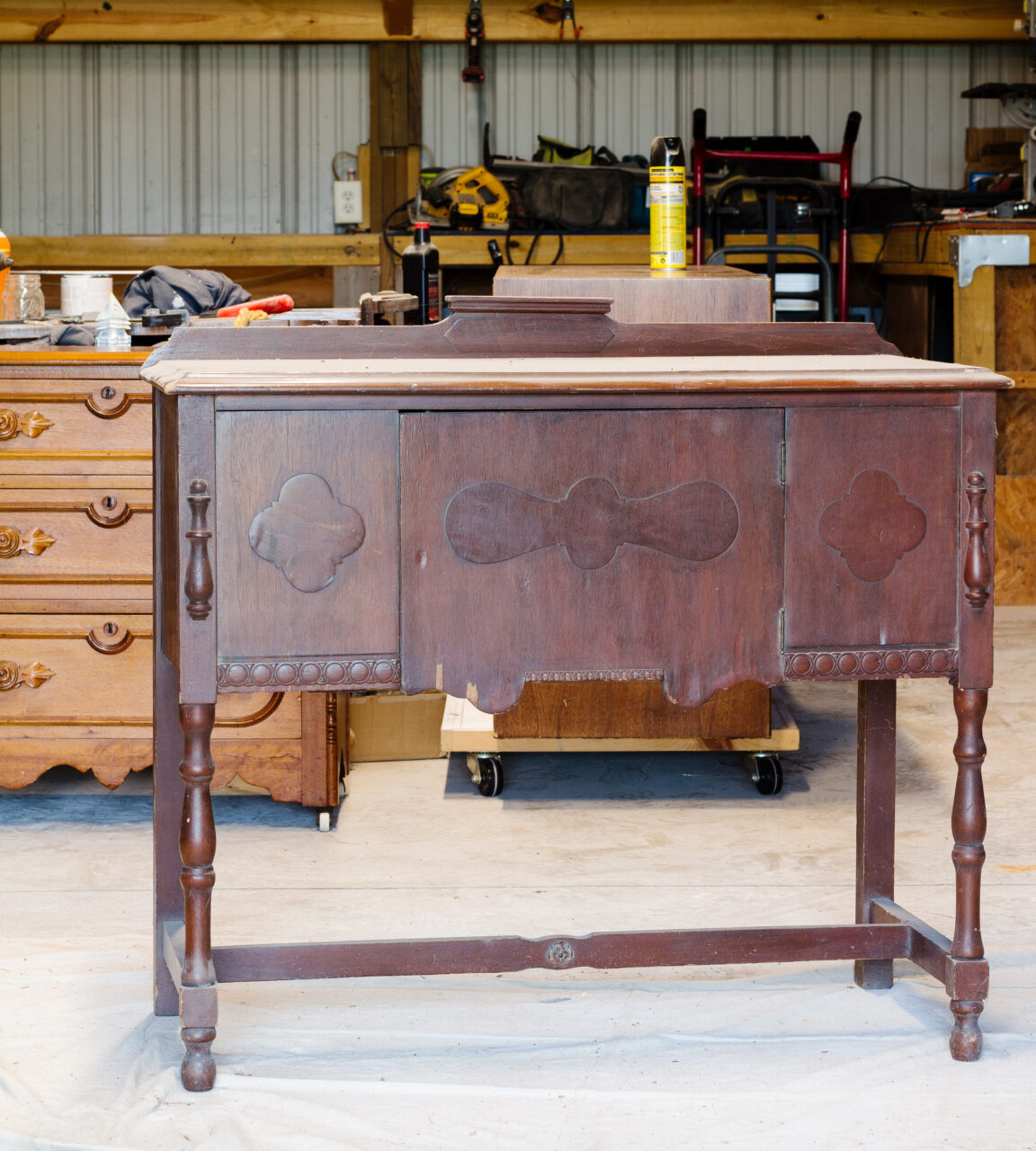 Below is a list of supplies you'll need to complete a similar project. 
Fusion TSP Alternative + Wiping Cloths
Homestead House Milk Paint Parlour
Electric Sander and Sanding Pads/Paper
Stir stick + Container
Wood Filler Putty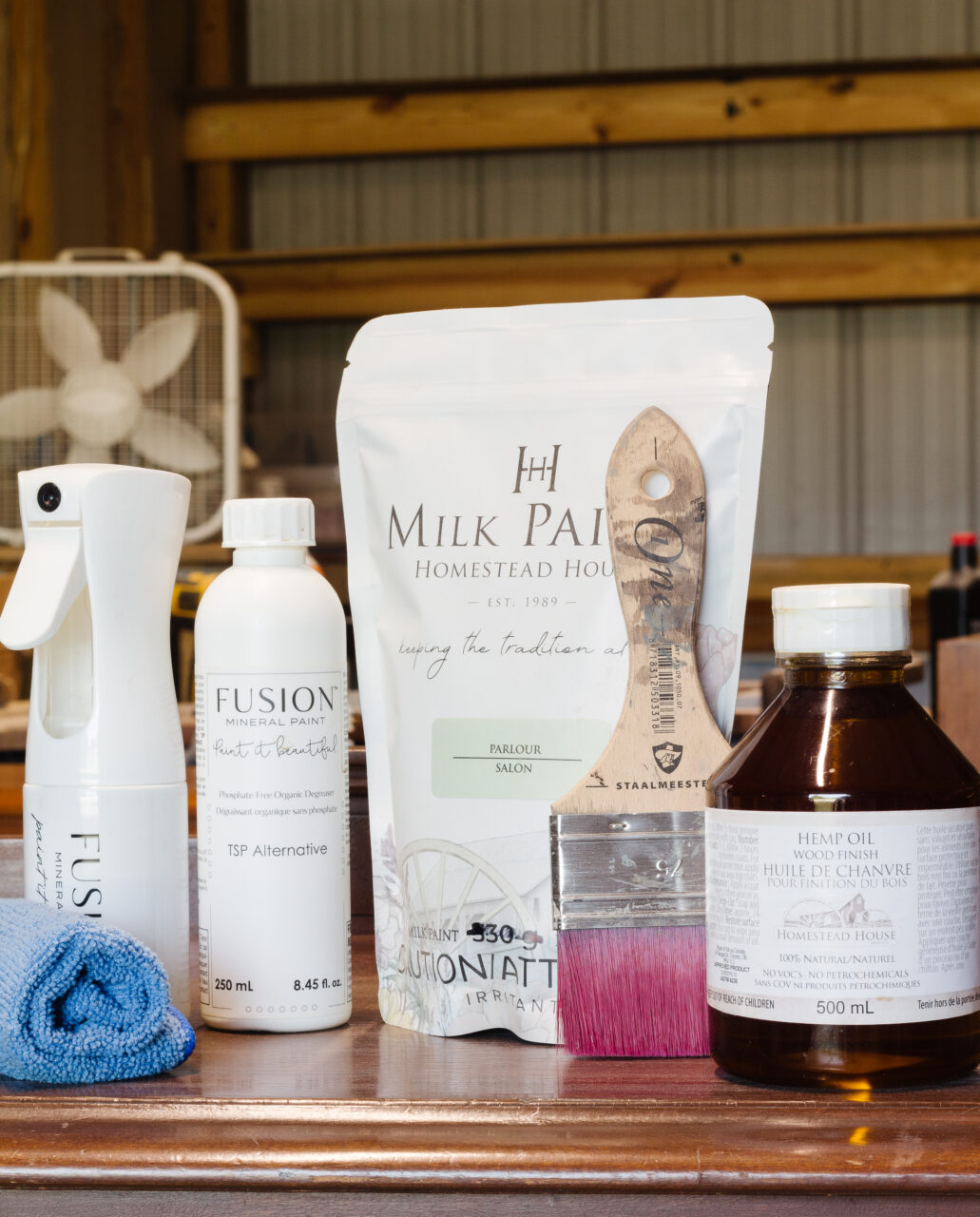 Prep
Since we found this piece curbside, we knew it needed a little more TLC than some of our other projects. The first step in all our projects is a good deep cleaning. Fusion TSP Alternative mixed in a 1:4 ratio with water is always our go-to formula for a wet cleaning agent. Mixing it in a spray bottle makes it easy for application and cleanup. Simply spray, scrub, wipe and repeat (if necessary).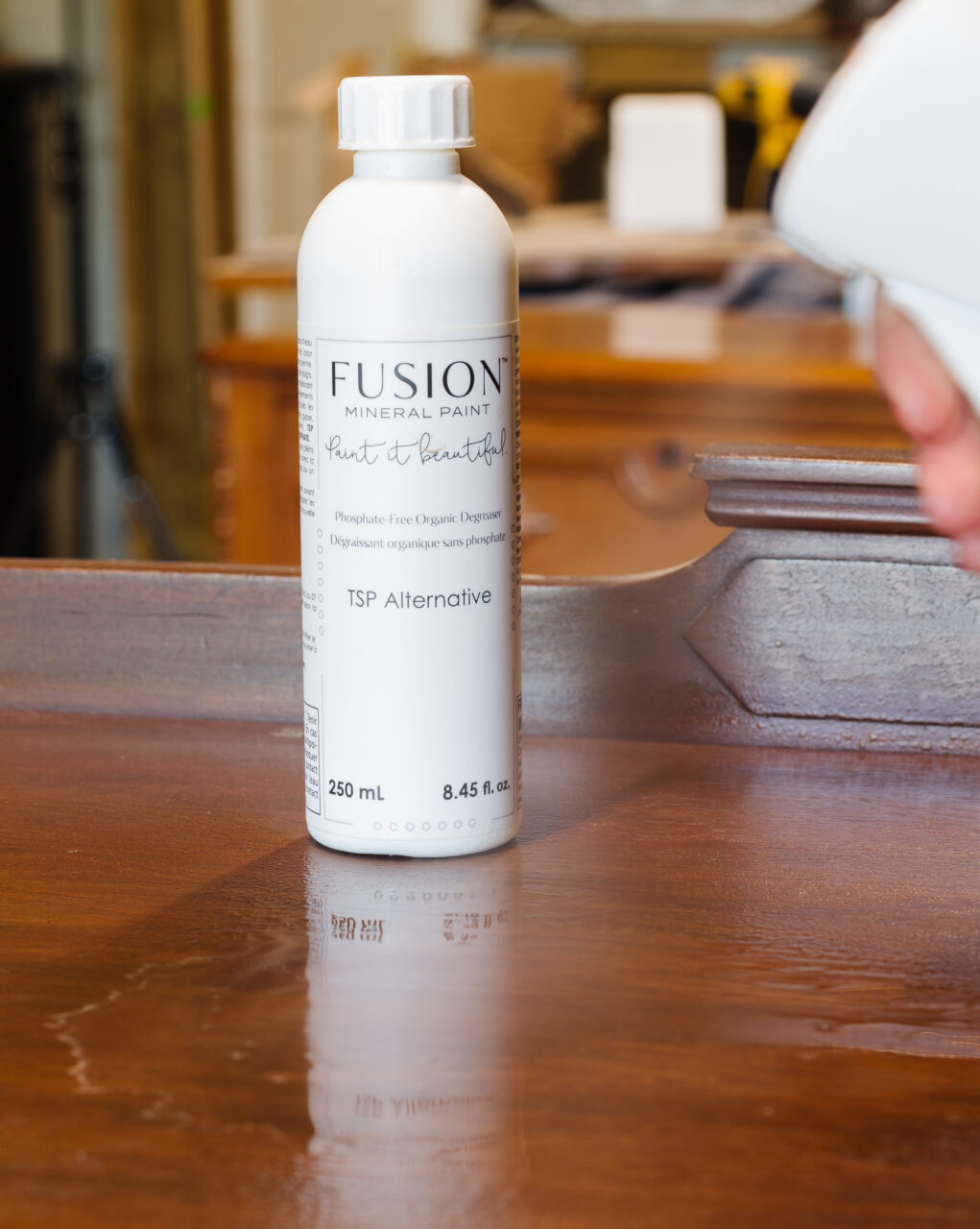 After our cleaning process was finished, we needed to focus on repairs. This piece had some veneer chips in it which are easily repairable with a wood filler putty. We used a pre-mixed wood filler and placed it on the parts of the veneer that were chipped. These spots are typically at the veneer edges.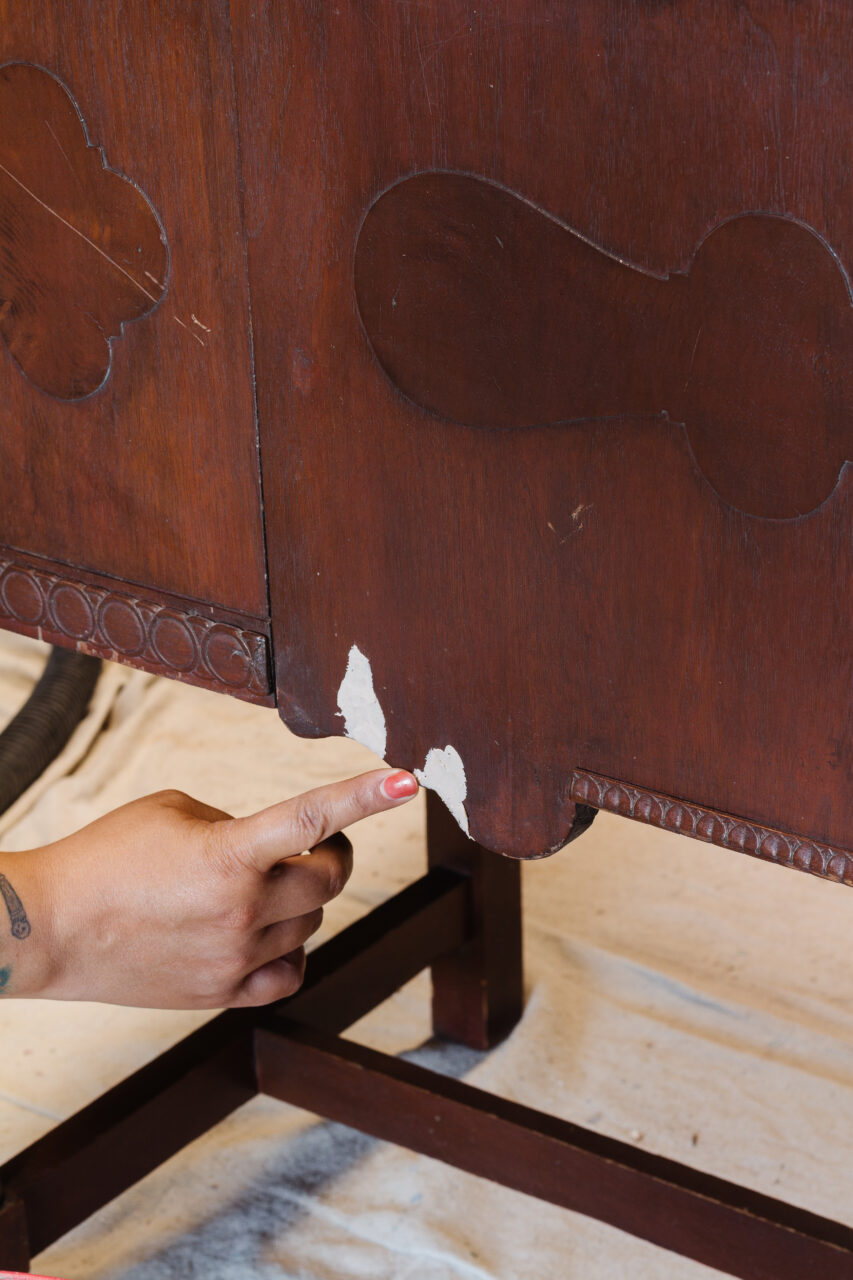 The last step in our prep process is to sand. Whether it's a deep sanding to strip a finish or a light scuff sanding to help your finish bond, sanding should definitely be a part of your prep process for a long-lasting finish.  We used an orbital sander to remove the previous finish on the top, but then used a higher grit paper to scuff sand the body and smooth out the wood filler putty. Once your sanding is complete, another wipe-down to remove the dust is best before getting your paint on.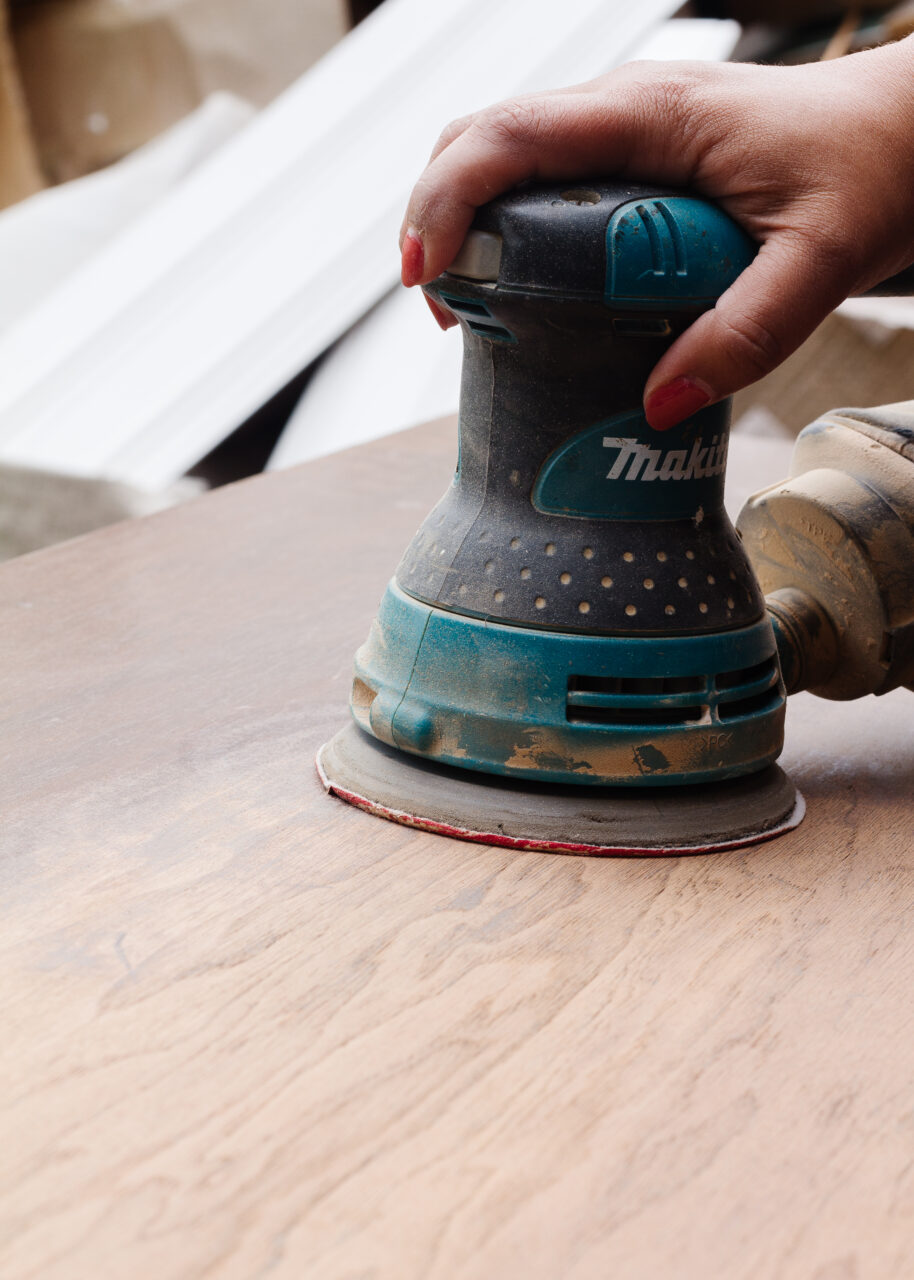 Finishing Coat
After your prep is done, it's time to mix up your milk paint. You can make it as thin or as thick as you like, but for lighter colours, we prefer to mix it on the thicker side as you will certainly need more coats. We do roughly a 1:1 mixture of milk paint to water and add a couple of extra tablespoons to thicken it up.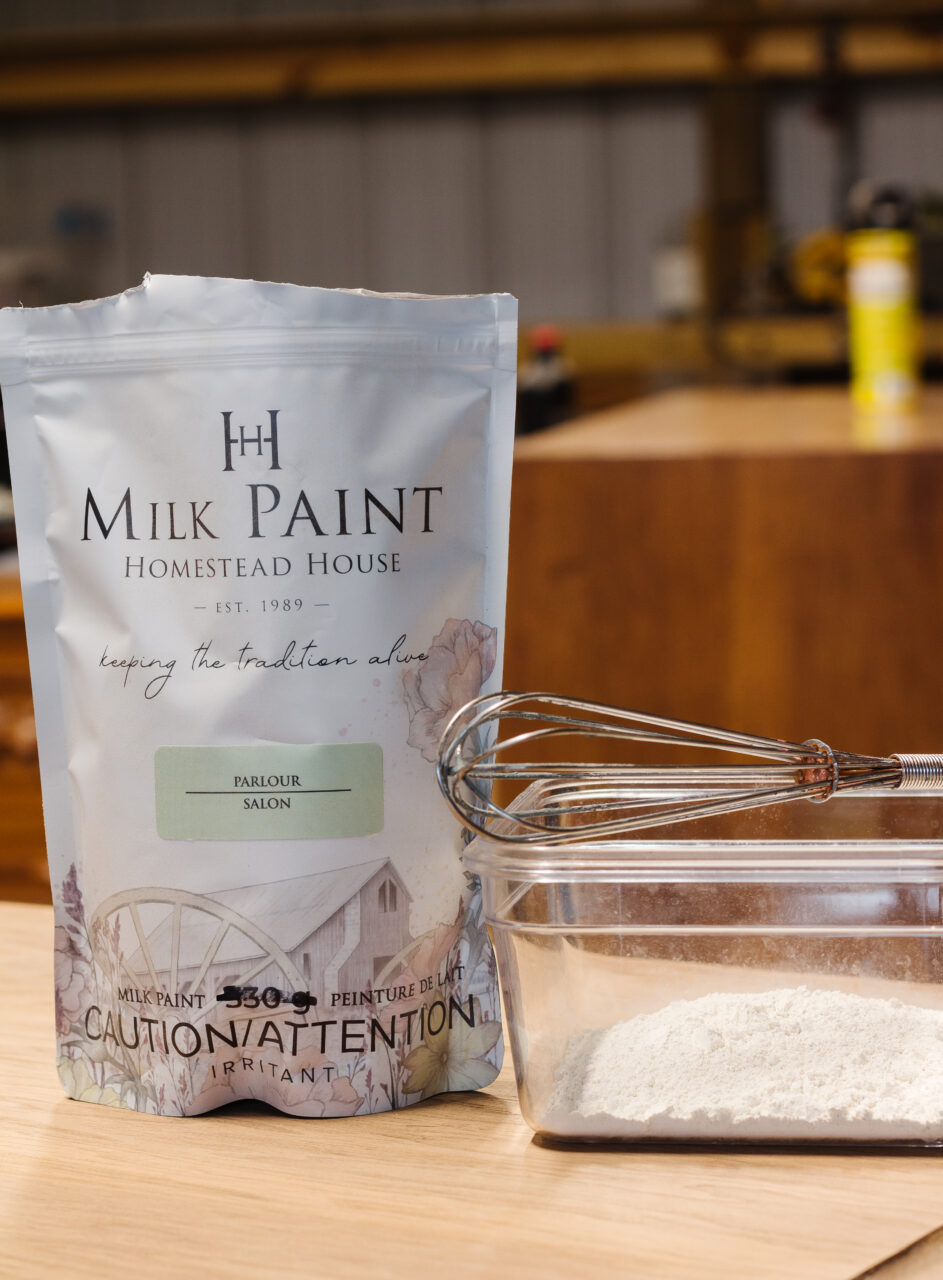 The first coat of light paint going over a dark surface can seem pretty scary. You might think you'll be there forever adding coats and coats for extra coverage, but with every coat you add the more opaque the finish becomes.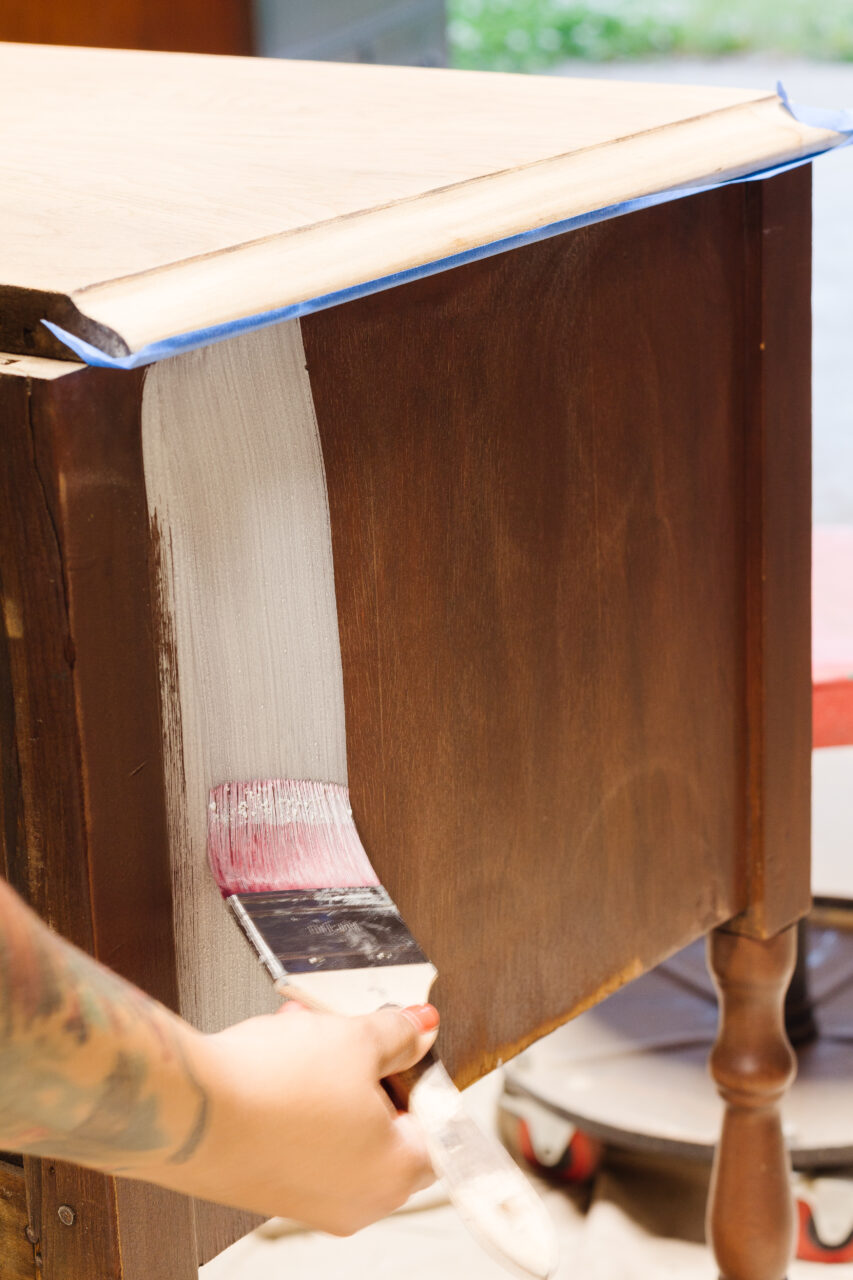 The third and final coat gave full coverage. And as the paint began to dry we noticed some of the chippy goodness start to appear.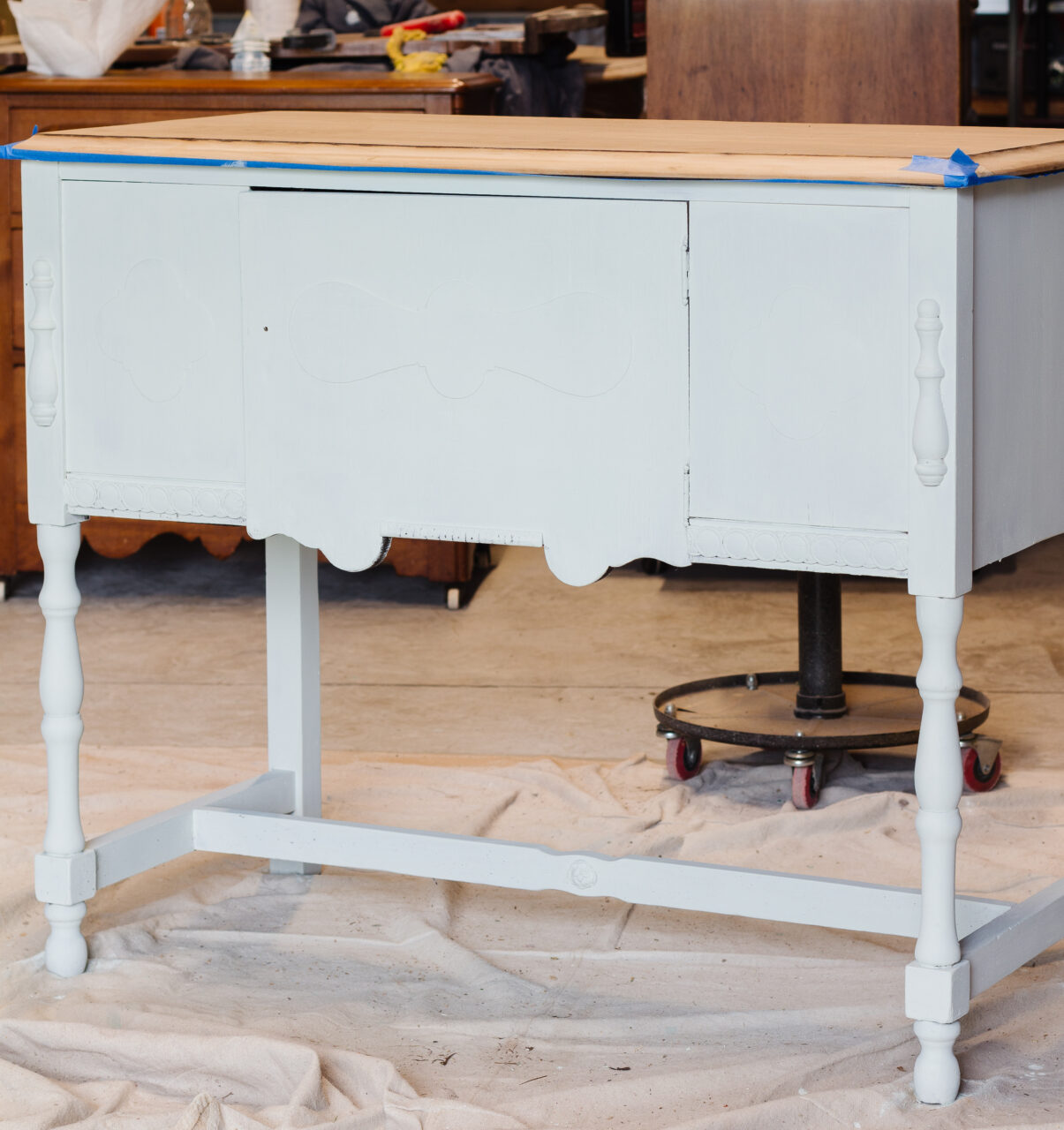 After our paint was dried, which only takes around 30 minutes in warm weather, we took a sanding pad to scuff away the chipping flakes and to add some distressing. With milk paint, sometimes you just have to let go of control and let milk paint do its thing. 
Once all the loose chips have been removed, it's time to wipe up the dust and get ready for your final finish. We chose hemp oil to seal this piece because it adds a rich depth of colour to the matte milk paint while also providing a water-resistant surface.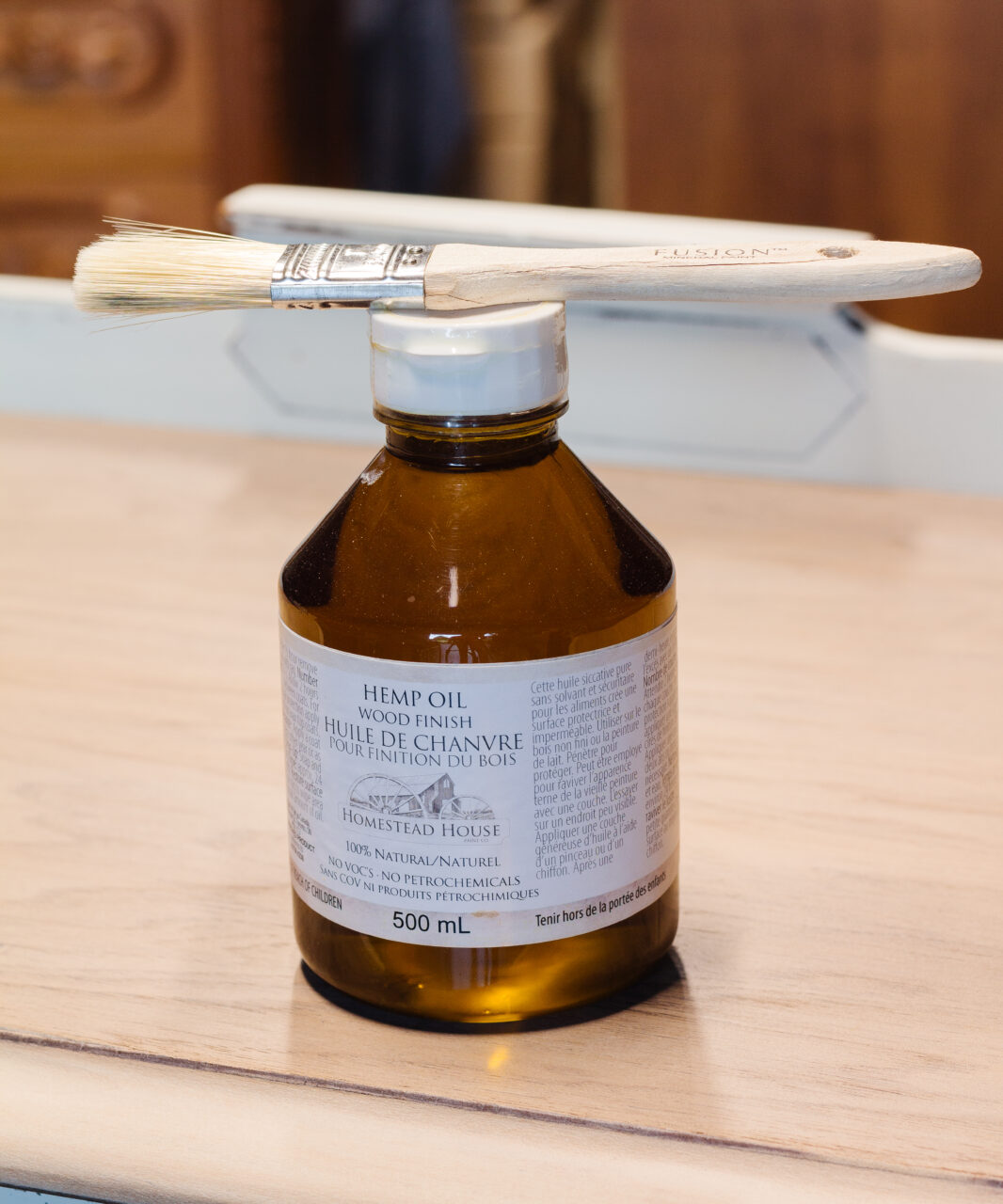 A Cool & Coastal Colour
If ever there was a colour that capture the cool breeze on a hot summer day on the beach this is it. It is truly the most delicate shade of green with blue undertones.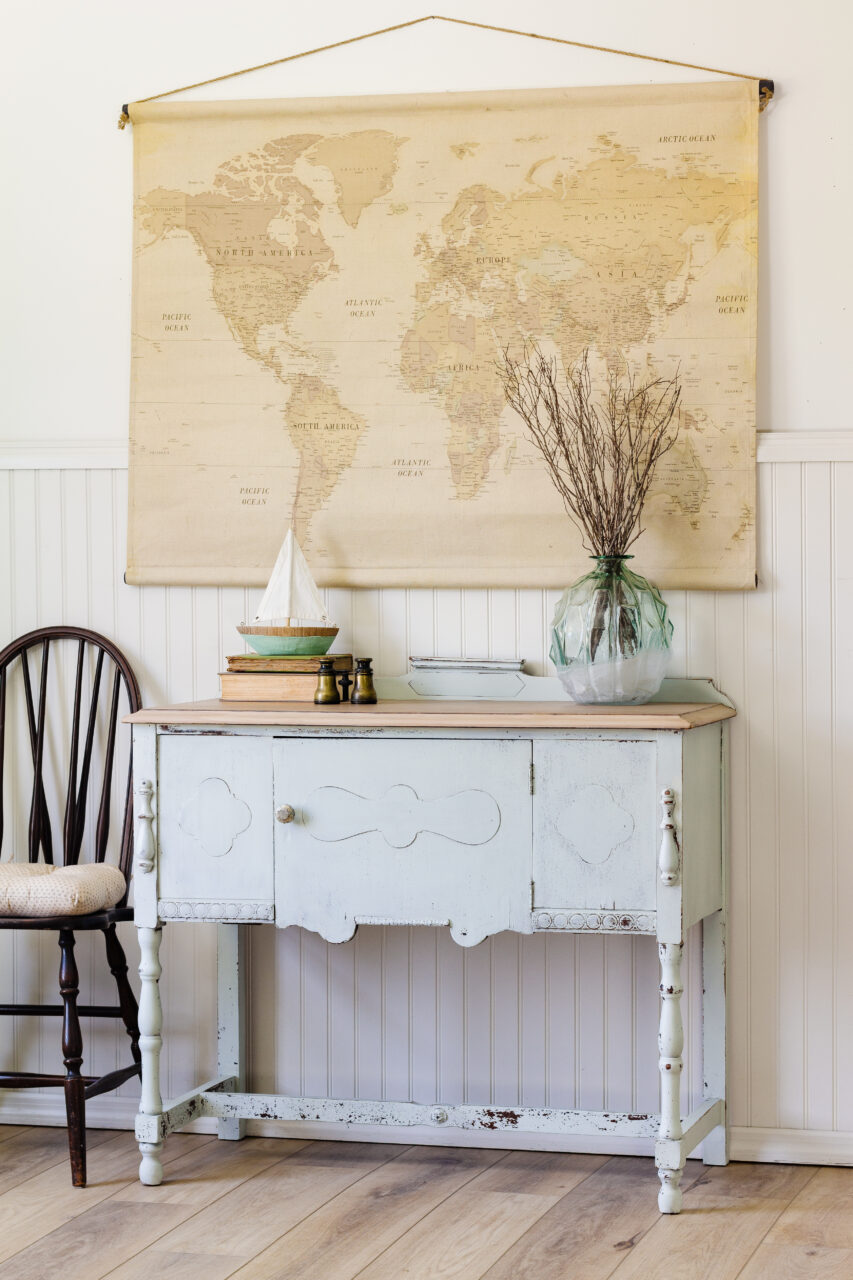 We really love how the natural chips and distressing gives this a modern coastal flair. Coastal décor often features weathered and naturally salted furniture and this colour fits right in with all of that!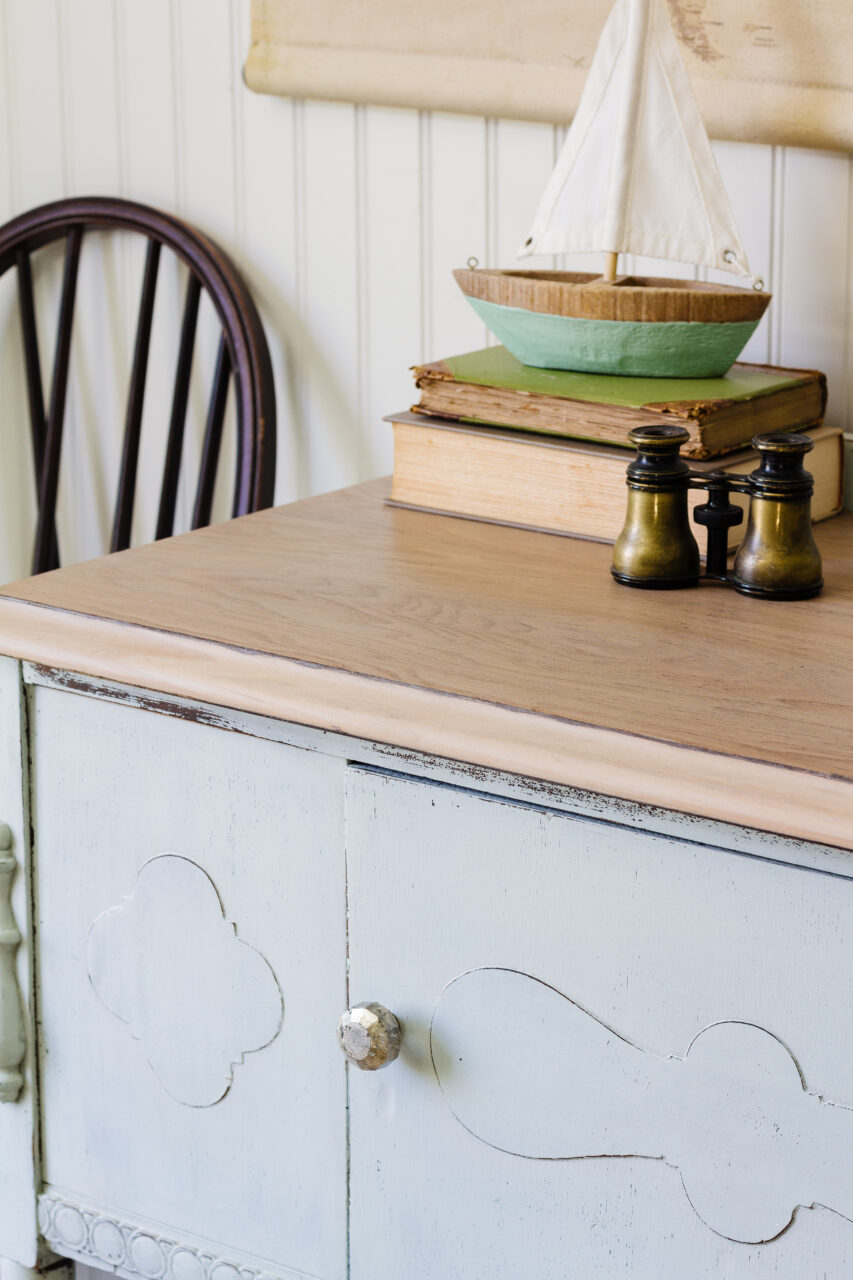 We are so glad we decided to enhance the natural wood of the top with hemp oil. Not only does it bring some warmth to the cool contrast of Parlour but it also brings that woody element we love about coastal décor.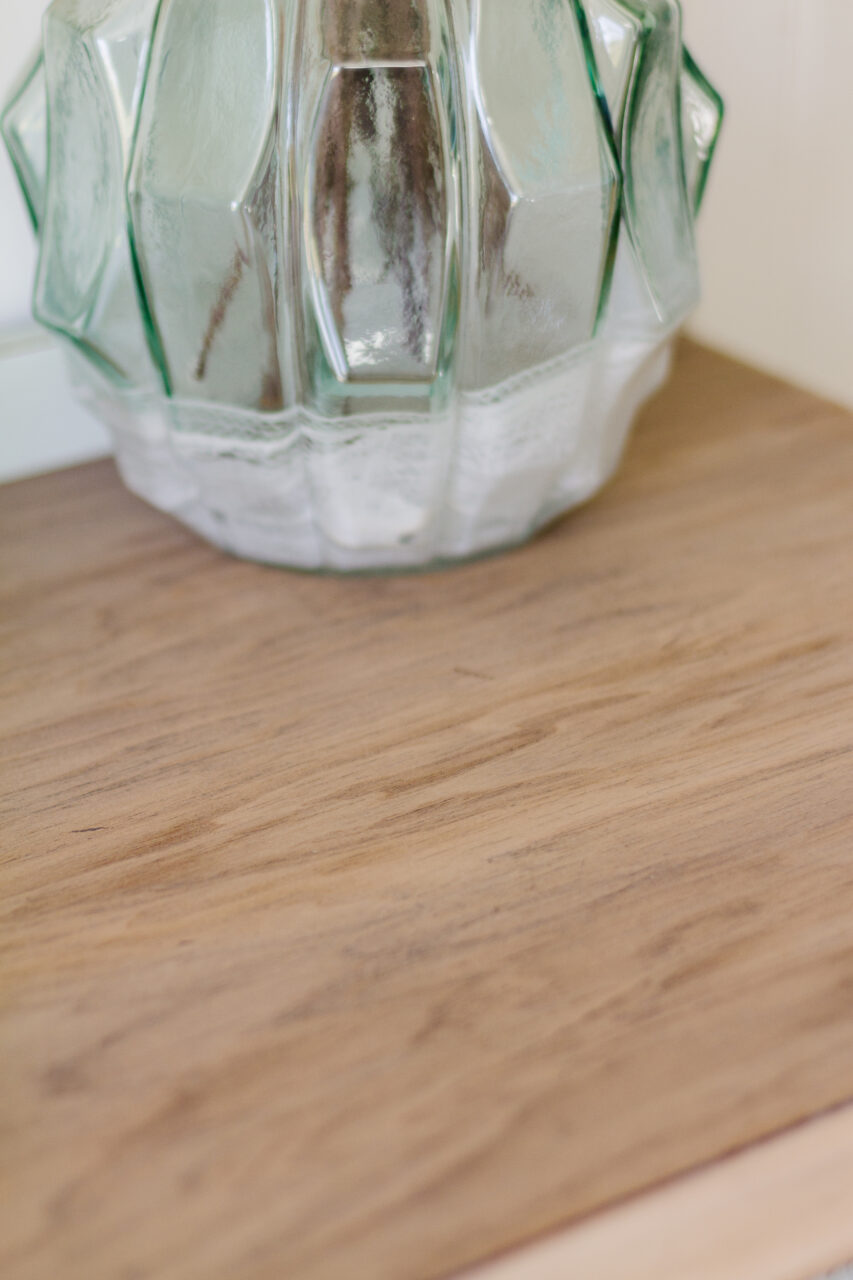 Sometimes the accessories really pull your look together. This round mercury glass knob was the perfect way to tie our piece together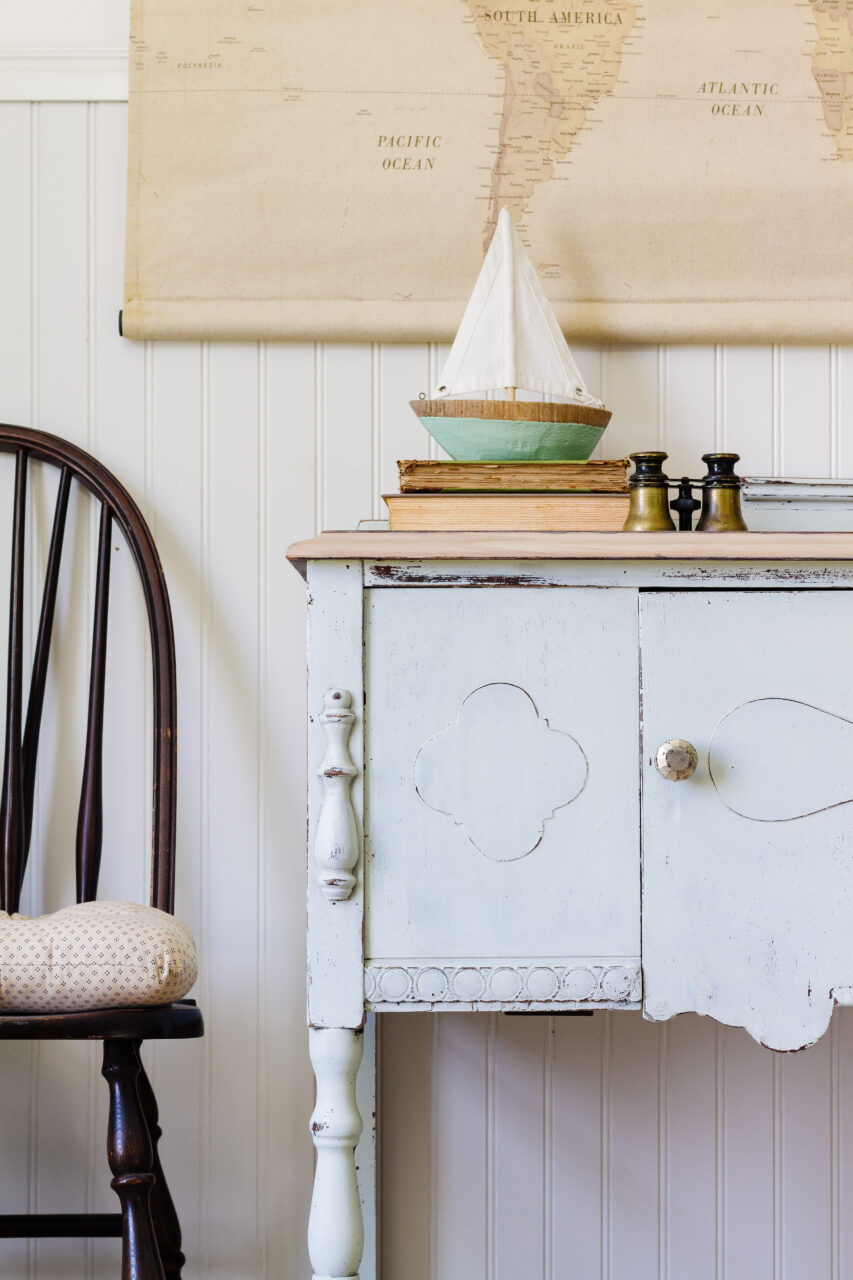 We hope to see these minty pops of Parlour in your next furniture projects! It truly is a perfect cool & coastal colour to celebrate summer with!