As with whites, blues and greens, grey is that colour that we know has the power to change anything. The most difficult decision when it comes to picking a grey colour is that it comes in hundreds of different shades! If you pick up something with blue undertones, it can read too cool, but anything with green or yellow can read too warm. So we at Homestead House picked the perfect shade of grey that balances cool undertones with a wispy warm overtone. Meet Silhouette: a wispy warm grey, one of the newest shades on our milk paint line!
Here is a before look at the piece: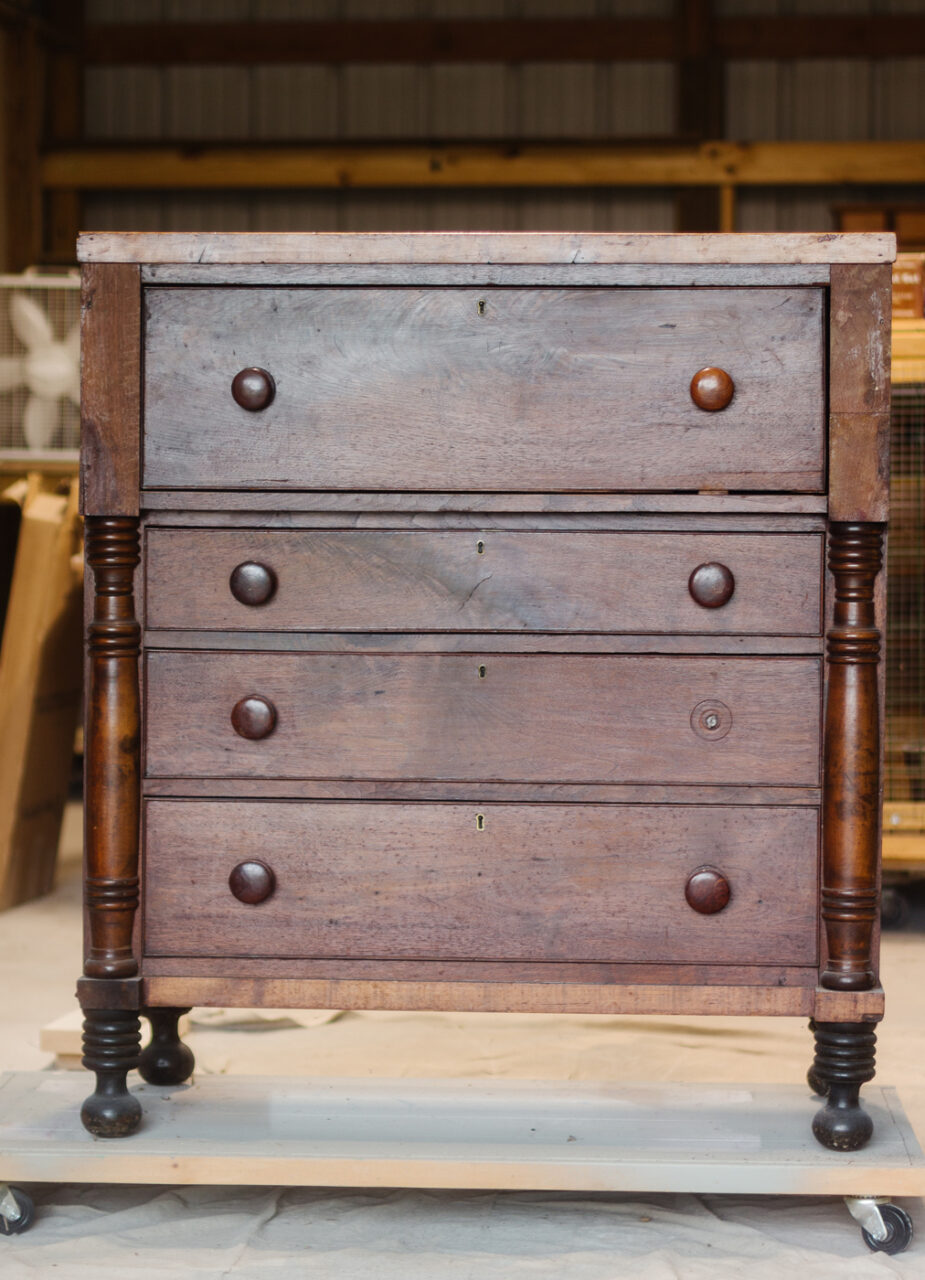 Below is a list of supplies you'll need to complete a similar project.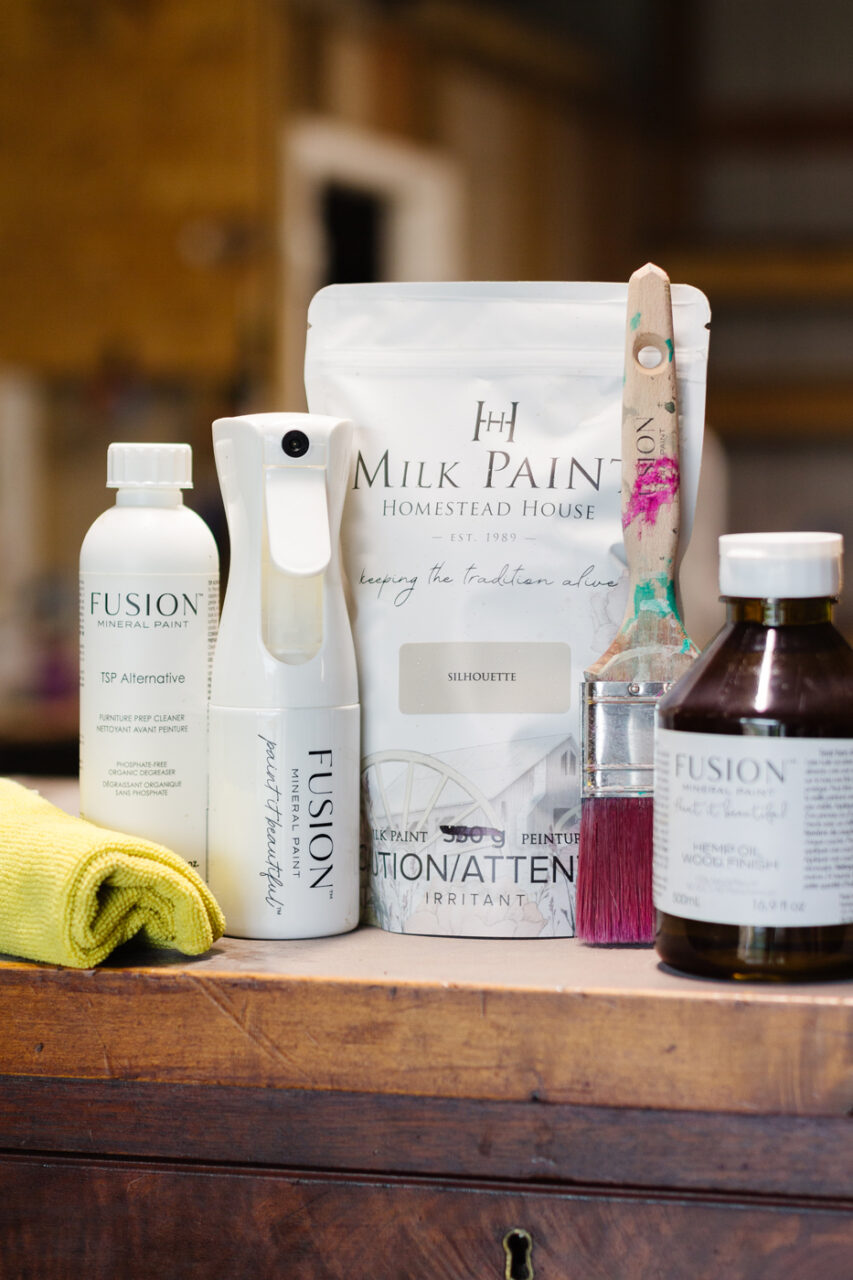 Prepping Vintage Furniture for Milk Paint
The wear on this piece certainly told a story about its age. This old gentleman's dresser was made roughly around the late 1800's/early 1900's. Furniture made during this time was built with hardy, high-quality woods and veneers, which means that much of the wood on here was original. It did need a few repairs and an update on hardware, but other than some wood filler and nails, this piece was still as solid as it was the day it was built.
We started off by giving it a really good cleaning. Our Fusion TSP Alternative is a great cleaning solution for pieces like this that have been maintained over the because with various polishes and waxes, so breaking down that residue wasn't easy. We ended up giving this piece 2 separate cleanings to give us a fresh, clean surface.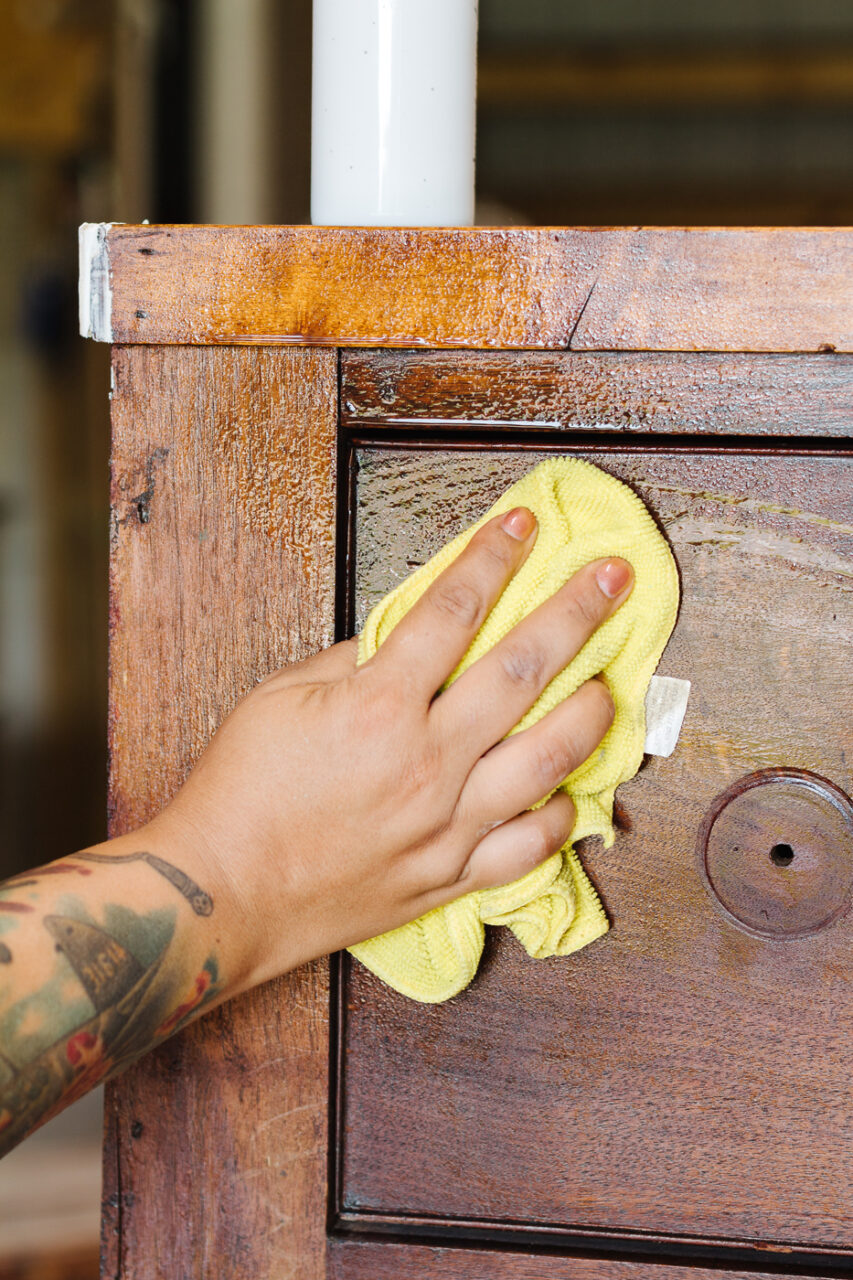 Since we made some repairs, we decided a scuff sanding would be necessary. This helps to ensure that a coat of paint over places where the dents and gouges were filled would look seamless underneath our milk paint. It also helps the paint to bond to our surface giving us an even, opaque coat with minimal chipping.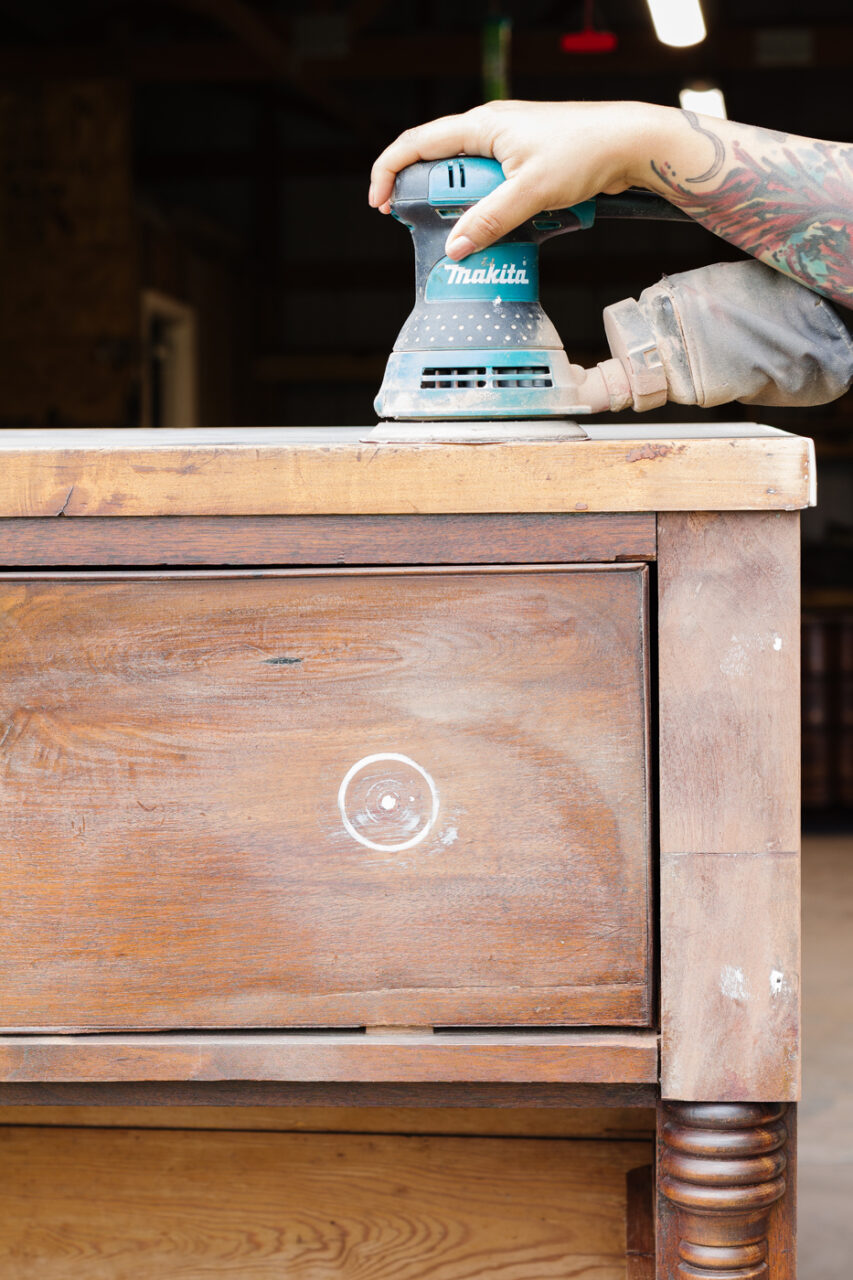 Milk Paint & Hemp Oil - a Magical Combination
While we finished up the last of our prep, we also took the time to mix up our milk paint. We did a 1:1 ratio of milk paint to room temperature water and mixed it with a stir stick. Ensuring the milk paint is fully incorporated into the water means the pigments break down properly.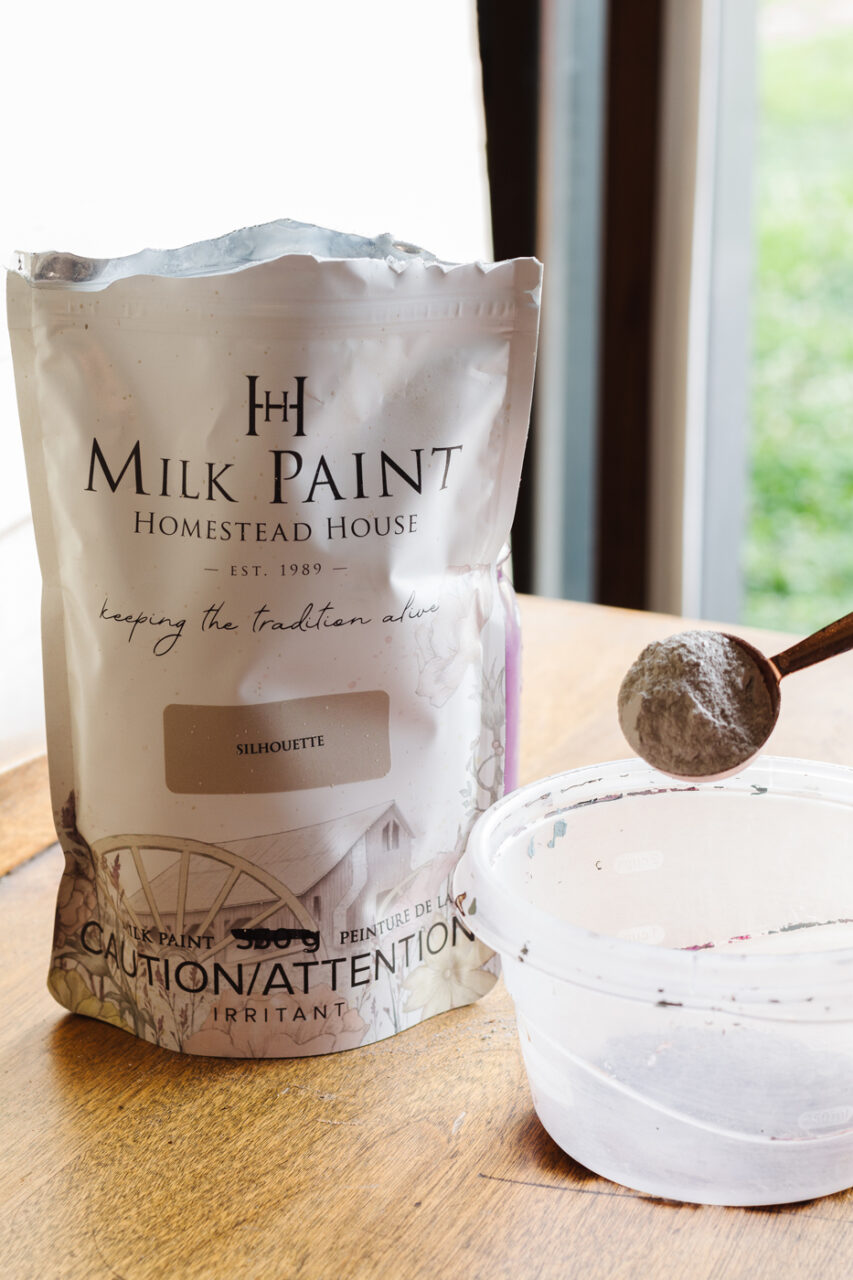 The nature of this shade means the first coat will be very transparent. Lighter shades typically require more coats for fuller coverage, so in this case, we did close to 4 coats of paint for an opaque finish. This was necessary as we were starting with an extremely dark tone on the wood, and going to a much brighter shade.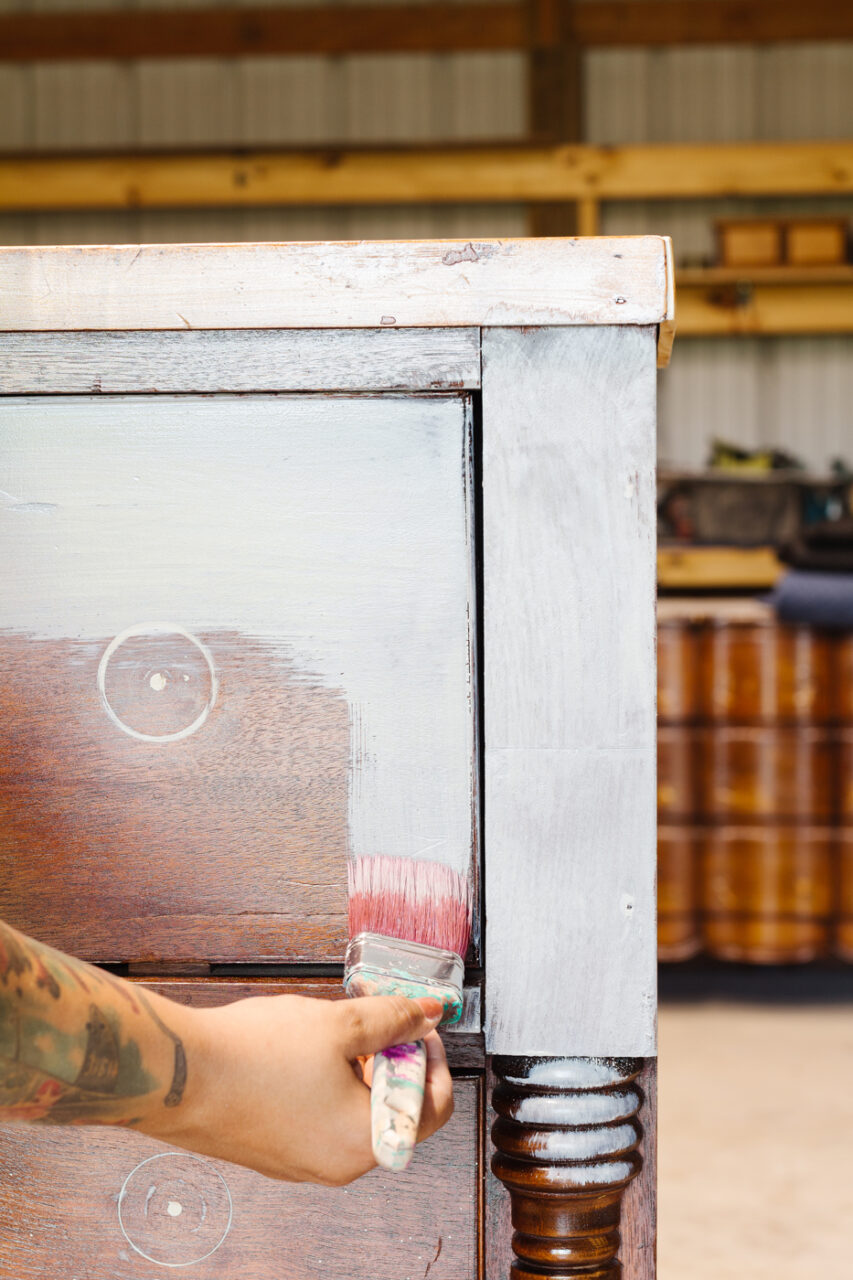 Once we had all our coats on and the milk paint was completely dry, we took our sanding pads and smoothed out the finish with a light sanding. We also went over the raised areas and edges for a naturally distressed look.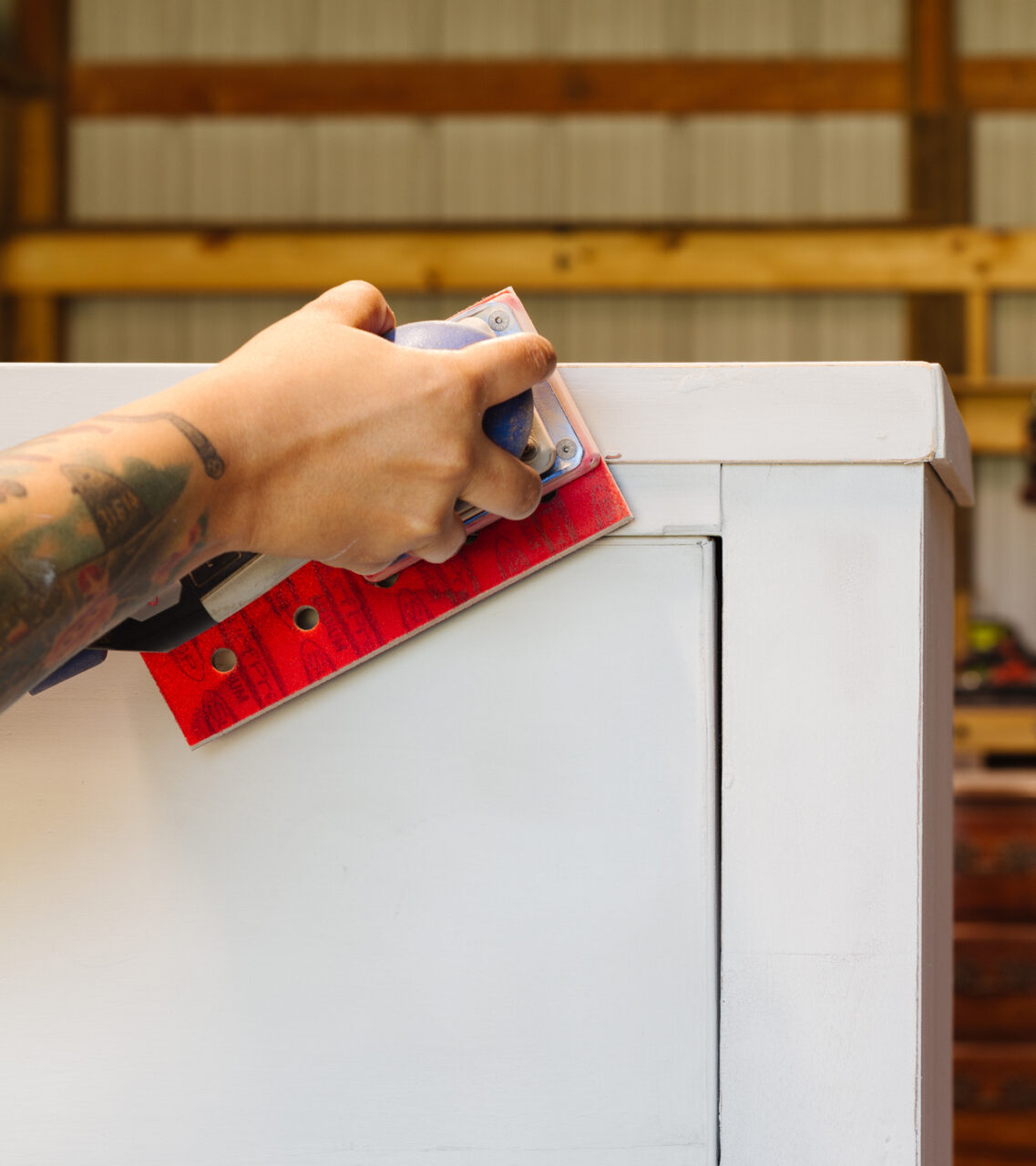 Because this was an older piece that lived in many different environments, we had to grease the wooden drawers with our Beeswax distressing block. This just helps the drawers to slide in smoother rather than getting stuck.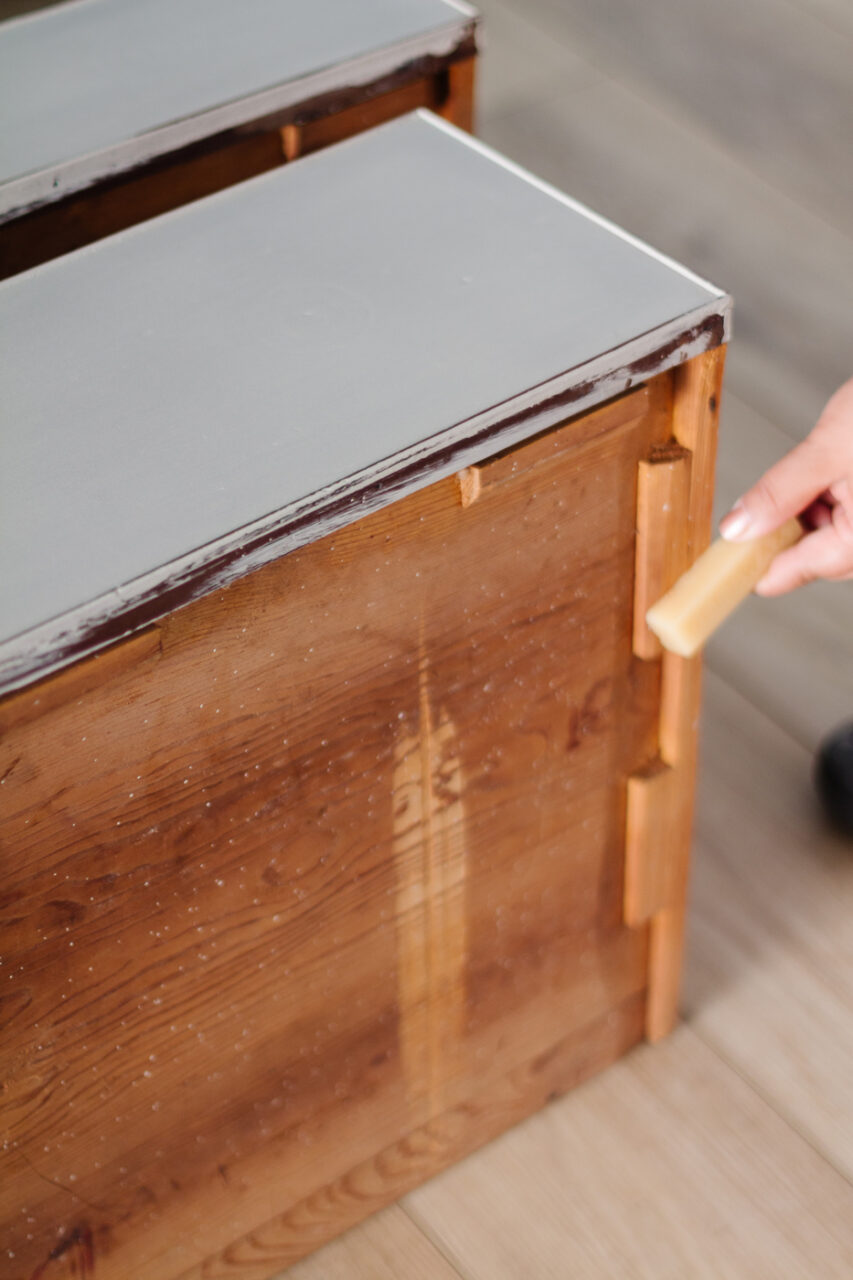 We wanted to make sure our paint had some durability so we added a coat of hemp oil for a nice sheen and to help disguise some of the wear on the inside. Simply apply, let sit for 10 minutes, then wipe away the excess. 
Antiquing Your Painted Furniture
The last step in our prep was to accent the many intricate details of this piece. We used our Antiquing wax to give us an aged look, but it also highlights the woodwork on this piece rather than blending in with the paint.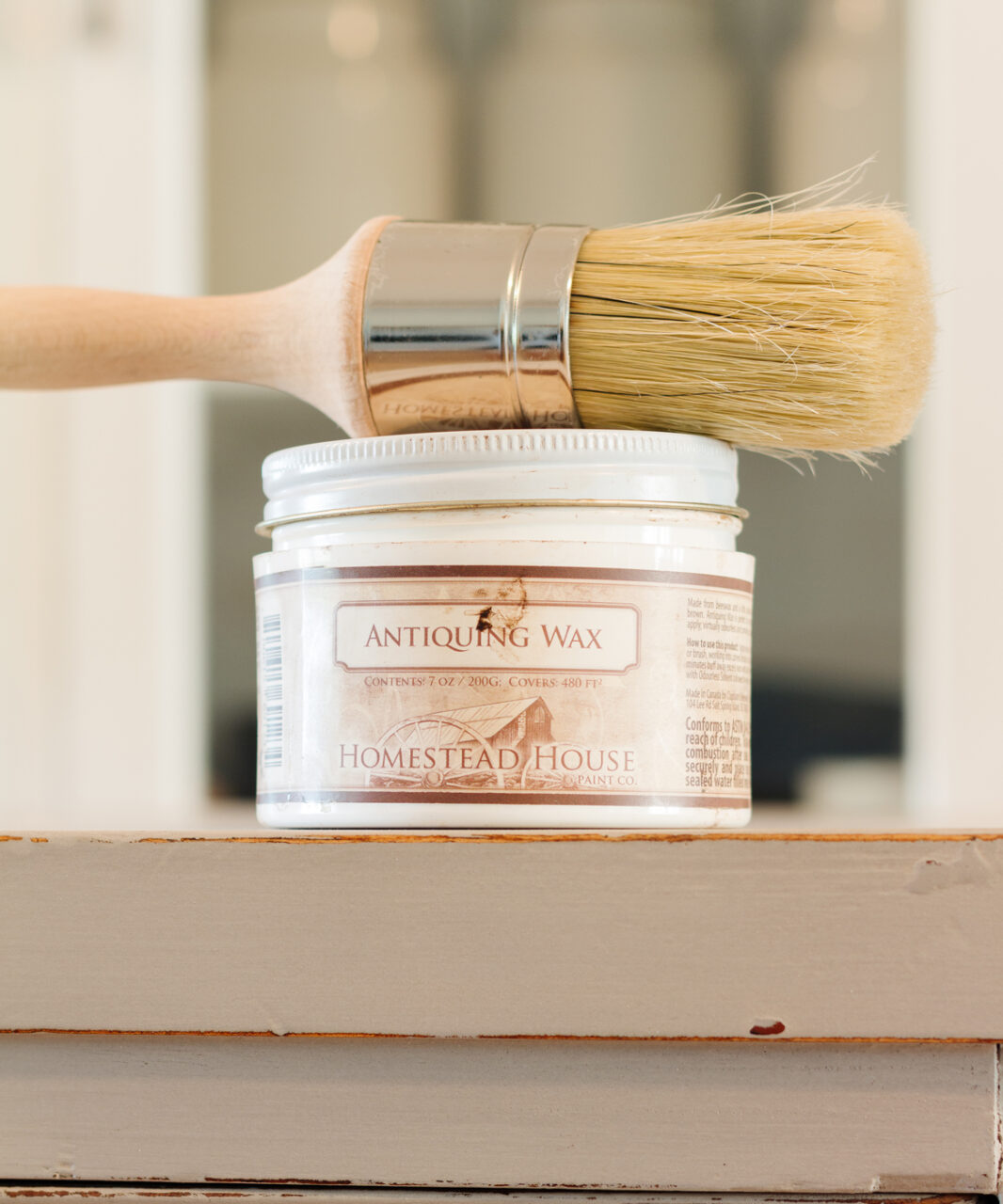 Silhouette A Wispy Warm Grey
This beautiful chameleon shade can blend so well with many styles and complimenting colours. Although it is neutral, it can shift depending on your light to appear more of a cool, grey colour, or brighter lights look more warm and taupey.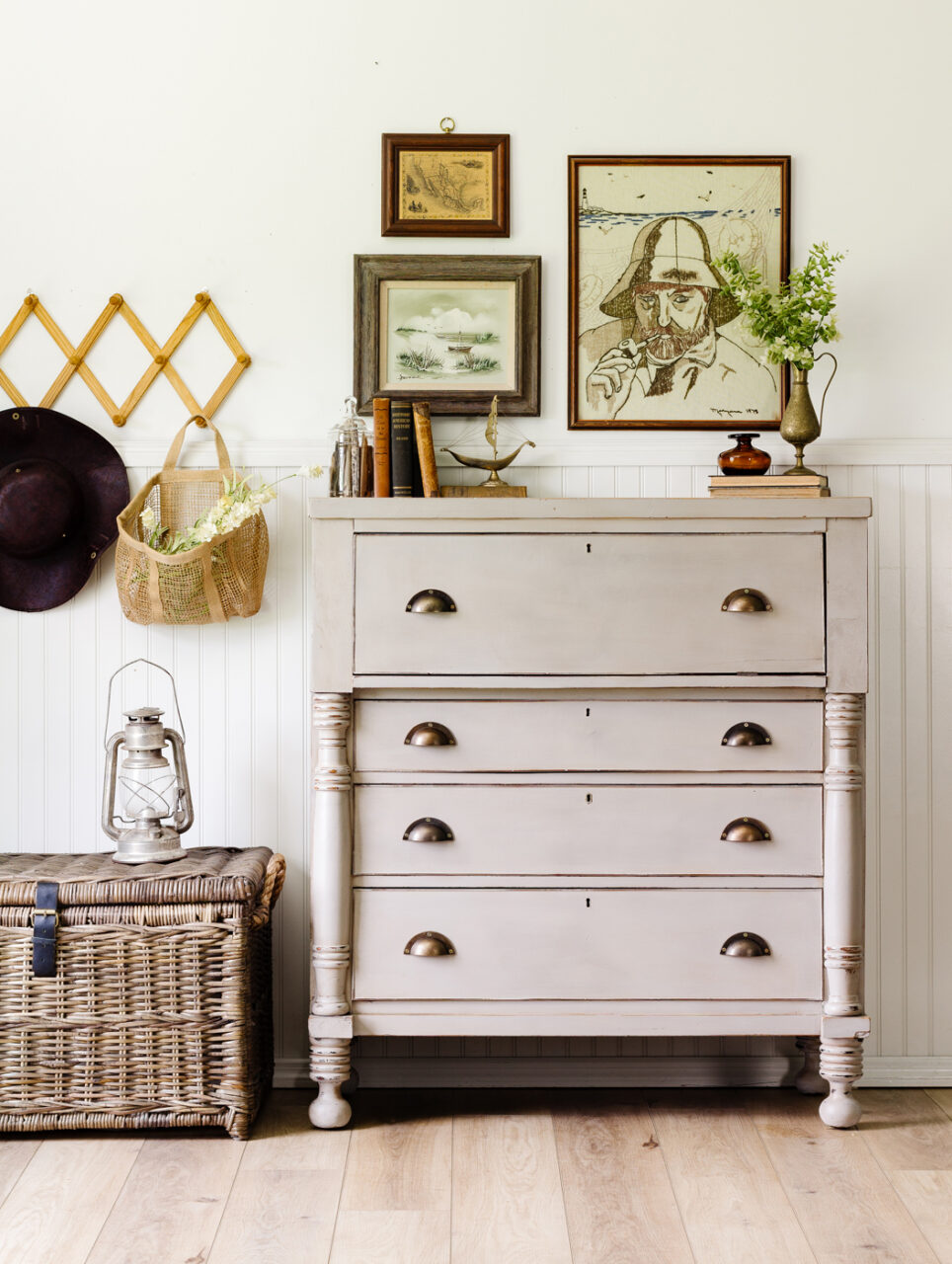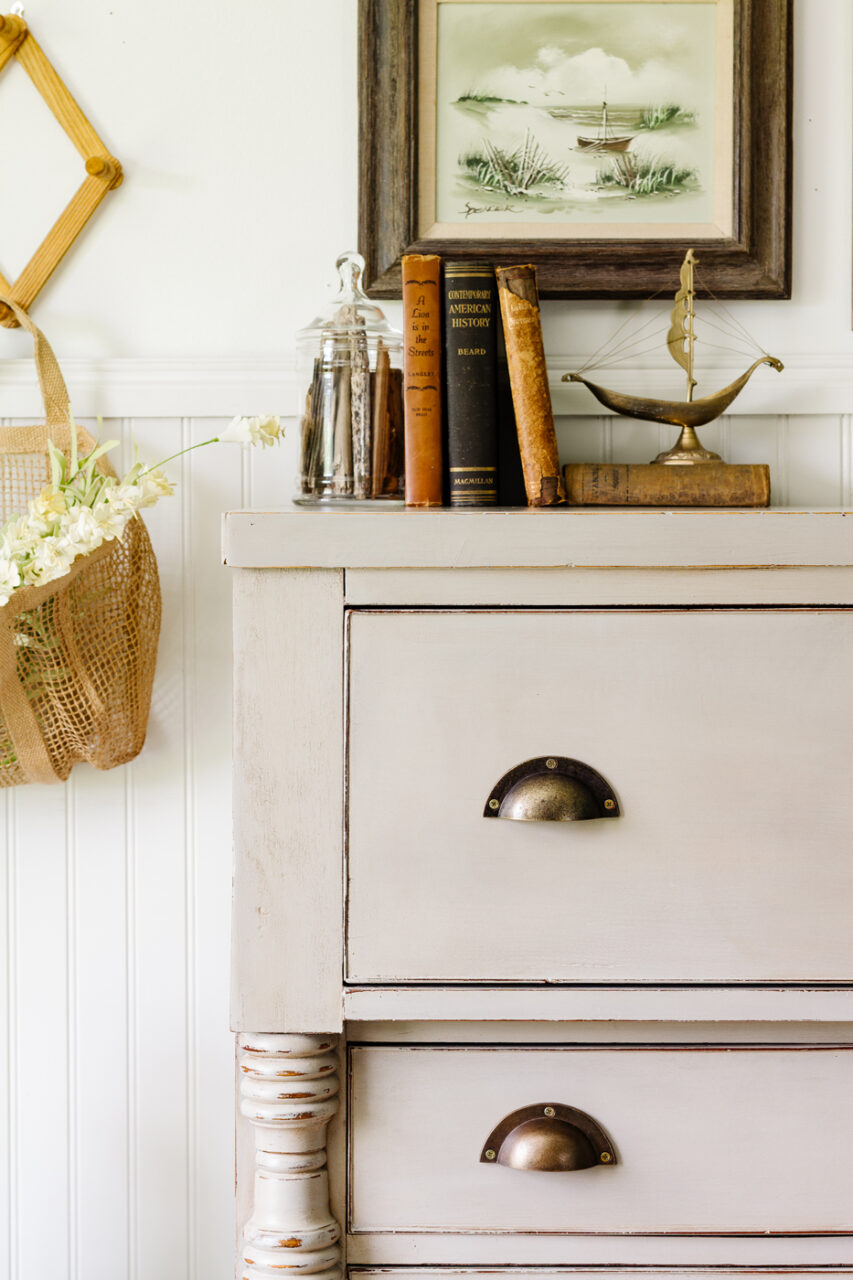 Although this piece did not have much chipping, the light distressing added some of the character that we loved in the original wood. This kind of texture and character cannot be replicated or duplicated, it simply is all in the finish and paint.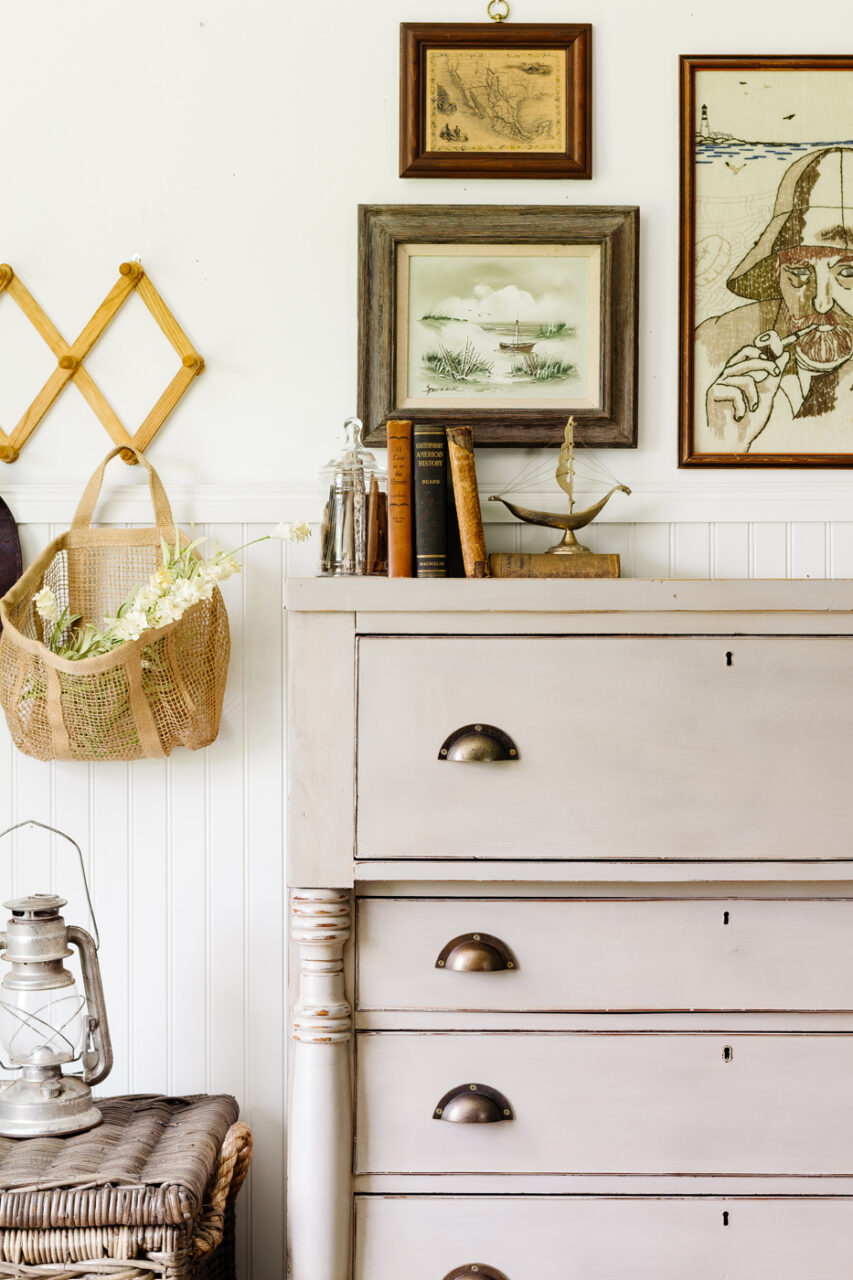 The complementing bronze cup pulls give this a bit of coastal and masculine flair while complimenting the style. The coolest part is what's inside the top drawer! Give the pulls a light tug, and this piece transforms into a secretary-style desk with plenty of cubby storage space!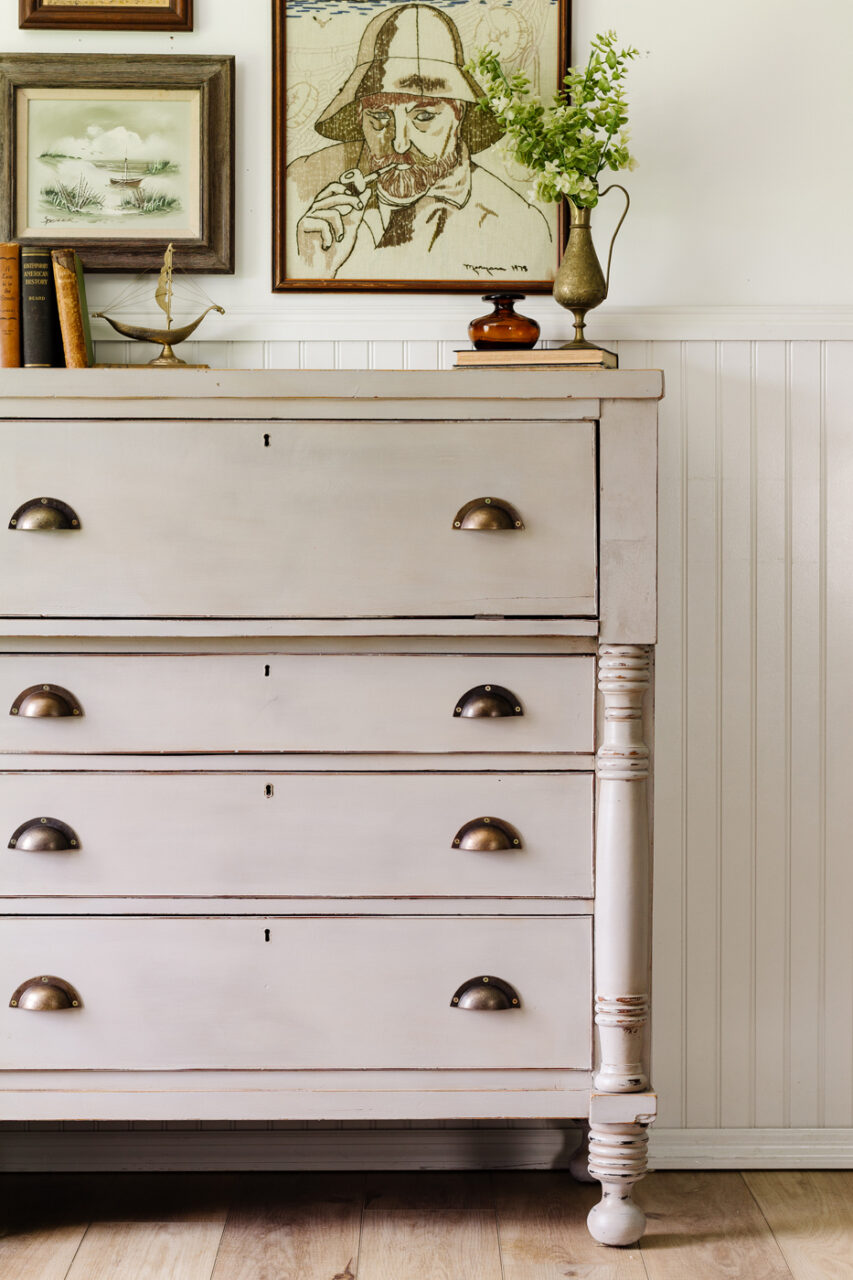 This transformation was one of the most dramatic yet. This dark and dingy piece got a new finish and another chance with a more modern but classic look. We hope you truly enjoyed this makeover. We can't wait to see all of the Silhouette projects on our feeds!