New HH Milk Paint Colours. Homestead house has added another 10 stunning milk paint shades to its huge collection of colours. The entire range is extensive and we are sure there is a colour there for you! Check out the full entire milk paint collection here.

New HH Milk Paint Colours.
Porcelain
Porcelain is a cool white with just a hint of age. 
Looking for an elegant white paint colour with a bit of age to it? Look no further than Porcelain Milk Paint! This beautiful shade is inspired by old-world whites, and it'll give your space a touch of sophistication. Plus, it's the perfect colour for creating a serene and inviting atmosphere.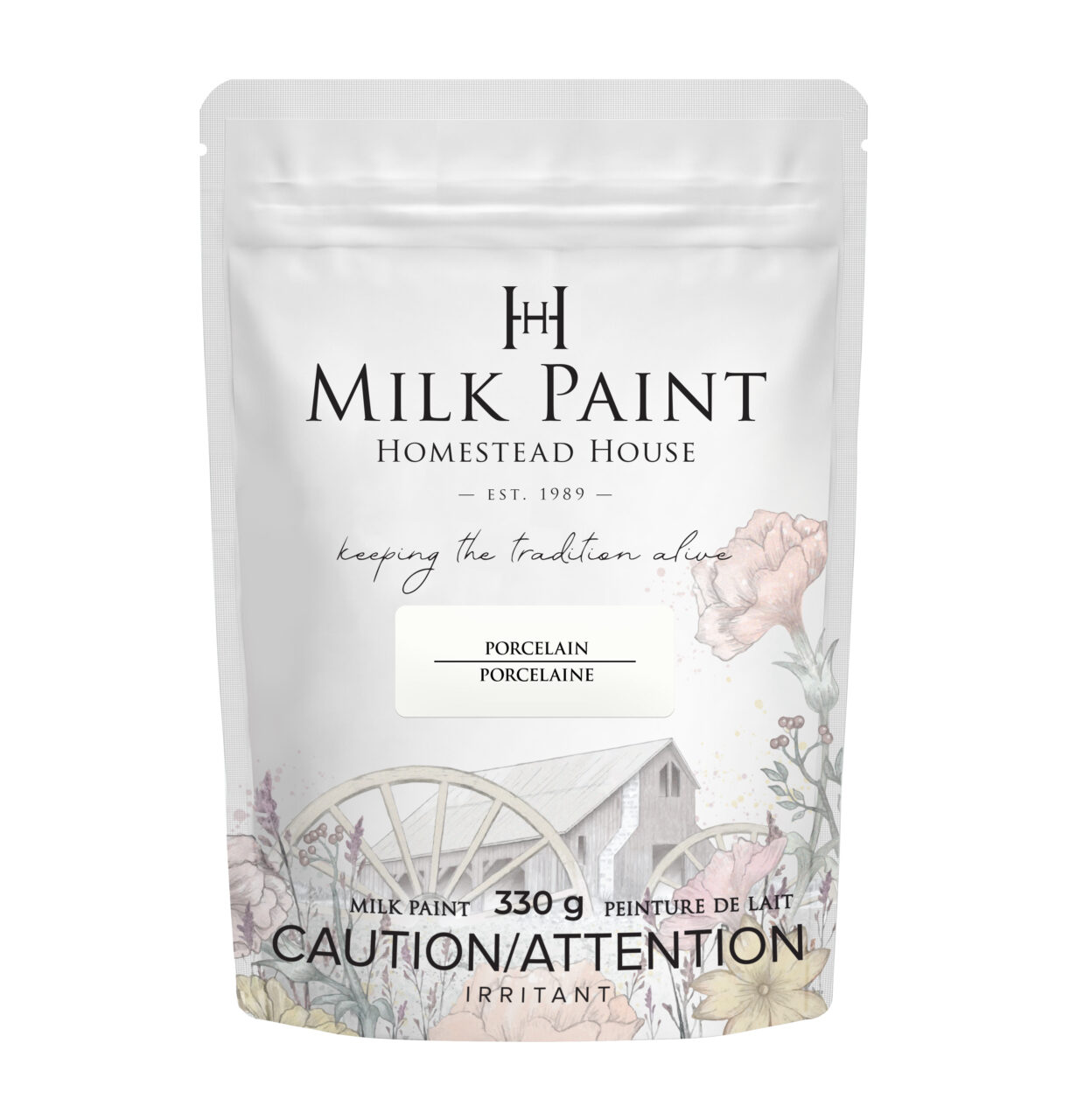 Spring Blossom
Spring blossom is a delicate colour that reminds us of fruit tree blossoms of spring. Just a hint of orange with a dab of pink.
A delicate colour that reminds us of fruit tree blossoms of spring. Just a hint of orange with a dab of pink. Softly coloured to give a slight hint of that fresh spring feeling. Inspired by the beauty of nature and the promise of new beginnings.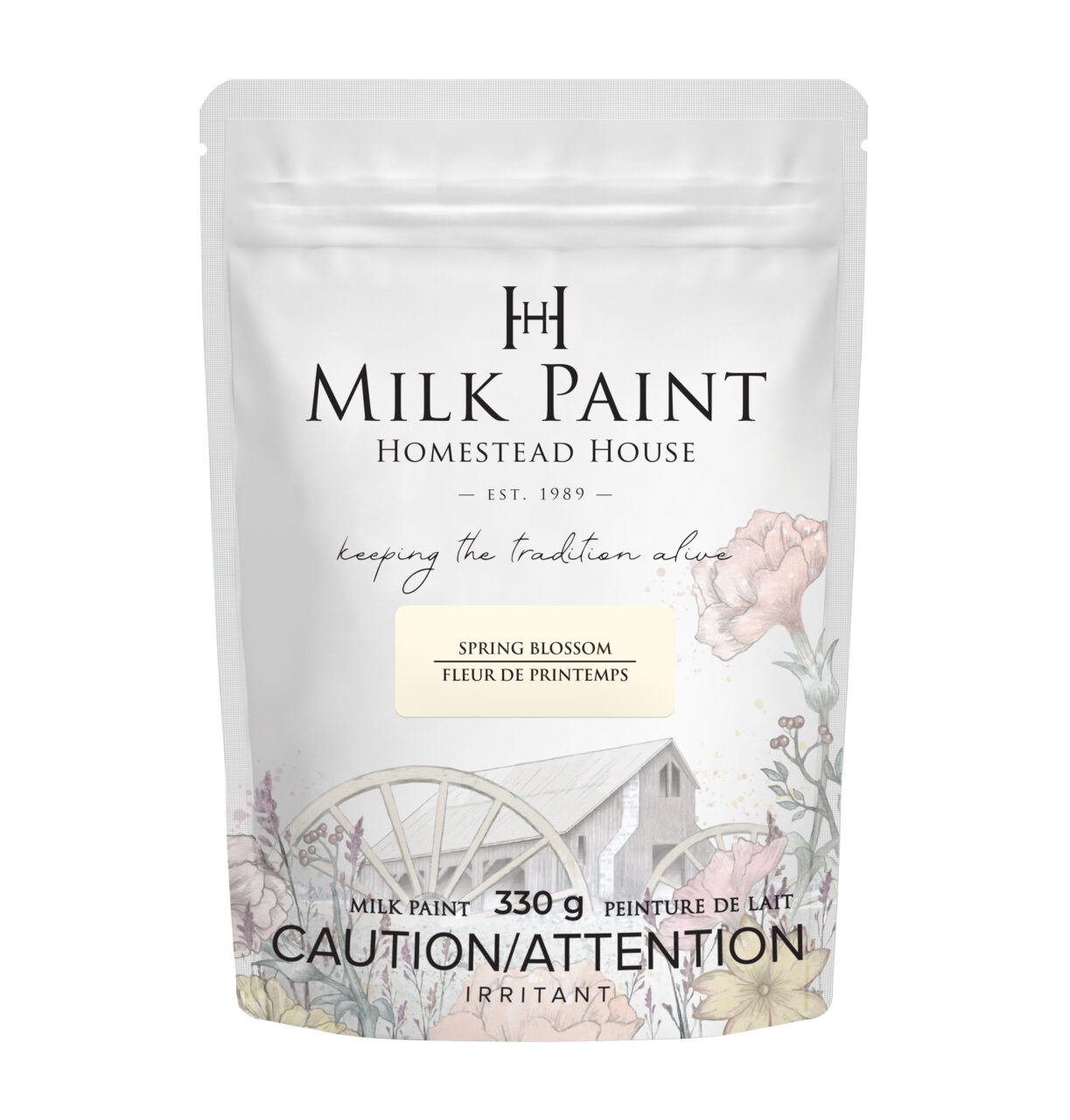 Belle Fleur
Belle Fleur a vibrant yellow, sure to energize your creativity.
This is a colour that will instantly invigorate the senses with life and vitality in any space. This vibrant yellow paint is inspired by the Bellefleur apple, Sweet and juicy with just the right amount of tartness, the Bellefleur apple is the perfect example of the vibrancy of this colour.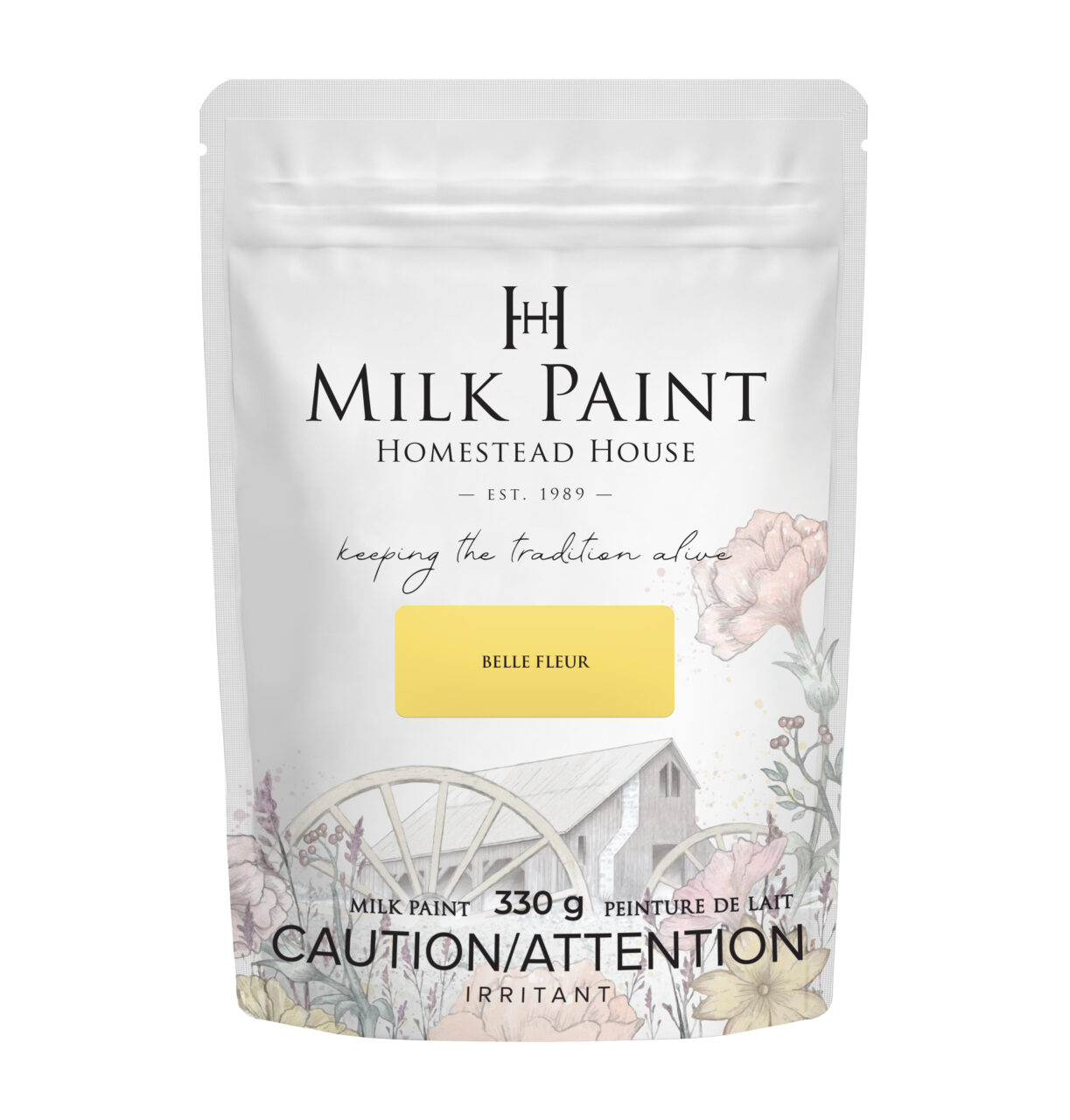 Matinee
Matinee is soft blue-grey and is a lighter version of Parisian slate rooftops.
Inspired by the slate rooftops on a warm sunny Parisian afternoon, this beautiful neutral paint colour is perfect for adding a touch of French elegance to your home. Whether you pair it with warm tones or cool tones, Matinee will infuse your space with charm.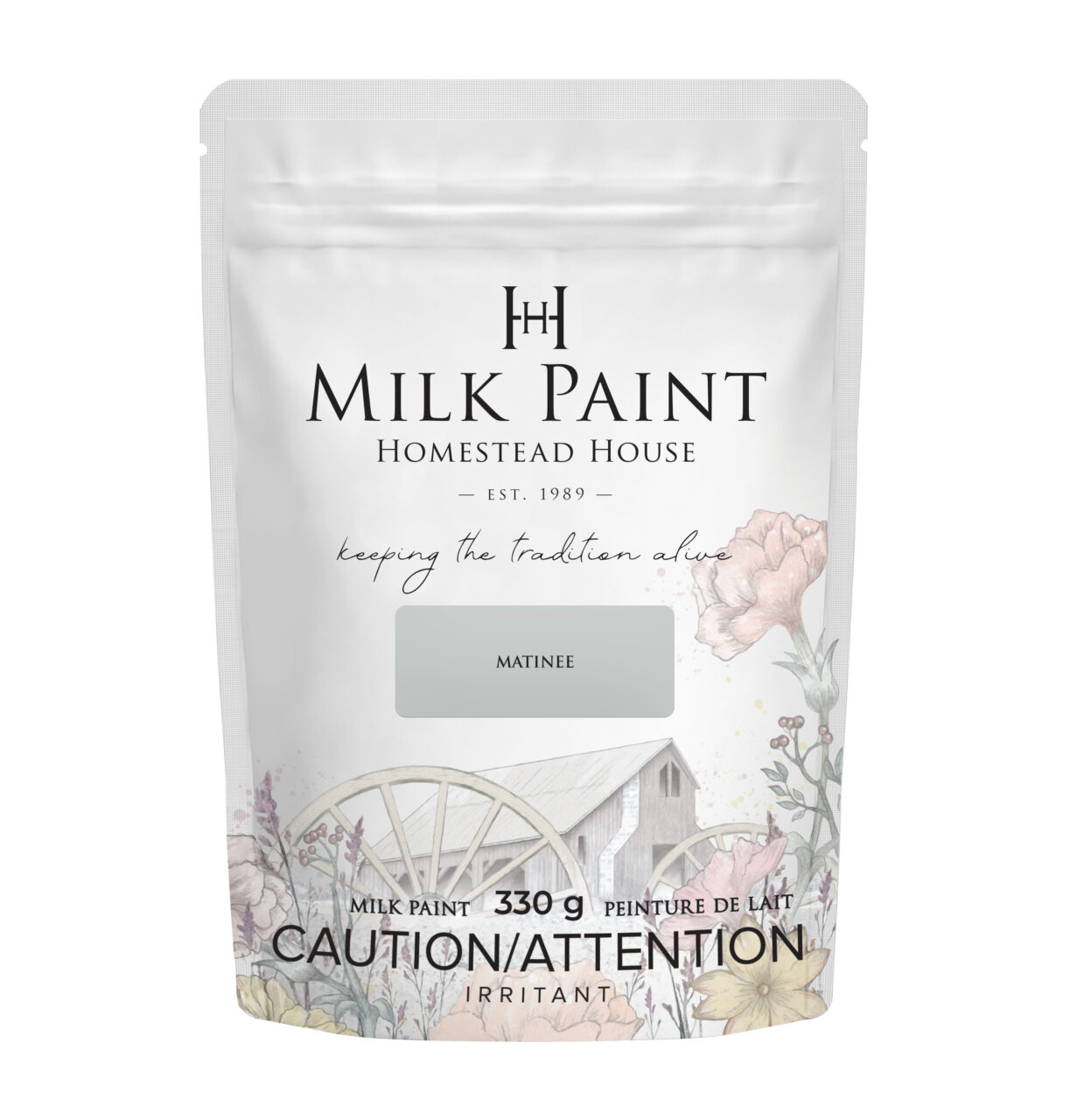 Silhouette
Silhouette is a mid-tone warm grey. 
This beautiful neutral grey has a warm temperature that creates a relaxed cozy atmosphere. A soft shade with an ample dose of warmth - the ultimate neutral to make anything feel cozy and comfortable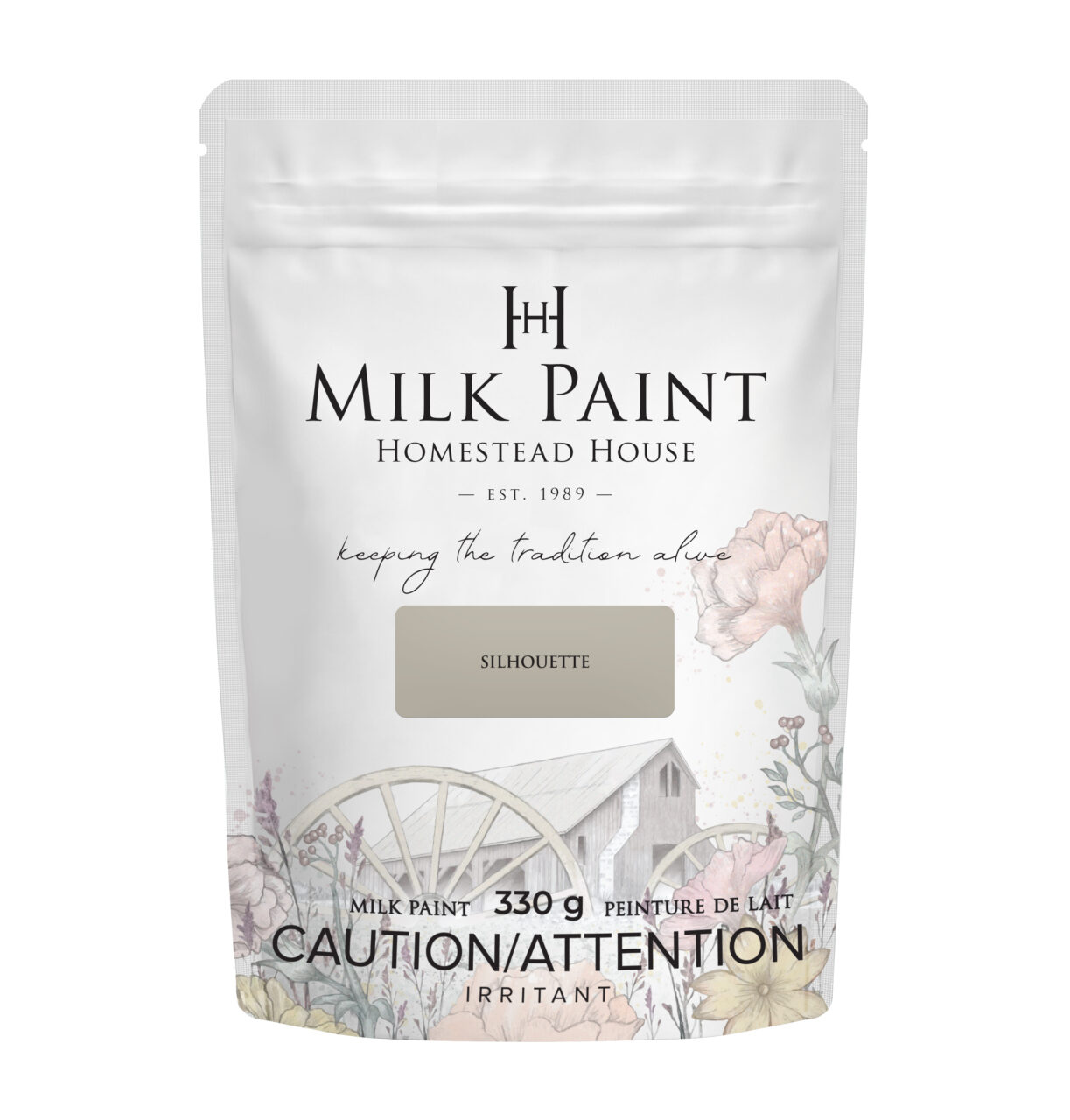 Potpourri
Potpourri is a soft grey-green, similar to the leaves of dried herbs. 
Herbs have long been used to create potpourris - blends of dried flowers, spices, and other natural ingredients. These fragrant mixes have been used to scent homes and clothes for centuries. This soft grey-green paint is inspired by the colours of these kitchen-dried blends. Potpourri Milk Paint is ideal for creating a tranquil and relaxing atmosphere in your home.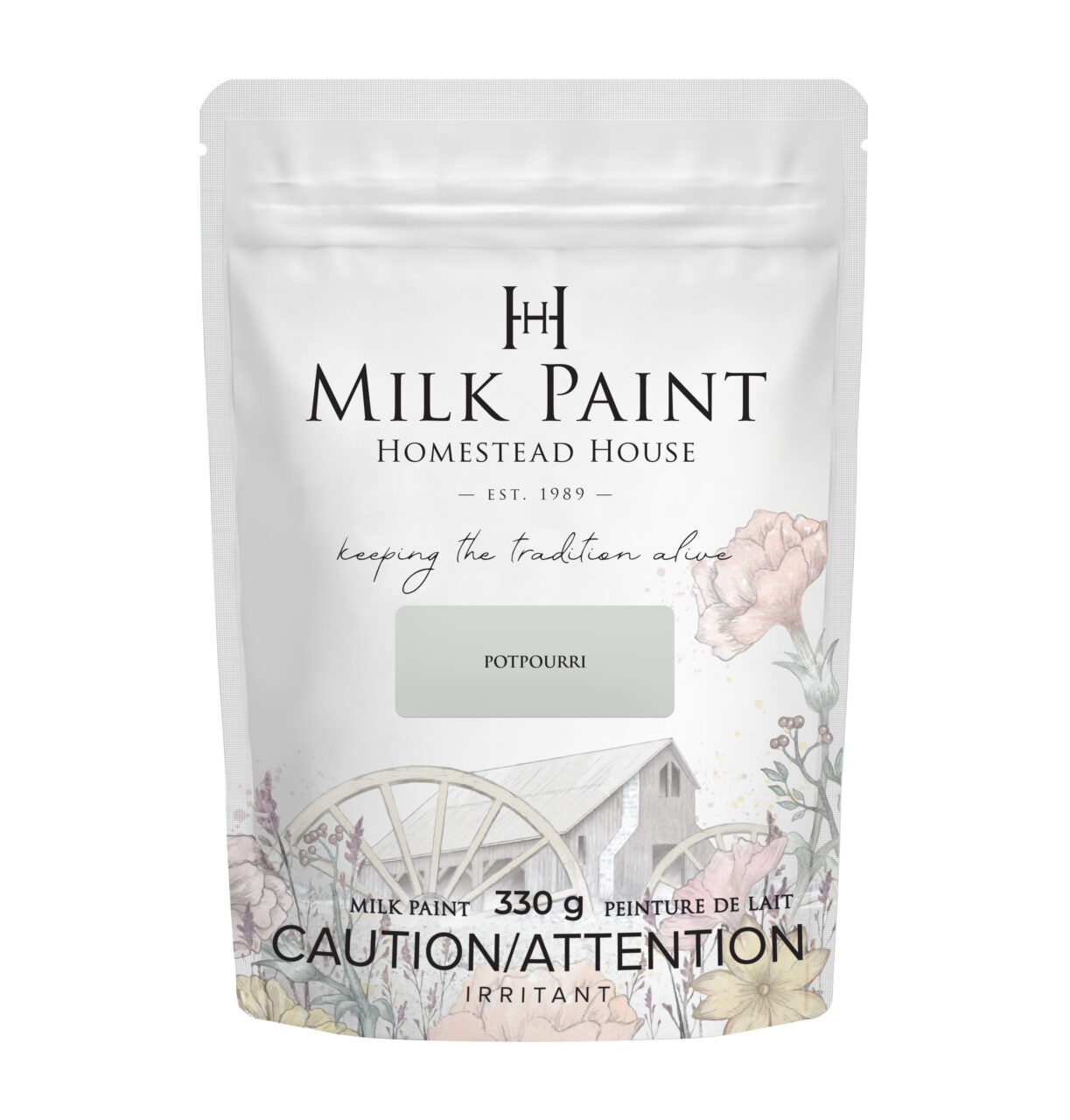 Bouquet
Bouquet is a soft neutral pink that is reminiscent of dried hydrangeas. 
This colour is the perfect way to add a touch of romance and dreaminess to any space. This soft neutral pink paint is reminiscent of dried hydrangeas, and it's perfect for creating a warm and inviting atmosphere. With Bouquet Milk Paint, you can transform any room into a beautiful sanctuary.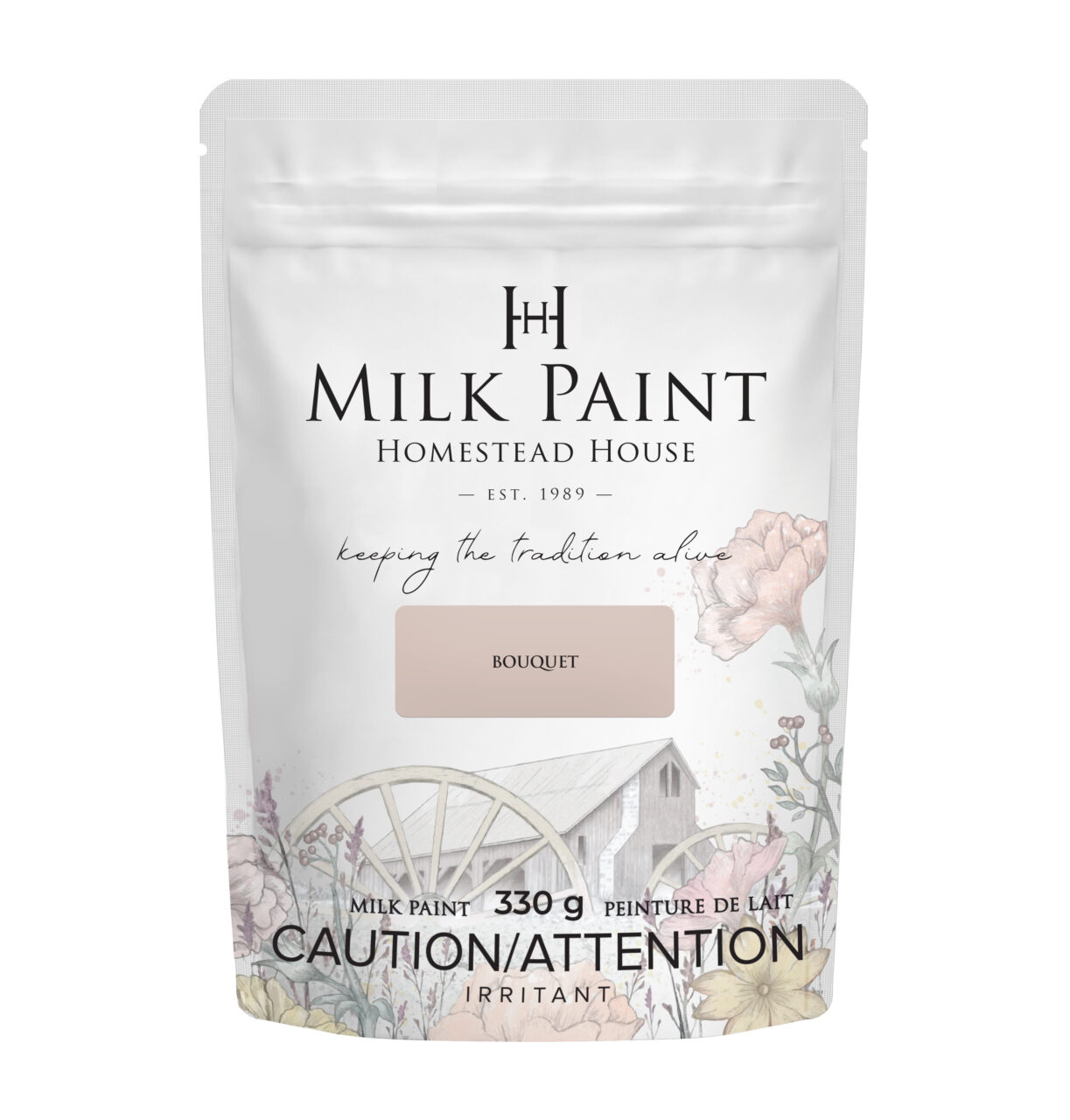 Beret
Beret is a rich raspberry magenta. 
This rich raspberry magenta shade is perfect for adding a pop of colour to any space. Inspired by the colours of the berry, Beret and magenta are traditionally associated with balance and harmony. With its deep and rich hue, Beret is sure to make any room feel warm and inviting.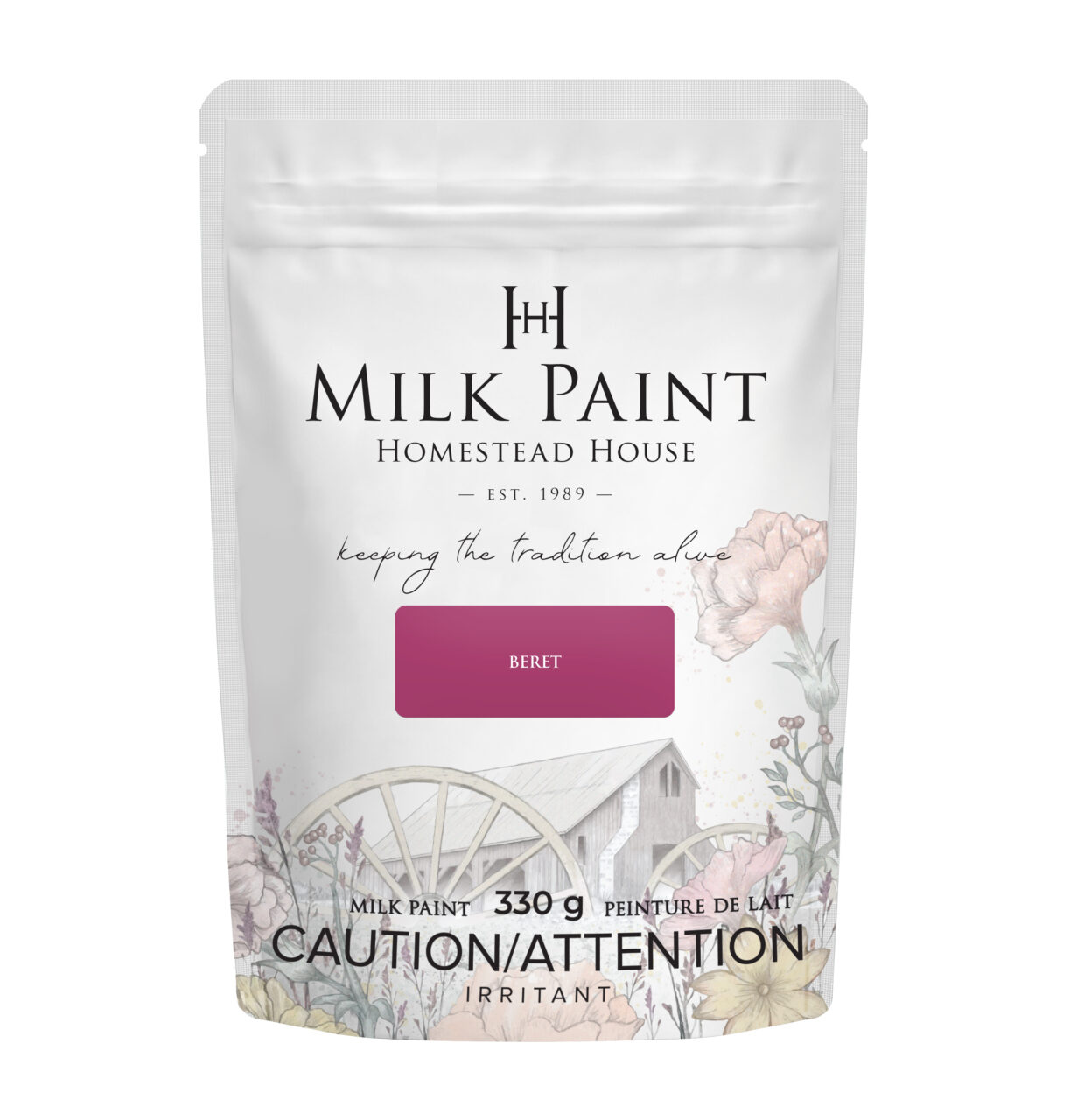 Montclair
Montclair is a gorgeous deep emerald green devoid of muted tones.
Are you looking for a paint that's fit for a king or queen? Say hello to Montclair Milk Paint a regal Emerald Green! This luxurious shade is inspired by the deep, rich tones of the gemstone worshipped by ancient Egyptians, Aztecs, and Incas. Fit for any space, this colour will instantly transform any room into a warm and inviting oasis. Whether you're looking to make a statement or add a touch of elegance, Montclair Milk Paint is a perfect choice!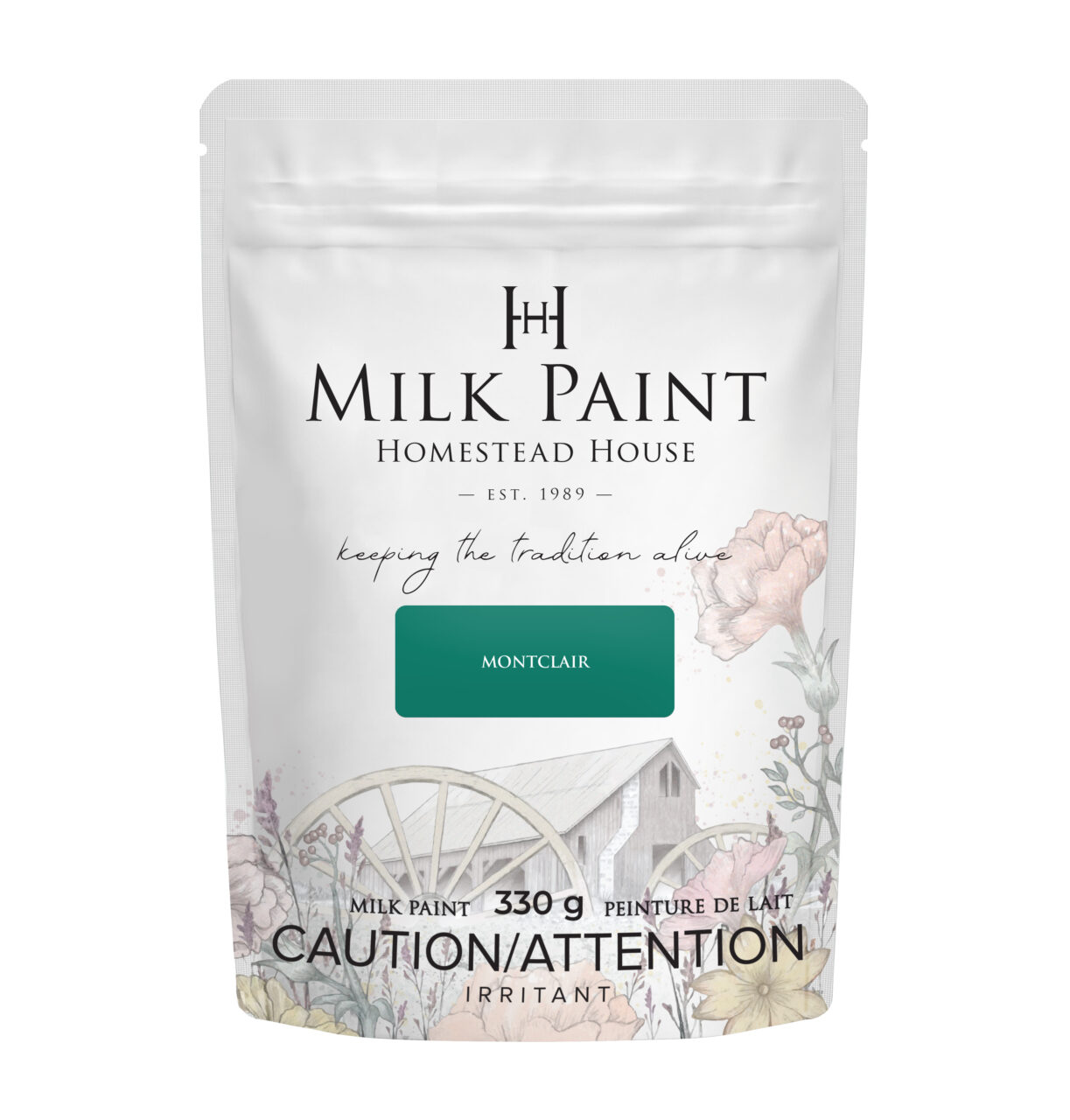 Lavande
Lavande is a light lavender with a hint of mauve. 
This beautiful lavender colour has a hint of mauve, this colour creates a sense of space and calm in any room. Lavande is also an excellent choice for meditation, with calming properties that are sure to help you relax and unwind. Lavande is the perfect choice to turn your home into an oasis.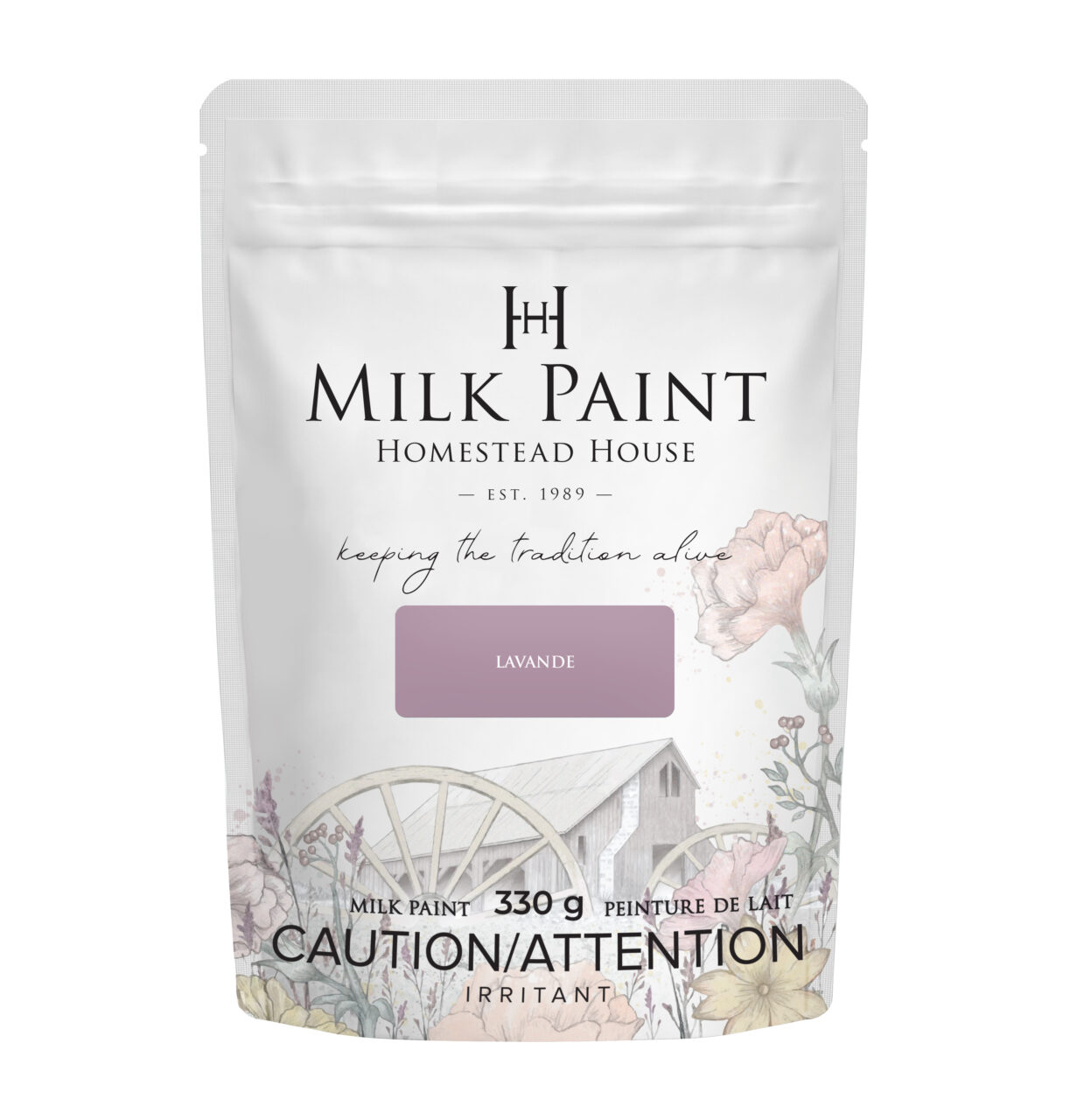 More beautiful projects coming soon! But in the meantime find out more about Scott Wallace and Loree Pringle CEO at Homestead House Paint Company in this MadeinCA.com interview.
See More HH Milk Paint Colours.
Kurbits Indigo dresser makeover
Homestead House Milk Paint
Milk paint is a natural, eco-friendly alternative to chemical-based paints. Made from milk proteins and lime, chalk, clay and beautiful high-quality earth pigments, it has been used for centuries to paint homes and furniture. Milk paint is non-toxic and safe for use in the home. It is an excellent choice for those looking for a safe, eco-friendly, and natural way to paint your home or furniture. Milk Paint is available in a variety of colours, including our traditional Historically accurate heritage colours.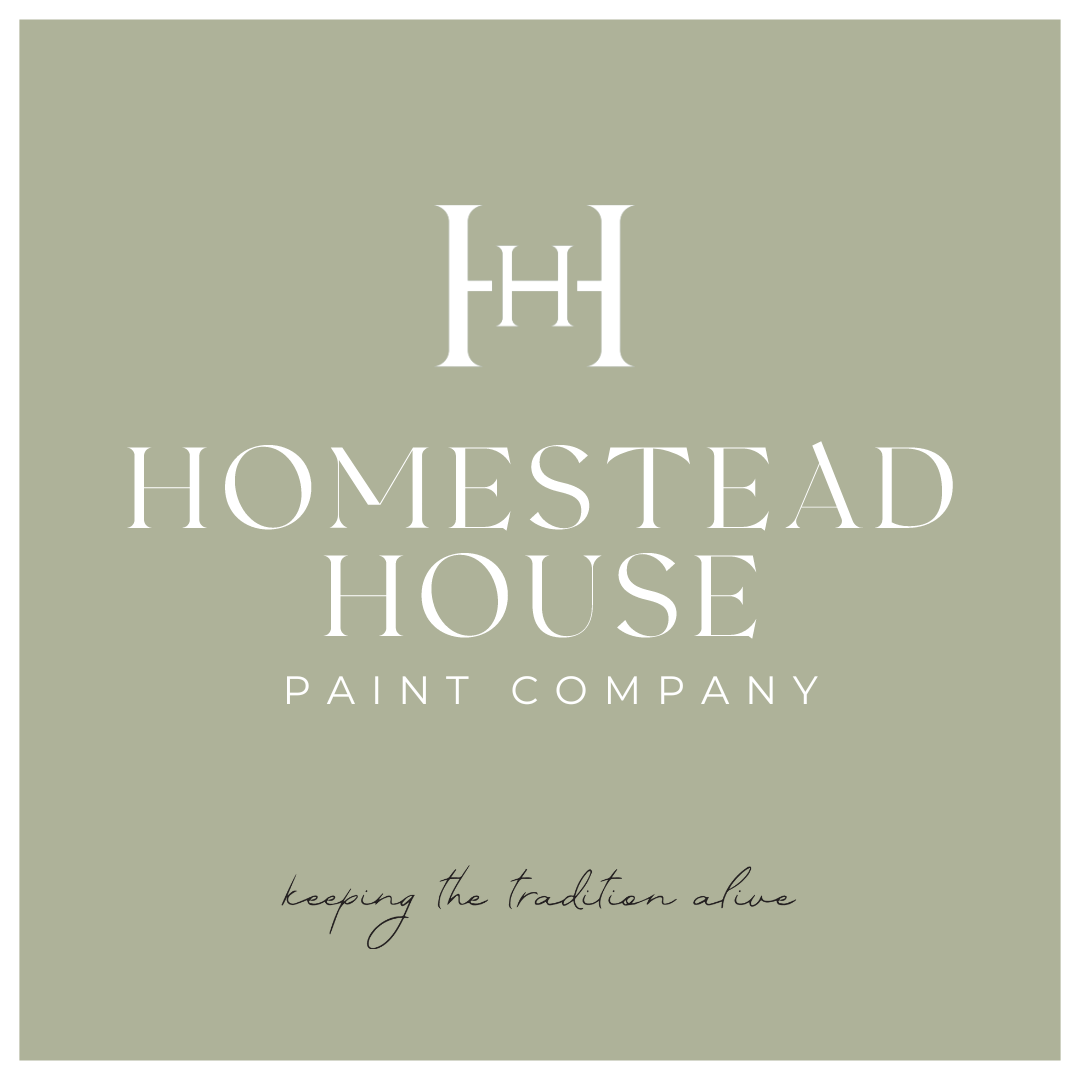 What are you waiting for? Start your creative journey with New HH Milk Paint Colours.